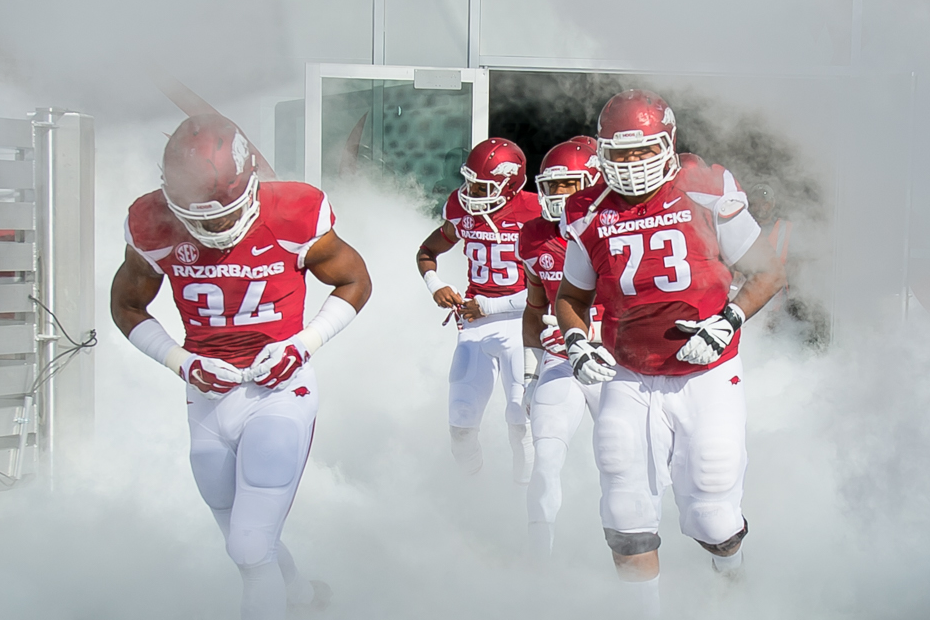 2015 National Signing Day Coverage
FAYETTEVILLE, Ark. – Arkansas football will bring fans more National Signing Day coverage than ever before as the Razorbacks expect to sign one of the best classes in program history on Wednesday, Feb. 4.
Fans will have exclusive access to interviews with players and coaches, highlights and more during a two-hour National Signing Day show. All signings will become official when they are announced by ArkansasRazorbacks.com and on Twitter by @RazorbackFB.
The two-hour National Signing Day show will air live from 10 a.m. to noon in the Fred W. Smith Football Center and be hosted by the Voice of the Razorbacks, Chuck Barrett, and former Razorback quarterback, Quinn Grovey. The show will be shown live on SEC Network+and WatchESPN and also be available on-demand. Features include segments with early enrollees, exclusive interviews with new offensive coordinator/quarterbacks coach Dan Enos and new linebackers coach Vernon Hargreaves, and analysis on all prospects from Grovey and the coaching staff.
Fans can also find everything they need to know about the signing class, including when signings have become official, atArkansasRazorbacks.com. The Signing Day Central page will be updated in real-time to include highlights, biographies, exclusive interviews and more on each prospect once they officially become a Razorback.
At 2 p.m., Coach Bielema will address the media in his National Signing Day press conference. The press conference will be streamed live on SEC Network+ and WatchESPN.
The official football Twitter account (@RazorbackFB) will also be providing live updates throughout the day as recruits send in their National Letter of Intent.
Additionally, there will be two events open to the public where Bielema and his staff will present his 2015 signing class.
Signing Day on the Hill, presented by First Security, is set for Wednesday, Feb. 4, at the Fayetteville Town Center. Doors open at 4:30 p.m. and the presentation begins at 6:30 p.m. Individual tickets that include a buffet dinner and a silent auction are $50; reserved tables with 10 seats begin at $500. VIP and corporate tables are also available. Tickets may be purchased by calling the Northwest Arkansas Razorback Club at 479-271-7411 or visiting nwarazorbackclub.org.
Signing Day in the Rock, also presented by First Security, will be held the next evening, Feb. 5, in the Wally Allen Ballroom at the Statehouse Convention Center in Little Rock. Doors open at 5:30 p.m., with the presentation set to begin at 6:45 p.m. Individual tickets that include reserved seating and a dinner buffet are $65, reserved tables with 10 seats begin are $650. VIP tables are also available. Tickets may be purchased by visiting a Central Arkansas First Security Bank location or online from the Little Rock Razorback Club atlrrazorbackclub.com.
Fans can put a deposit down for 2015 season tickets by visiting ArkansasRazorbacks.com. The 2015 home schedule includes six games in Fayetteville, four against opponents that played in bowl games last season – UTEP, Auburn, Mississippi State and Missouri. Arkansas will also take on Toledo at War Memorial Stadium in Little Rock.
For more information on Arkansas Football, follow @RazorbackFB on Twitter.