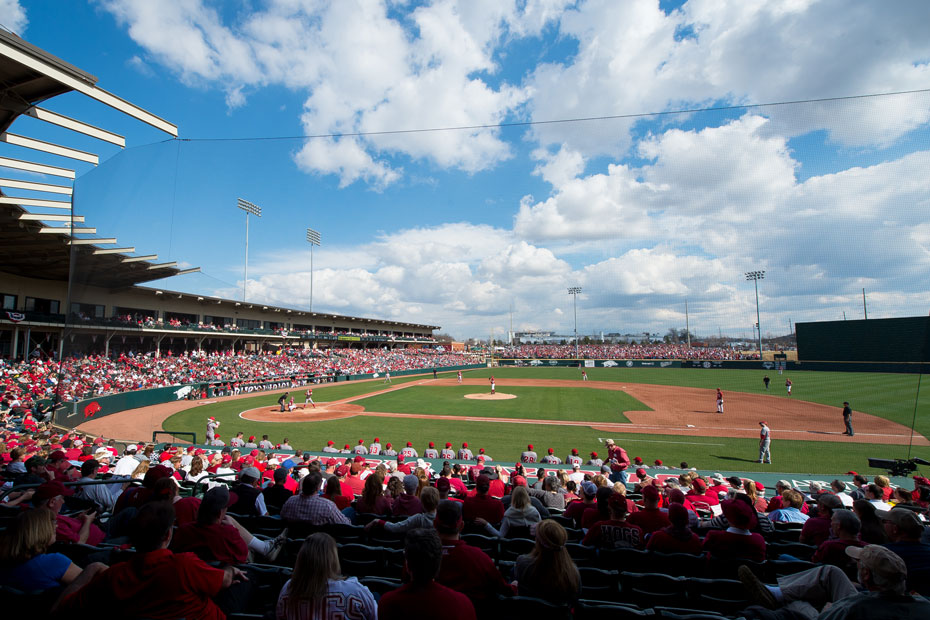 2018 Clear Bag Policy For Baum Stadium
FAYETTEVILLE, Ark. – Beginning last fall, the University of Arkansas expanded its implementation of the clear bag policy to all of its home events and that policy will include all Razorback home baseball games at Baum Stadium in 2018.
The implementation of this measure is intended to allow fans more convenience and flexibility while still enhancing public safety and minimizing time spent searching bags at gate security checkpoints, thus easing access into the stadium.
Fans are encouraged to arrive early, know which items are prohibited and avoid bringing a bag, if at all possible.  Each ticketed fan is permitted to bring in one clear bag and/or a small clutch purse. There is a clear-bag exception in the Hog Pen for containers carrying food and beverages.  Food and beverage items may be brought into the Hog Pen in coolers or disposable bags.  Personal bags with no food or beverage brought into the Hog Pen must follow the clear bag policy.
Per previous guidelines, any coolers, bags or containers carrying food and beverages admitted at the Hog Pen gates must stay in the Hog Pen area and will not be allowed past the checkpoint into the regular seating bowl.
Fans will be able to bring otherwise permissible items into Baum Stadium by using (reminder, there is a clear bag exception for food and beverage into the Hog Pen outlined above):
Bags that are clear plastic, vinyl or PVC and do not exceed 12" x 6" x 12"
Or
One-gallon clear plastic freezer bag (Ziploc bag or similar)
And
A small clutch purse, no larger than 4.5" x 6.5", the size of the palm of your hand, with or without a handle or strap
**All bags, clutch purses and containers will be screened prior to entry into the stadium. All bags, purses and food and beverage bags not meeting the above requirements will not be permitted. Although permitted, childcare items, including diapers, must also be carried in an approved clear bag.
Fans carrying required medical supplies or devices into the stadium are not subject to the clear bag policy, but will need to go through the bag check line at their entry gate for a thorough screening of the bag and the medical items. The person requiring these supplies or devices must accompany the bag at all times. Medical exception bags will be tagged once cleared through security.
Arkansas is scheduled to open the 2018 season against Bucknell on Friday, Feb. 16 with first pitch at 3 p.m. at Baum Stadium. Tickets are now on sale through the Razorback Ticket Office.
For more information on Razorback Baseball, follow @RazorbackBSB on Twitter.