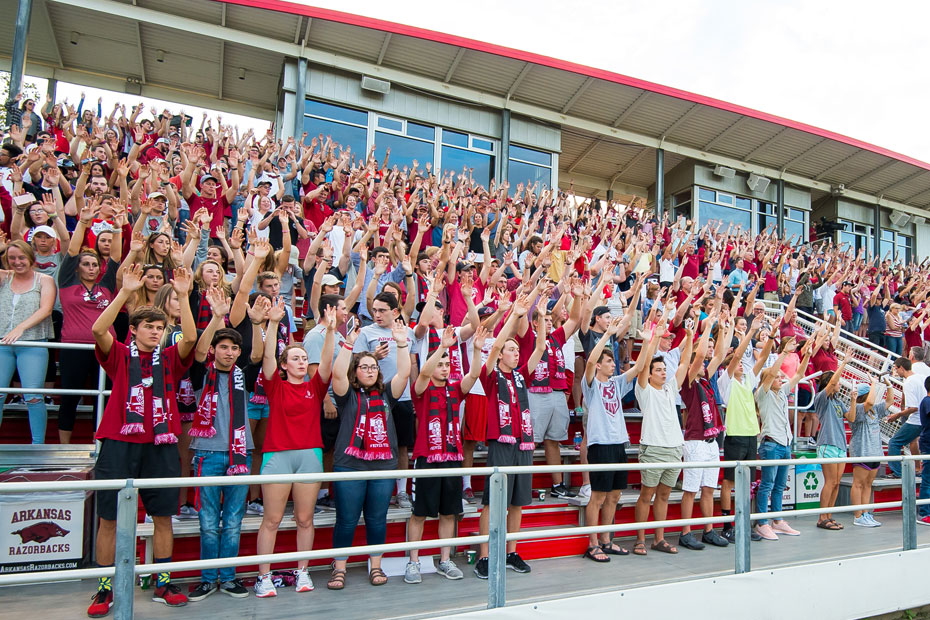 2018 Schedule Set For Razorback Soccer
FAYETTEVILLE, Ark. — Coming off its fourth NCAA Tournament appearance in the last five years and its second-straight SEC Tournament final appearance, the Razorback soccer team is roughly a month away from beginning its 2018 campaign with a top-notch schedule on the calendar.
Head coach Colby Hale enters his seventh season at the helm of the program and is the only coach in program history to take the team to an NCAA Tournament. Last year's team won 11 matches and made a miraculous run to the SEC Tournament final after coming in as the eight seed. Arkansas was the lowest-seeded team to ever reach the tournament final. With its run, Arkansas secured its ninth 10-win season in school history and third under Hale.
The Razorbacks will open the home portion of its schedule on Friday, Aug. 24 against Nebraska-Omaha before traveling to McNeese State (Aug. 26) on the back end of the weekend. Arkansas will then have three-straight home matches coming against Baylor (Aug. 31), FAU (Sept. 7) and UConn (Sept. 9), which will lead right into its SEC opener at Georgia (Sept. 13).
Arkansas has set a single-game attendance record during the home-opening weekend in each of the last five seasons, including last year's record-setting 3,401 fans that watched the Razorbacks take on top-ranked Penn State.
Seven teams from last year's NCAA Tournament field will make up part of this year's schedule, five coming from the SEC. Arkansas will open the year with two matches in State College, Pennsylvania against Duquesne (Aug. 17) and West Virginia (Aug. 19) as part of a tournament hosted by Penn State.
West Virginia finished 2017 with a 16-4-3 record and made it to the third round of the NCAA Tournament before bowing out to Penn State. The Mountaineers will be one of three Big 12 foes the Razorbacks will face this year. They will also take on Baylor at Razorback Field, their second home match of the season, and Kansas State (Aug. 4) as the first of two exhibitions prior to the regular season.
This year's conference slate is full of tournament teams as Texas A&M (Sept. 20), Alabama (Sept. 23), Ole Miss (Oct. 7), Auburn (Oct. 21), and Florida (Oct. 25) make up five of the 10 teams Arkansas will face in the league coming off NCAA Tournament appearances. Including Texas A&M and Auburn, the rest of the home conference schedule will be against Missouri (Sept. 27), LSU (Oct. 4) and Kentucky (Oct. 11).
Once again, the SEC Soccer Tournament will be played in Orange Beach, Alabama at the Orange Beach Sportsplex. The top 10 teams in the conference will make the field and the top six will have a bye to the quarterfinals. The tournament is slated to start on Oct. 28 and run through Nov. 4.
Season tickets are now on sale for $25. Each season ticket order will come with one 2018 Razorback Soccer scarf.  Single-game tickets can be purchased for $5 at the Razorback Field box office, which opens one hour before kickoff on game days. Current students can be admitted with their UA ID, and children 17 and under are admitted free.
For more information on Razorback Soccer, follow @RazorbackSoccer on Twitter.
2018 Razorback Soccer Schedule

| Date | Opponent | Location | Time (CT) |
| --- | --- | --- | --- |
| Sat, Aug. 4 | Kansas St. (Exh.) | Razorback Field | 6:30 p.m. |
| Thu, Aug. 9 | at Nebraska (Exh.) | Lincoln, Neb. | 7 p.m. |
| Fri, Aug. 17 | vs. Duquesne | State College, Pa. | 4 p.m. |
| Sun, Aug. 19 | vs. West Virginia | State College, Pa. | 11 a.m. |
| Fri, Aug. 24 | Nebraska-Omaha | Razorback Field | 7 p.m. |
| Sun, Aug. 26 | at McNeese St. | Lake Charles, La. | 6 p.m. |
| Fri, Aug. 31 | Baylor | Razorback Field | 7 p.m. |
| Fri, Sept. 7 | Florida Atlantic | Razorback Field | 7 p.m. |
| Sun, Sept. 9 | UConn | Razorback Field | 1 p.m. |
| Thu, Sept. 13 | at Georgia | Athens, Ga. | 6 p.m. |
| Sun, Sept. 16 | Providence | Razorback Field | 6 p.m. |
| Thu, Sept. 20 | Texas A&M | Razorback Field | 7 p.m. |
| Sun, Sept. 23 | at Alabama | Tuscaloosa, Ala. | 6 p.m. |
| Thu, Sept. 27 | Missouri | Razorback Field | 6:30 p.m. |
| Thu, Oct. 4 | LSU | Razorback Field | 6:30 p.m. |
| Sun, Oct. 7 | at Ole Miss | Oxford, Miss. | 2 p.m. |
| Thu, Oct. 11 | Kentucky | Razorback Field | 6:30 p.m. |
| Thu, Oct. 18 | at Mississippi St. | Starkville, Miss. | 7 p.m. |
| Sun, Oct. 21 | Auburn | Razorback Field | 1 p.m. |
| Thu, Oct. 25 | at Florida | Gainesville, Fla. | 6 p.m. |
| Sun, Oct. 28 | SEC Tournament | Orange Beach, Ala. | TBD |
| Tue, Oct. 30 | SEC Tournament | Orange Beach, Ala. | TBD |
| Thu, Nov. 1 | SEC Tournament | Orange Beach, Ala. | TBD |
| Sun, Nov. 4 | SEC Tournament | Orange Beach, Ala. | TBD |