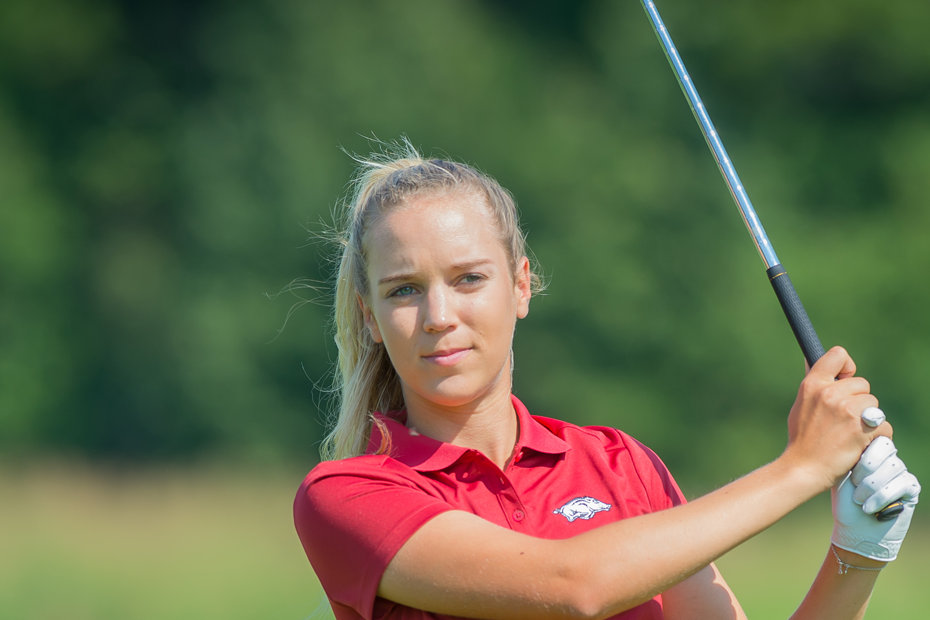 Freshmen Lead In Round One
Team Results | Individual Results
BATON ROUGE, La. – Freshmen Cara Gorlei and Maria Fassi are in the top 10 and paced the fourth-ranked University of Arkansas women's golf team to second place after round one action at the LSU Tiger Golf Classic in Baton Rouge, Louisiana, Sunday.
Gorlei opened play with a one-over 73 and it is tied for fifth place while Fassi posted a 74 in the first round and is tied for eighth place.
The duo helped the Razorbacks to a 299, just six strokes back of the leader, third-ranked Duke, with two rounds remaining.
Gorlei couldn't have been much steadier in the first round opening with seven consecutive par holes before a bogey on the eighth hole. It was the only blemish on her scorecard as she finished with 10 pars in the round.
Fassi used a little more ink on her card with five bogies and three birdies in her round. Senior Regina Plasencia is just two strokes back of a top-five showing shooting 75 and stands tied for 11th overall. Junior Summar Roachell counted a 77 and is tied for 25th while sophomore Alana Uriell is tied for 35th overall shooting 78.
Third-ranked Duke leads the field with a five-over 293, followed by No. 4 Arkansas at 299, No. 18 Tennessee at 302 and No. 45 Tulane and No. 50 LSU rounding out the top five with 305 at the University Club Course.
Arkansas is paired with Duke and Tennessee in the second round. The teams are scheduled to tee off at 10 a.m. from the first hole.