Student Access Pass
Log in to your account to purchase
The Razorback Access Pass is your ticket to be able to claim & request tickets for all sports.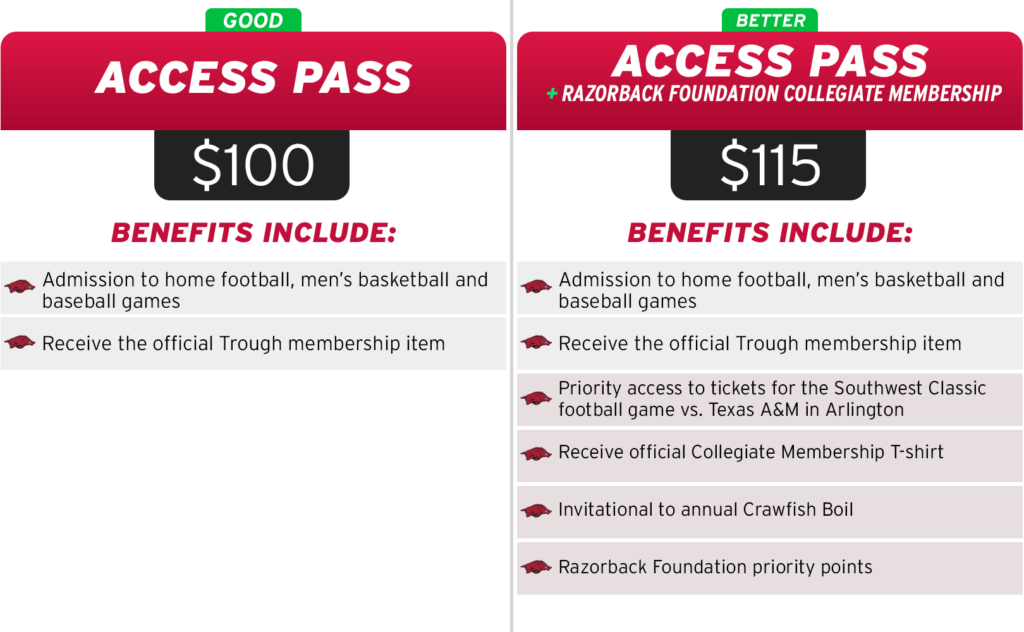 For $115, students can become an Access Pass holder AND Razorback Foundation Collegiate Member. By becoming an Access Pass holder you will be eligible to request tickets to Football, Men's Basketball and Baseball games, in addition to attending all other Razorback home sporting events. As a Collegiate Member, you will receive additional benefits including an end of the year crawfish boil and priority access to Southwest Classic football game tickets.
*An Access Pass does not guarantee you admission to events
Please note: selling lottery received student tickets is strictly prohibited. This includes physically selling a ticket in return for any type of payment, as well as intent to sell a ticket, such as posting an advertisement online. If a student is found selling or having intent to sell their lottery received ticket, we reserve the right to remove this student from the lottery system for the remainder of the season.
Log in to your account or click the button below to get started.
Buy Now
How to Request/Claim Tickets
Requesting/Claiming TicketsEvery Sunday, students will be sent an email with a link that allows them to request/claim tickets for upcoming events. This can also be accessed by logging onto their ticketing account. Students must request/claim a ticket for any game (all sports) they wish to attend.
• Entry to all games is still first-come, first-served until student capacity has been reached.