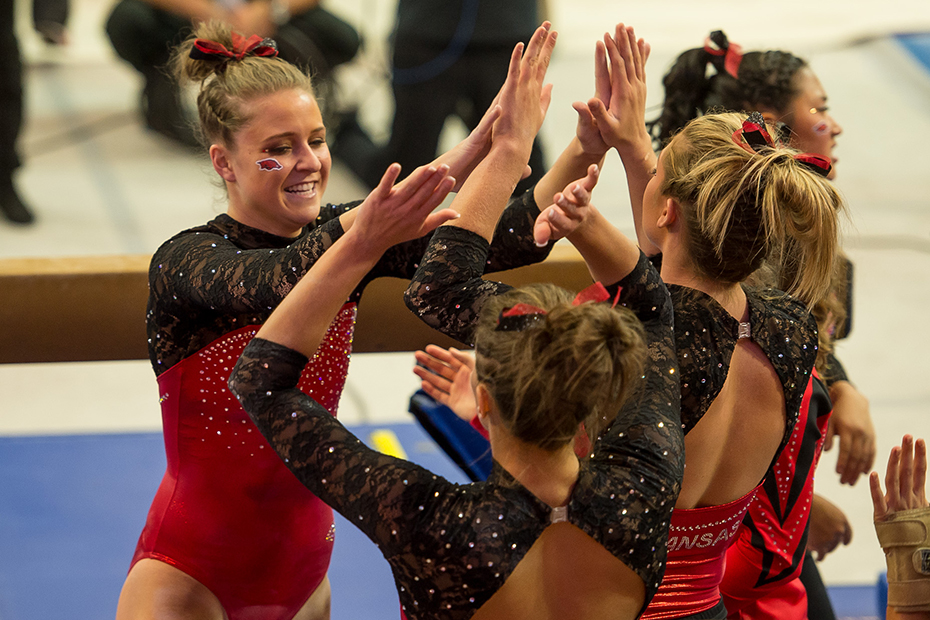 Alabama Preview: New Year, Same Goal
MEET INFO…
WHO: No. 9 Arkansas at No. 4 Alabama
WHEN: Friday, Jan. 22 at 6:00 p.m.
WHERE: Tuscaloosa, Alabama
VENUE: Coleman Coliseum
HOW TO…
WATCH: SEC Network
STREAM: SEC Network +
LIVE RESULTS: Stats
FOLLOW: @RazorbackGym
PREPARE: Meet Notes (PDF)
FAYETTEVILLE, Ark. — Last year when Alabama and Arkansas gymnastics faced off in Barnhill Arena, it was a special night. Down .075 after two rotations, the Razorbacks climbed back and overtook the Crimson Tide on floor exercise, scoring a program-record 49.600 in the event to top the visitors 196.375-196.175 for their first win of the season.
When No. 9 Arkansas and No. 4 Alabama meet on the mats on Friday, Jan. 22 at 6 p.m., the Razorbacks will consist of relatively the same bunch that registered that big win in 2015, but 371 days later it's a whole new team.
"Beating Alabama last year was such an exhilarating moment for all of us, and it was a great accomplishment for the team," senior Erin Freier said. "The strength and determination we have this year is on a whole new level, though. The drive we have gives us confidence going into tomorrow's meet, to try and prove we are a top team in the SEC."
This team is capable of registering high scores, as it did with a home-opening record of 196.700 vs. No. 15 Georgia on Jan. 15. Even though Arkansas suffered a minor setback in a quick turnaround two days later vs. No. 3 Oklahoma, the Razorbacks have an experienced team that knows how to take the positives from Friday and build upon the performance on Sunday.
Up to No. 9 in the www.RoadToNationals.com rankings after week three, Arkansas currently sits in position to grab a first seed for NCAA Regionals. But as the fifth-highest team among SEC schools, Arkansas still needs to climb into the top four in order to compete in the first session at the conference championship in March.
For more #Gymbacks content during the season, please follow @RazorbackGym on Instagram, Twitter and Snapchat.