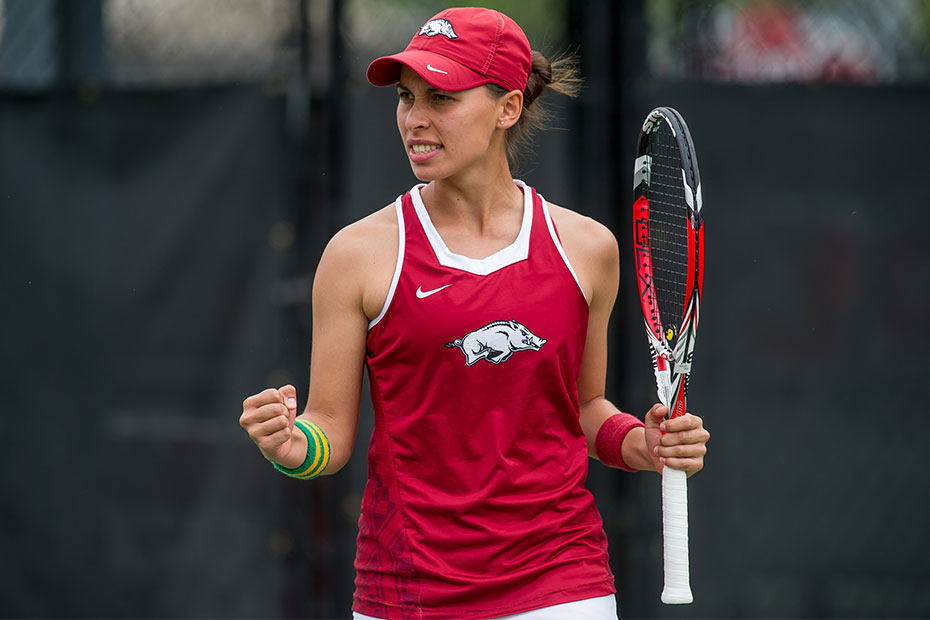 Araujo Honored For Community Service
BIRMINGHAM, Ala. – For the second-straight year, Arkansas senior Flavia Araujo has been named to the Southeastern Conference Women's Tennis Community Service Team, the league office announced Tuesday.
"It is obviously a huge honor, and I'm very humbled," Araujo said. "Serving the community has been one of my priorities during this four-year journey as a Razorback, and I am very thankful for another great recognition. My teammates are a big part of my personal accomplishments, so I want to share this honor with them."
A native of Sao Paulo, Brazil, Araujo has devoted over 100 hours of service to the community during the past three years. She is just the second player in program history to earn recognition to the league's team multiple times in a career.
"I am extremely pleased to see Flavia recognized by the conference with this honor," head coach Michael Hegarty said. "She has gone above and beyond your typical student-athlete when it comes to giving back to the community. To be a multiple-time recipient of this honor speaks volumes to her dedication to being a total student-athlete."
Araujo's recent community service projects include the following:
• Participated in children's events, organized team games and athletic activities to encourage movement, teamwork and strategy at the Yvonne Richardson Community Center in Fayetteville, Arkansas.
• Recruited Harps Food Stores, Inc. customers to donate cans and goods to the Cooperative Emergency Outreach (CEO) in Fayetteville.
• Volunteered for the Sweat Hogs and Book Hogs programs, teaching elementary school students in Fayetteville about physical education, nutritional habits and reading benefits.
• Assisted at the 2015 Buddy Walk, a fundraising awareness event for those who have Down syndrome.
• Assisted at the MDA Muscle Walk, a fundraising awareness event for those who have muscular dystrophy. Participated on the event's organization and execution committee, helped participants complete the walk and distributed T-shirts to promote the cause.
• Coordinated Shop with SAAC, an annual tradition of raising money and shopping with several deserving kids in the Fayetteville community.
• Organized a disco themed prom for senior citizens at the Fayetteville Health and Rehabilitation Center, where over 20 student-athletes interacted with seniors by playing games and dancing to create an incentive for seniors to move and communicate with others.
• Coordinated Fit Fun Run School, a workout session with young students at Vandergriff Elementary School
• Served as a recess instructor at Butterfield Trail Elementary School.
• Visited Katherine's Place Nursing Home.
In addition to her community service, Araujo has excelled in the classroom.  A management major in the Sam M. Walton College of Business, she earned 2015 Intercollegiate Tennis Association (ITA) All-Academic Scholar Athlete status and was named to the 2015 Southeastern Conference Spring Honor Roll. She is a two-time recipient of the Lee Spencer Cup individual award for her distinction in the classroom, in athletic competition, in personal development and the community. She also serves as University of Arkansas Student Athlete Advisory Committee (SAAC) President.
On the court, Araujo has tallied 60-plus combined singles and doubles victories. In the final home doubles match of her career Saturday against No. 24 Mississippi State, she notched the winning point at the No. 3 spot to clinch the doubles point for the Razorbacks.
Araujo and the No. 10-seeded Razorbacks open SEC Tournament competition Thursday at 10 a.m. CDT against No. 7-seeded Mississippi State at the LSU Tennis Complex in Baton Rouge, Louisiana.
All league-sponsored sports have had a Community Service Team since 2004, with at-large teams for men's and women's sports being chosen from 1999-2003.
For more information on Arkansas Women's Tennis, follow @RazorbackWTEN on Twitter.