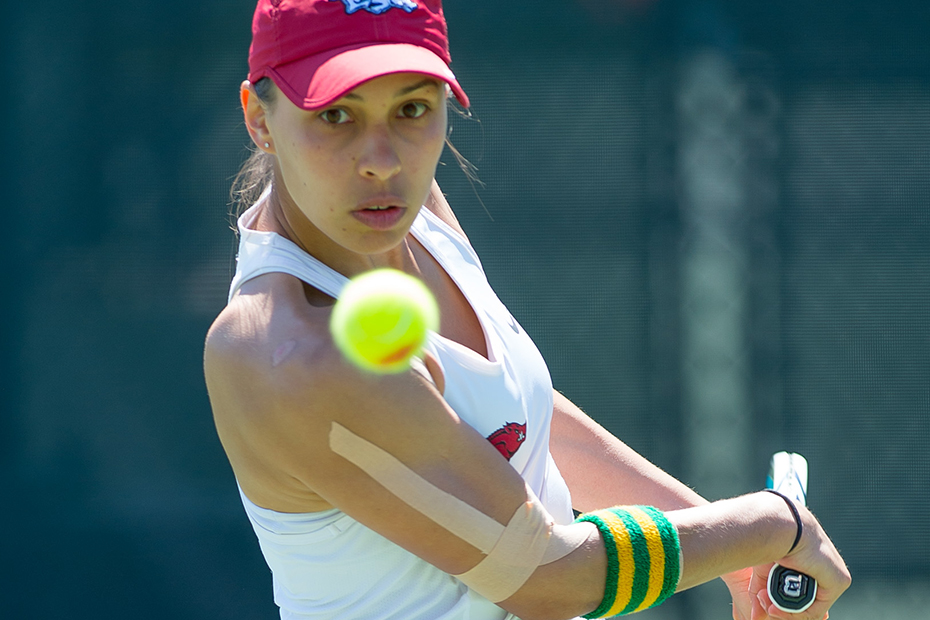 Araujo Named To 2015 SEC Women's Tennis Community Service Team
FAYETTEVILLE, Ark. – Junior Flavia Araujo, recently selected as a member of the Nike Internship Program, has been named to the 2015 Southeastern Conference Women's Tennis Community Service Team for her outstanding accomplishments off of the tennis court.
All SEC-sponsored sports have had a Community Service Team since 2004, with at-large teams for men's and women's sports being chosen from 1999-2003.
The Sao Paulo, Brazil native has participated numerous community service projects, including:
Lift Up America, by loading cars with boxes of frozen protein provided by Tyson Foods Inc.
Spoke to 1,300 kids at Bud Walton Arena, as part of the Red Ribbon Rally, about staying away from drugs and alcohol.
Sweat Hogs and Book Hogs, where she taught grades 1-4 from multiple elementary schools in Fayetteville about physical education and nutritional habits as well as the importance of reading and developing skills.
Recruited customers of Harps to donate cans and goods to the Cooperative Emergency Outreach (CEO).
Participated in the Buddy Walk, a fundraising awareness event for those who have Down syndrome to be included in the community – with Down Syndrome Connection of NWA.
At the MLK Youth Event, she played sports with kids and teenagers to encourage physical activity and inspire them to fulfill their potential.
Interacted with veterans from the Veterans' Hospital and learned about their war stories as well as life achievements.
After the tornado's destruction in Mayflower, she helped with relief efforts by unpacking, sorting, and separating donations.
Performed a guitar number at a variety show to raise money for YRCC community center as well as volunteered for many services including playing with kids and helping with office activities.
Araujo and the 11th-seeded Razorbacks open SEC Tournament play on Wednesday, April 15 with a first round matchup with No. 14 Missouri at the Carolina Tennis Center in Columbia, S.C.
For more information on Arkansas women's tennis, follow @RazorbackWTEN on Twitter.
2015 SEC Women's Tennis Community Service Team
Natalia Maynetto – Alabama
Flavia Araujo – Arkansas
Jen Pfeifler – Auburn
Brianna Morgan – Florida
Kirsten Lewis – Kentucky
Skylar Kuykendall – LSU
Kelli Hine – Missouri
Brigit Folland – South Carolina
Joanna Henderson – Tennessee
Stefania Hristov – Texas A&M
Courtney Colton – Vanderbilt