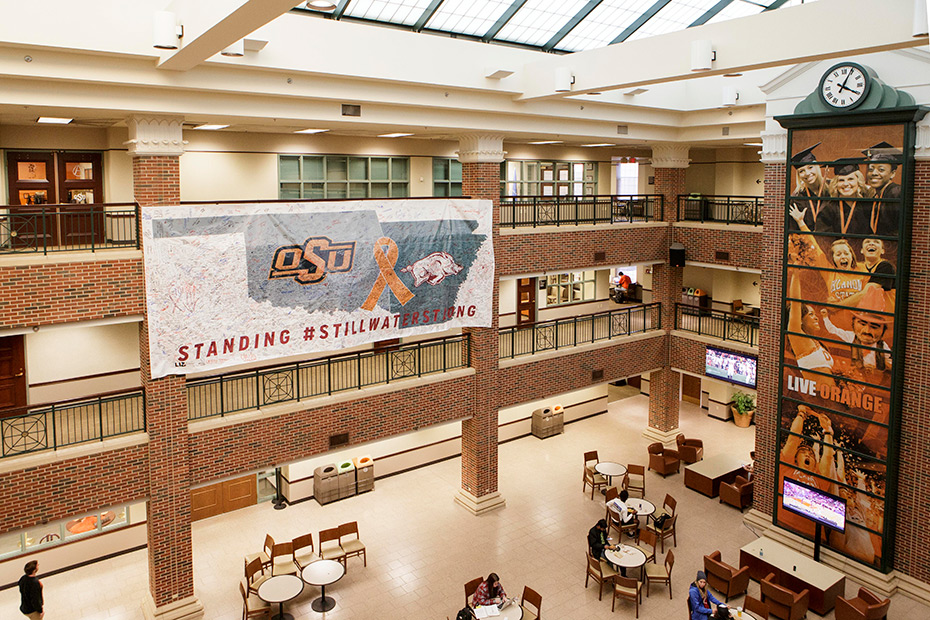 Arkansas Banner Of Support Presented To Oklahoma State
FAYETTEVILLE, Ark. – An 11 x 28 foot banner of support signed by thousands of University of Arkansas students, faculty, staff, alumni and Razorback fans was officially presented to Oklahoma State President Burns Hargis on Monday in Stillwater, Okla. The banner is now prominently displayed in the Oklahoma State Union this week in advance of the Cowboys' Bedlam Series game against the University of Oklahoma.
"I can't thank you enough the University of Arkansas and the whole Razorback Family for this and to set this up in the first place," President Hargis said during the ceremony. "We really appreciate it. It is great that a lot of peers have come together to support us during this difficult time, but nobody has brought us a banner!"
Following the presentation, President Hargis expressed his appreciation and even participated in a Hog Call to commemorate the event. The banner was created by Razorback Athletics to show support for the Oklahoma State family in the wake of its homecoming parade tragedy in October. During the parade in Stillwater, a car broke through barricades into the parade route killing four and injuring nearly 50 others.
The banner depicting the neighboring states of Arkansas and Oklahoma features the logo of each school's mascot, a Razorback and a Cowboy, as well as the words "Standing #StillwaterStrong." As part of Homecoming festivities on the University of Arkansas campus (Oct. 23-24), the banner was made available at the Arkansas Union and at the Homecoming football game at Donald W. Reynolds Razorback Stadium to allow those who wished to show their support.
"The University of Arkansas and Oklahoma State University are close, tight-knit campus communities, and in the wake of tragic events, those type of communities rally together," Vice Chancellor and Director of Athletics Jeff Long said.
"While we anticipated that many in the Razorback Family would participate in our showing of support, the response was truly overwhelming. The extraordinary response further demonstrates that Razorbacks are not only passionate about their university and their teams, but are compassionate for those facing difficult circumstances."