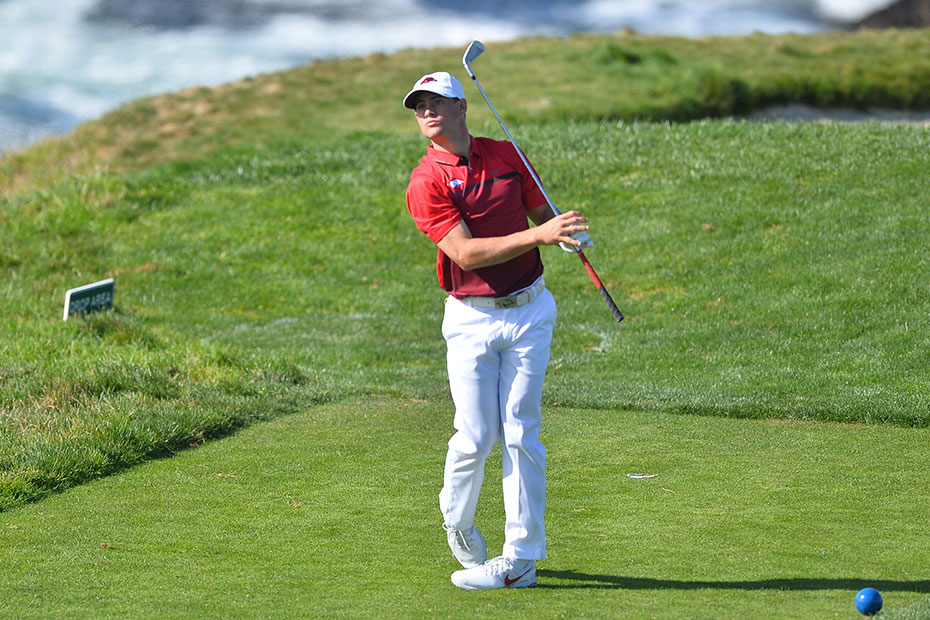 Arkansas Begins National Title Quest Friday
Tournament Notes (PDF) | Live Stats | Championship Central
EUGENE, Ore. – The No. 21 Arkansas men's golf team will make its fifth NCAA Championship appearance in the last eight years on Friday when the Razorbacks open play at Eugene Country Club in their quest for a National Championship.
Championship Rundown
Date: May 27 – June 2, 2016
Course: Eugene Country Club
Location: Eugene, Oregon
Championship Central: Click Here
The Schedule
Arkansas will begin Friday's opening round at 9:22 a.m. CDT, going off the 1st tee with No. 19 South Carolina and No. 20 Oregon. The same three teams will go off the 10th tee in Saturday's second round at 2:42 p.m. CDT. Third round pairings will be announced following the conclusion of play Saturday.
Championship Format
The NCAA Championship will consist of three days of stroke play on Friday – Sunday (54 holes), after which the top 15 teams and nine individuals not on an advancing team will be determined.  That is followed by a final day of 18 holes of stroke play (Monday) to determine the top eight teams that will advance to match play as well as the 72-hole individual champion.  The team national champion will be determined by a match-play format that will consist of quarterfinals and semifinals conducted on Tuesday, followed by the finals on Wednesday.
Follow Along Live
Live hole-by-hole scoring for all three rounds is available at Golfstat.com or via the Golfstat Live app. The Golf Channel will provide comprehensive coverage of the championship starting Monday, May 30 during the final round of stroke play, before televising all three days of match play.
The Starting Five
Taylor Moore (71.3 Stroke Average)
• Making third career appearance at the NCAA Championship.
• Sixth player in program history to earn All-SEC honors three times.
• Three of six career rounds at the NCAA Championship have been even par or better.
• Had a counting score in 34 of 35 rounds this year, including each of the last 22.
• Is a combined 20-under during his last seven tournaments.
Nicolas Echavarria (72.2 Stroke Average)
• Has four of the top 30 tournament scores in program history.
• Finished T-13th overall at the 2013 NCAA Championship in Atlanta.
• Holds the program record at the NCAA Championship with a 64 in 2013.
• Turned in 32 counting scores in 35 rounds with 12 rounds under par.
• Has posted a counting score in all career rounds at NCAA Championship.
Alvaro Ortiz (72.8 Stroke Average)
• Leads the team with 105 birdies on the year, including 13 in two different events.
• Ranks third on the team with nine rounds under par this year.
• Recorded a career-best 4-under 68 at the Southern Intercollegiate (March 14)
• Posted first collegiate victory at the Aggie Invitational with a birdie on final hole.
• Has added at least two counting scores in each of the last eight tournaments.
Charles Kim (73.7 Stroke Average)
• Joined the team for the spring season after transferring from Texas.
• Has provided a counting score in all eight collegiate events.
• Has four rounds under par and two more at even-par.
• Recorded first top 10 finish at the 2016 SEC Championship, finishing 9th.
• Posted a career-high 10 birdies at the NCAA Kohler Regional.
Kolton Crawford (73.4 Stroke Average)
• Making second career appearance at the NCAA Championship.
• Provided three counting scores at the 2014 NCAA Championship.
• Has a 73.1 stroke average in 136 collegiate rounds with 17 top 20 finishes.
• Had two runner-up finishes during the 2014-15 season, including five top 10 finishes.
• Has 10 rounds at even-par or better this year with 26 counting scores in 35 chances.
NCAA Championship Notes
• The Razorbacks are making their fifth NCAA Championship appearance in the last eight years after finishing T-2nd at the NCAA Kohler Regional at 7-under.
• The Razorbacks are making their 21st NCAA Championship appearance in program history in 2016.
• Arkansas' best NCAA Championship finish came in 2009, when it finished runner up to Texas A&M in the first year of match play.
• The Razorbacks have 15 rounds of NCAA Championship experience in their current lineup, including multiple appearances from Taylor Moore and Nicolas Echavarria.
• Arkansas has played 25 of its 29 opponents at the NCAA Championship this year, defeating 15 of the teams and posting a head-to-head record of 23-38-3.
• During head coach Brad McMakin's 10-year stint at the helm of the program, Arkansas has advanced to NCAA Regionals each of the last nine years.
• The Razorbacks have finished in the top five in eight of the last 10 tournaments, including a T-3rd or better finish in six of those events.
Decade of Winning
Arkansas has posted at least one victory in all 10 seasons under head coach Brad McMakin, including 17 total victories in the last six years. The Razorbacks posted a remarkable seven wins during the 2011-12 campaign.
#BirdieHogs
Arkansas caught fire at the right time during the NCAA Kohler Regional, posting 54 birdies to rank second in the 13-team field. The Razorbacks had at least 17 birdies in all three rounds, including a team-best 19 on the final day.
The Eagle Has Landed
Arkansas has 13 eagles on the year, with four of them coming in the final two rounds of the NCAA Kohler Regionals. On top of those 13 eagles, Taylor Moore recorded a double eagle at the All-American Intercollegiate, holing out from the fairway on the par five eighth hole for an albatross.
Historic Achievement
Taylor Moore is the sixth player in program history to earn All-SEC honors in three different seasons after being named SEC Co-Freshman of the Year in 2013, followed by second team honors in 2015 and 2016. He is one of five players in the league to earn All-SEC honors three times in the last four years.
Championship Success
As a freshman in 2013, Nicolas Echavarria set a program NCAA Championship record with a second round six-under 64 en route to tying for 13th place and earning PING All-America honorable mention honors.
Lucky Number Seven
Taylor Moore went on the hottest streak of his four-year career this spring, posting seven straight rounds under par, including finishing first, second and third in consecutive events. In the three tournaments, he combined to shoot 23-under.
Three's Company
For the second time in program history, Arkansas has three individual winners in a season, joining Jack O'Keefe, Bud Steele and David White who all captured titles in 1993. This spring Taylor Moore, Nicolas Echavarria and Alvaro Ortiz have all entered the winner's circle, joining seven other programs at the NCAA Championship with three-plus individual winners this year.
For more information on Arkansas men's golf, follow @RazorbackMGolf on Twitter.