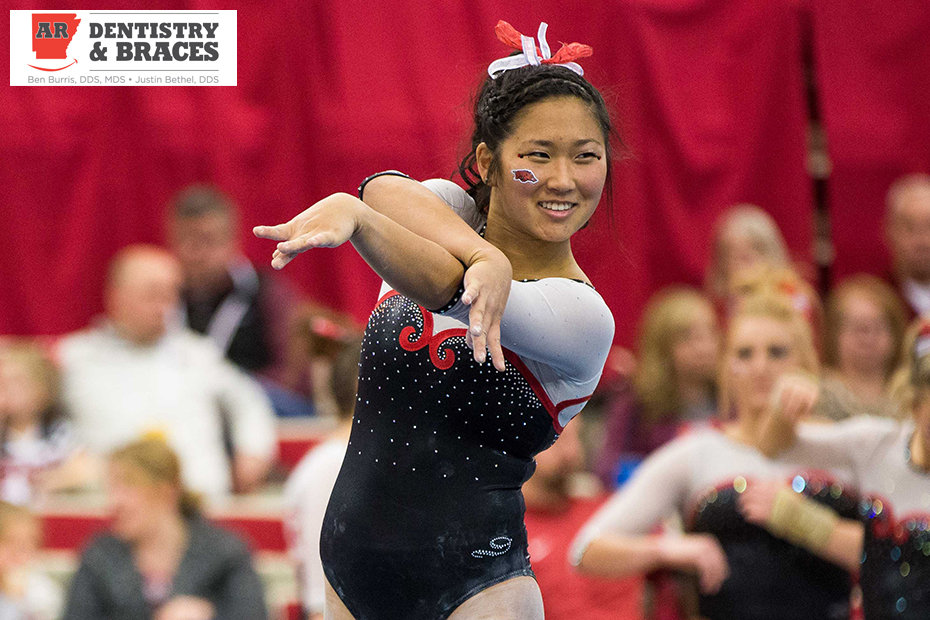 Arkansas Dentistry & Braces to Host Contest for Free Braces
Hand Stand Contest Registration Form (PDF)
FAYETTEVILLE, Ark. — The No. 8 Arkansas gymnastics team will host No. 25 Kentucky on Friday, Feb. 26 at 7 p.m., and the meet is being sponsored by Arkansas Dentistry & Braces, the Official Smile Provider of the Arkansas Razorbacks.
As part of their involvement, Arkansas Dentistry & Braces is giving 20 fans the opportunity to compete in a hand stand contest for FREE BRACES. Of those 20 contestants, 12 will be pre-selected prior to the meet, and eight (8) will be selected from registration at the meet.
Interested fans can pre-register for a chance to be a part of the contest by filling out and submitting THIS form. At the meet on Feb. 26, fans will have the opportunity to sign up for the contest at the Arkansas Dentistry & Braces booth located in the Southwest tunnel of Barnhill Arena, prior to the 7 p.m. start time.
Single-meet tickets to "The Best Show in Town" are $5 for general admission and $3 for youth. Any group of 10 or more can receive a rate of $2 per ticket if purchased prior to meet day. Fans can buy tickets by calling the Razorback Ticket Center at 800-982-HOGS or 479-575-5151. Additional ticketing information can be found online HERE.
For more information on Arkansas Dentistry & Braces, please visit www.arsmiles.com.
For more #Gymbacks content during the season, please follow @RazorbackGym on Instagram, Twitter and Snapchat.