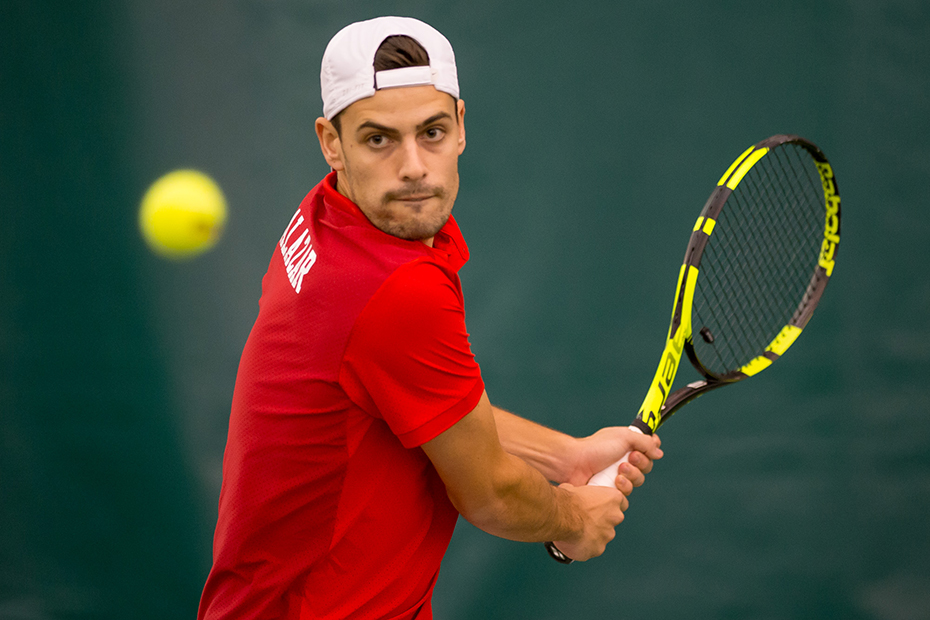 Arkansas Faces Challenge in No. 10 Sooners
FAYETTEVILLE, Ark. — After a busy three-day stretch in which the Arkansas men's tennis team defeated Jackson State in a quad meet and Santa Clara, the Razorbacks find themselves with a 9-2 mark and a great deal of momentum going into their toughest match of the year thus far.
Arkansas travels to Norman on Sunday afternoon for a 1 p.m. matchup with No. 10 Oklahoma. Previously, the Razorbacks' highest-ranked opponent this season was No. 17 Oklahoma State, who has since moved to No. 9 in the most recent ITA charts.
A handful of times this season, head coach Andy Jackson has reiterated his belief that the Cowboys were a top-10 level team, and he was right on. Going into Arkansas' match against another Sooner State foe, Jackson expressed his respect for the Sooners.
"Oklahoma's program, built by head coach John Roddick, is among those at the pinnacle of our game," he explained. "As we build our program, the experience and opportunity in top-level matches is important. We are eager to see how we compete on the road in that kind of high-level environment."
The Sooners feature three nationally-ranked singles players and one doubles pair, but the Razorbacks counter with a few of their own.
With the second round of player rankings being released on Feb. 23, Mike Redlicki moved from unranked to No. 82 in singles, while the doubles pair of Giammarco Micolani and Redlicki earned a No. 49 ranking.
Oklahoma boasts No. 63 Axel Alvarez Llamas, No. 100 Alexandru Ghilea and No. 119 Florin Bragusi in singles, as well as the doubles pair of Ghilea and Andrew Harris at No. 35.
For more information on Razorback men's tennis, please follow @RazorbackMTEN on Twitter.