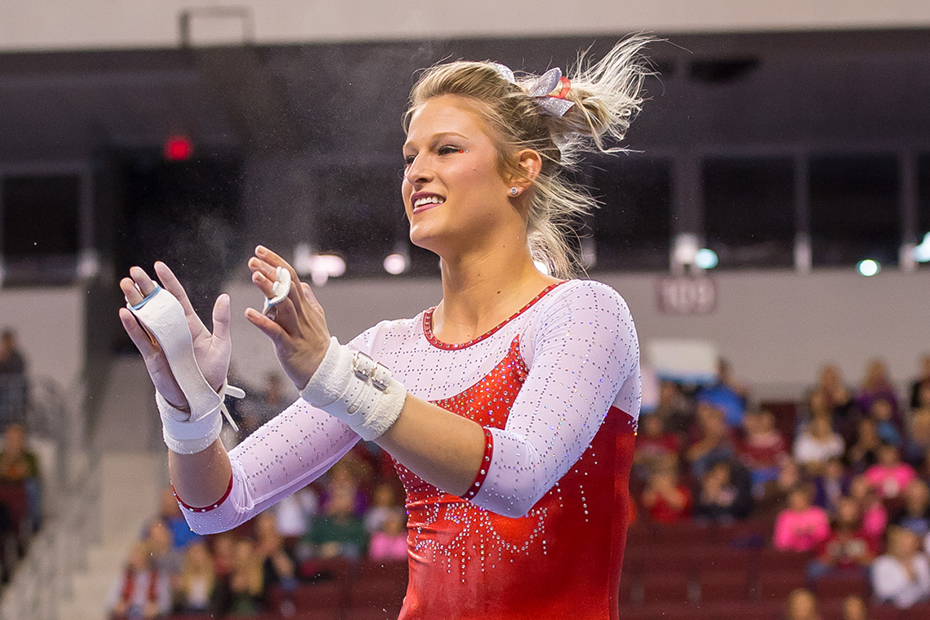 Arkansas Headed to Iowa City for NCAA Regionals
Purchase Tickets | NCAA Release
FAYETTEVILLE, Ark. — The Arkansas gymnastics team gathered together in the Bev Lewis Center for Women's Athletics Monday afternoon to learn where it would be placed for 2016 NCAA Regionals.
The No. 13 Razorbacks were the third team announced during the Selection Show, being paired with No. 1 Oklahoma and No. 12 Nebraska in the Iowa City Regional, which is hosted by No. 19 Iowa. Kent State and Central Michigan round out the six-team field, which will compete Saturday, April 2 in Carver-Hawkeye Arena at 4 p.m.
"We're excited to go to Iowa, I think it's going to be a good matchup," head coach Mark Cook said. "This team is in a great place at this point in the season. We're prepared to go up there and give it our very best and try to make it back to nationals."
This is the 13th-consecutive trip to NCAA Regionals for Cook and the program, as Arkansas will try to qualify for NCAA Session II for the first time since 2013. From 2008-2013, the Razorbacks made six-straight trips to nationals, with a program-best finish of fifth overall in 2009.
Arkansas is coming off an SEC Championship program-best score of 196.500 on Saturday in North Little Rock, Arkansas. The Razorbacks finished the regular season with a 7-5 dual meet record, including a 4-3 mark in SEC competition. It was the team's best conference record since 2012, and included a win over No. 4 Alabama in Tuscaloosa for the first time in program history.
"There are some great teams in this regional and I think we can compete with anyone," junior Amanda Wellick said. "We're going to focus a lot on details and the tiny little things to improve our routines. We did a good job at SEC's of staying in our moment, so we need to continue to do that."
With 12 days before regionals, the Razorbacks have a good amount of time to prepare for their first six-team meet of the season, which includes byes.
Arkansas' rotations will begin on floor exercise, move to vault and then have a bye. The team starts back up on uneven bars and then finishes on balance beam, with another bye on the tail end of the competition.
For more #Gymbacks content during the season, please follow @RazorbackGym on Instagram, Twitter and Snapchat.