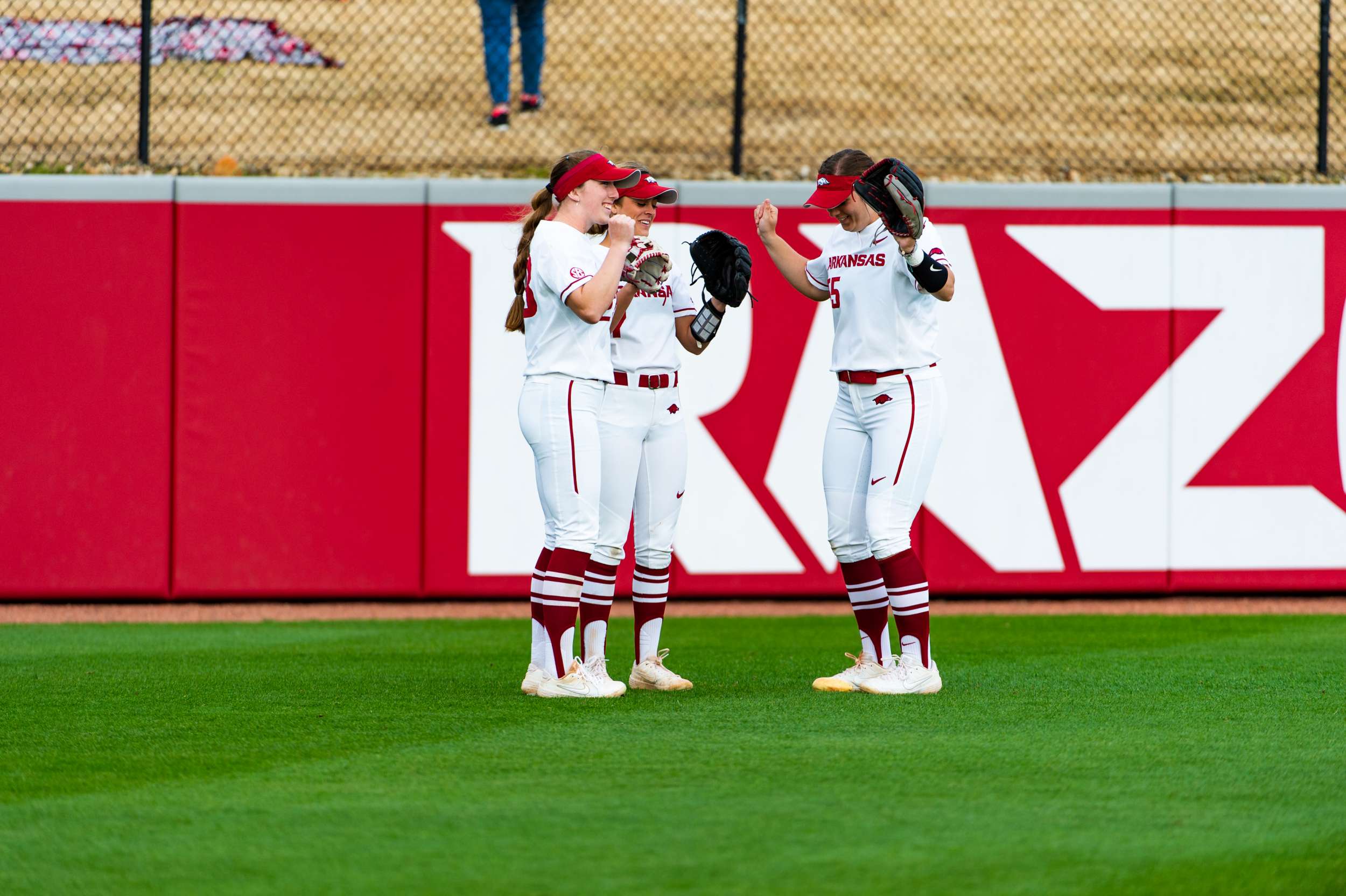 Arkansas Hosts Furman for Bark in the Park Weekend
FAYETTEVILLE – The University of Arkansas softball team will play host to Furman University this weekend (April 13-14) for the Razorbacks' annual Bark in the Park. The Hogs and Paladins are set for a Saturday morning start, with game one of the series to start at 10 a.m. (CT). Games two and three will be played as a doubleheader on Sunday, starting at 10 a.m. (CT) as well.
Bark in the Park
Admission is free for all fans at Bogle Park, but this weekend is special in that all of our two-legged fans are encouraged to bring their four-legged friends for our annual Bark in the Park. The first 50 dogs to make their way into Bogle Park will get a free Razorback tennis ball. Gates open one hour prior to first pitch.
Last Time Out          
The Razorbacks continue their nine-game homestand after a doubleheader sweep of Wichita State on Wednesday (April 10). Arkansas run-ruled the Shockers, 9-1 in game one behind a six-run sixth inning with a game-ending single by Sydney Parr. The Hogs needed only four runs in the third inning to defeat WSU in game two, Katie Warrick hit her eighth home run of the season to score three runs and give Arkansas the lead and the win.
Diaz Making Her Way Through the Record Books         
Diaz recently surpassed former Razorback and current assistant coach Shana Easley for fourth all-time in career putouts and currently has 1,277 career putouts, 26 away from sliding into 3rd place (1,303).  Diaz is only one of two first baseman to surpass the 1,200-career putout mark.
Diaz is only three home runs from ranking fourth among Razorbacks for career home runs (has 27, needs 30); her success at the plate also puts her on track to move into second for career RBI (has 126, needs 131), and one sacrifice fly from the number one spot (has 9, needs 10).
10 Years at Bogle     
The 2019 season marks the 10th season in Bogle Park – since its opening, the Hogs have played 248 games inside the park, for a combined 138-110 record.
In the Polls    
After a tough weekend in Gainesville, the Razorbacks are holding steady in the polls, cruising into Week 9 sitting at 26th in the NCAA Women's Softball RPI, and ranked #18 by USA Today/NFCA, #17 by Fastpitch News, #22 by Softball America and receiving votes in the USA Softball/ESPN poll.
The Series
This is the first time the two teams are meeting – Furman is one of four teams that Arkansas is facing for the first time in program history this season (UAPB, Campbell, Furman, Lipscomb). Furman is the second SoCon team to face the Razorbacks this season (Samford on Feb.9). Arkansas is 3-2 against SoCon teams in program history.
Keep Up with the Hogs
Game 1 | SEC+ | Live Scoring
Game 2 | SEC+ | Live Scoring
Game 3 | SEC+ | Live Scoring
Up Next
Arkansas will continue the nine-game homestand with a mid-week contest with UAPB on Tuesday (April 16) before hosting No. 7 LSU starting Thursday (April 18).
For all Razorback softball news and information, go to ArkansasRazorbacks.com and follow the Hogs on Twitter at @RazorbackSB, on Facebook at Razorback Softball and on Instagram at @Razorback_SB. Fans can also follow head coach Courtney Deifel on twitter at @CoachDeifel.