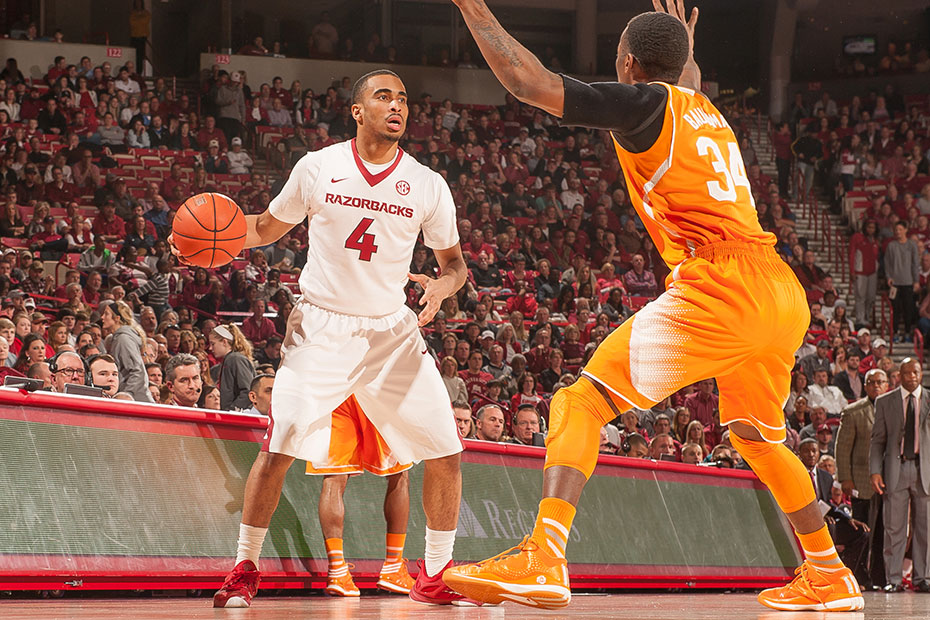 Arkansas Hosts Tennessee Saturday in SEC Play
Game Notes (PDF)  |  Mike Anderson Presser
FAYETTEVILLE, Ark. – The Arkansas men's basketball team (11-11, 4-5 SEC) returns home Saturday evening to host Tennessee (11-11, 4-5 SEC) for a 7 p.m. tip-off in Bud Walton Arena on SEC Network.
Tip-off: Saturday, Feb. 6 at 7 p.m. CT
Location: Bud Walton Arena (Fayetteville, Ark.)
TV: SEC Network  |  WatchESPN
Tickets: Click Here
The Opponent
• The Volunteers, from Knoxville, Tennessee, are 11-11 on the year with a 4-5 record in SEC play, mirroring the Razorbacks in both cases. Tennessee is coming off an 84-77 victory over No. 20 Kentucky on Tuesday. The Vols also have a win over No. 24 South Carolina on Jan. 23 by a score of 78-69. Away from Thompson-Bolng Arena, Tennessee is only 1-6, with the only win coming at Mississippi State on Jan. 16. The other SEC win by the Vols came in a 14-point victory over Florida on Jan. 6.
• Senior guard Kevin Punter leads Tennessee, and is second in the SEC, with 23.1 points per game. He also contributes 2.3 three-pointers, 3.6 rebounds, 3.5 assists and 1.5 steals. Senior forward Armani Moore controls the paint for the Vols, leading the team with 8.2 rebounds and 1.8 blocks per contest, while also averaging 12 points. Tennessee leads the conference and is 21st in the NCAA with a 75 percent team free throw mark. The Vols are second to Arkansas in fewest turnovers per game – 11.6 compared to 11.5.
• Head coach Rick Barnes is in his first season at Tennessee, and has a 615-325 (.654) record in 28-plus seasons, combined with his career at Texas, Clemson, Providence and George Mason. In his career, Barnes has 21 NCAA Tournament victories and has reached as far as the 2003 Final Four with the Longhorns. From 1996-2012, his teams made 17-consecutive NCAA Tournament appearances and 24 NBA Draft picks have come under his tutelage.
#Fastest40 Facts
• After not winning any of the first eight SEC Players of the Week, Arkansas has won two of the last four with Anthlon Bell (Jan. 11) and Moses Kingsley (Feb. 1).
•  Kingsley has been named one of 10 finalists for the Kareem Abdul-Jabbar Award as the nation's top center. He is one of eight high major players in the country with 11-plus double-doubles.
• With 24 points Wednesday at Florida, Anthlon Bell became the 39th player in program history to score 1,000 career points. He currently ranks 37th in school history with 1,010 points.
• The Razorbacks have seen seven of their 11 losses come by four points or fewer, including three of those in overtime.
• The Razorbacks are one of two teams in the nation with three players averaging 16-plus points per game with Hannahs (17.2), Bell (16.7) and Kingsley (16.4).
• Arkansas is one of three high major programs in the country with 55-plus made treys by two players. Anthlon Bell (68) and Dusty Hannahs (58) are joined by Syracuse and Michigan State. #SplashZone
• Jabril Durham is one of three players in the country with five-plus assists in 20 games this season. His streak of five-plus assists in 19 straight games was the longest such streak by an Arkansas player since joining the SEC in 1991-92.
• Arkansas ranks No. 4 in the country in three-point field goal percentage at .427 and is on pace to break the school record of .395 set during the 1992-93 season.
• Dusty Hannahs has made 17 consecutive free throws over the last four games. He leads the SEC and ranks No. 22 in the country with a .881 free throw percentage.
Up Next
Arkansas returns to action on Tuesday, Feb. 9, traveling to Starkville, Mississippi to battle Mississippi State. Tip-off is set for 8 p.m. CT on SEC Network.
For more information on Arkansas men's basketball, follow @RazorbackMBB on Twitter.