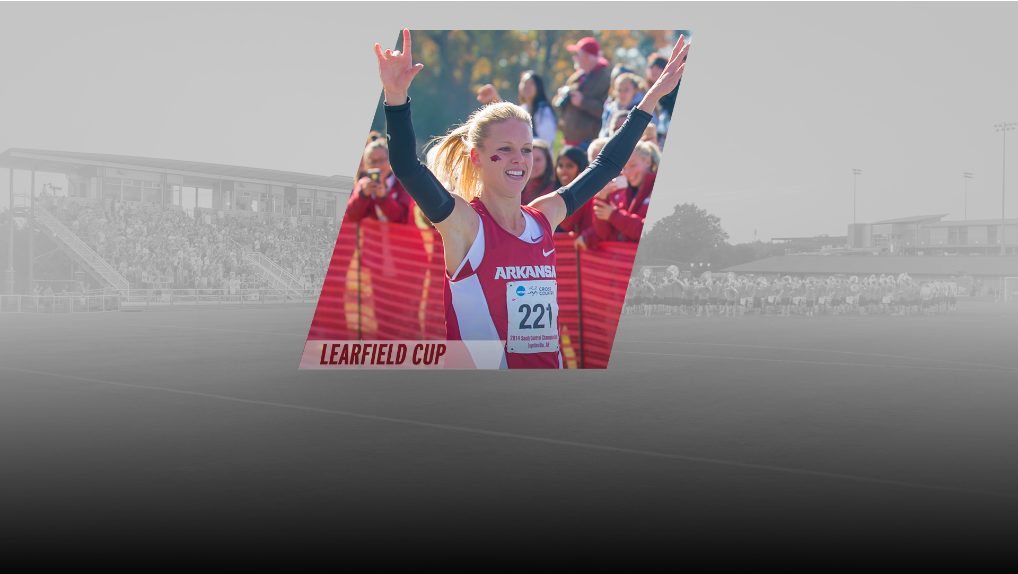 Arkansas Leads SEC and Ranks 15th Nationally in Learfield Sports Directors Cup Standings
Learfield Sports Directors Cup Standings
FAYETTEVILLE, Ark. – The University of Arkansas ranks first in the Southeastern Conference (SEC) and 15th in the nation in the latest 2014-15 Learfield Sports Directors Cup standings released on Thursday by the National Association of Collegiate Directors of America (NACDA).
Arkansas has accumulated 171 points and is the only SEC program in the top 30 of the most recent standings. The Directors Cup is a competition that tracks the nation's most successful intercollegiate athletics programs for their athletic performances throughout the year. This week's standings reflect points awarded for men's and women's cross country, women's field hockey, men's and women's soccer and men's water polo.
The Razorbacks racked up 121 points based on the national finishes of the men's and women's cross country teams. Coach Lance Harter and the women's cross country team tallied 75 points after earning a fifth-place finish at the NCAA Cross Country Championships. It marked the third-consecutive Top-10 national finish for the women's program after earning sixth and ninth place finishes at last year's indoor and outdoor national championships, respectively.
Coach Chris Bucknam and the men's cross country team earned 46 points after finishing 28th in the nation at the NCAA Cross Country Championships. In addition, both the men's and women's cross country teams won their respective Southeastern Conference championships for the second straight year.
The Razorback soccer team made a postseason run in the NCAA Tournament for the second consecutive year. Arkansas defeated Oklahoma 3-2 in overtime in the first round of the NCAA Tournament before falling at No. 3 Stanford, 1-0, in the second round of the draw. Arkansas earned 50 points in the Directors' Cup for its 2014 performance.
In 2013-14, Arkansas has earned a spot among the nation's top 30 programs for the sixth time in the past seven years. The Razorbacks finished 28th nationally in the final 2013-14 standings. Arkansas accumulated a total of 720 points to extend the recent stretch of Directors Cup success that began when the men's and women's athletic programs were combined in 2008.
Arkansas finished fourth in the nation among programs with 19 or fewer sports and eighth among programs with 20 or fewer sports. In addition to last year's 28th-place overall finish, the Razorbacks recorded Top-30 finishes in in 2007-08 (24th), 2008-09 (25th), 2010-11 (24th), 2011-12 (20th) and 2012-13 (21st).
The Directors' Cup program has been tracking the success of the nation's top intercollegiate athletics programs since 1993-94.