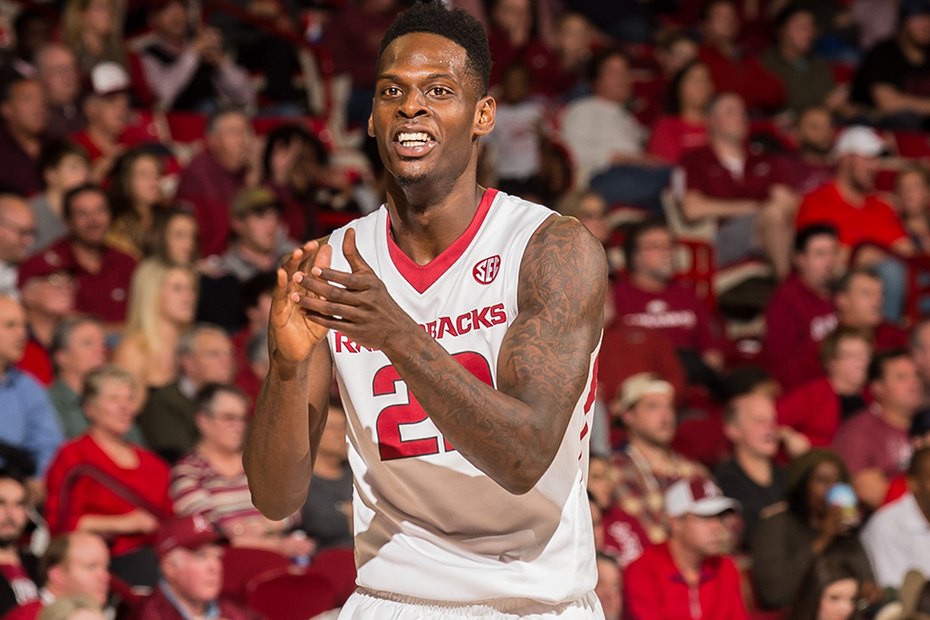 Arkansas Looks To Keep Momentum Going On Friday
AT A GLANCE
Coming off a 30-point win over ACC foe Wake Forest, Arkansas will look to start 3-0 for the third straight year on Friday when it hosts Delaware State at Bud Walton Arena. Six different players reached double figures against the Demon Deacons while eight different players have already accomplished the feat this season. The Razorbacks own a 16-game non-conference home win streak which includes a victory over Delaware State in January of 2013. Over the 16-game streak, only three games have been decided by single digits while Arkansas has out-scored its opponents by an average of 25.3 points (88.6-63.3).
GAMEDAY #RAZORFACTS

GAME

Arkansas (2-0) vs. Delaware State (2-1)


DATE | TIME

Friday, Nov. 21 | 7:00 p.m.

SITE | ARENA

Fayetteville, Ark. | Bud Walton Arena (19,200)

TV | VIDEO

SEC Network+ | WatchESPN App | ESPN3.com

AUDIO

Razorback/IMG Sports Network

TALENT

Alex Perlman (P-B-P) & Blake Eddins (Analyst)

LIVE STATS

www.ArkansasRazorbacks.com

SOCIAL

Twitter | Facebook | Instagram

HASHTAGS

#Fastest40 | #WeHogs

COACH ANDERSON AT BWA

53-6

VS. DELAWARE STATE

5-0

VS. THE MEAC

20-1

NEXT UP

at No. 22/23 SMU (Nov. 25)
#RazorStat
In two games, eight different players have scored double figure points and Arkansas holds a 60-26 edge in points off turnovers.
COACHING MATCHUP
@RazorbackMBB
Head Coach: Mike Anderson (Tulsa '82)
Record at Arkansas: 61-39 (4th Season)
Overall Record: 261-137 (13th Season)
Vs. Delaware State: 1-0
Delaware State
Head Coach: Keith Walker (Clemson '81)
Record at Delaware State: 2-1 (1st Season)
Career Record: 98-109 (9th Season)
Vs Arkansas: First Meeting
STARTING 5 QUICK 5 HITS
#00 | Rashad MADDEN (G)
Scored a team-high 11 points in the win over Wake Forest.
One of just three SEC players to lead their team in scoring and return in 2014-15.
All five 20-point games in 2013-14 came at Bud Walton Arena.
Sixth player in program history to lead in scoring and assists (2.8) in the same year.
223 points shy of becoming the 36th player in program history to reach 1,000 points.
#05 | Anthlon BELL (G)
Tied for second on the team at 11.5 points per game.
Opened the year with 20 points, including 15 in the second half.
Has 74 points in his last 81 minutes played at Bud Walton, hitting 18-of-25 from three.
Scored 20+ points in three of the last seven games, dating back to last year.
Led the team in three-pointers in each of the last two seasons.
#24 | Michael QUALLS (G)
Arkansas is 9-1 the last two seasons when he dunks two or more times.
Went for 13 points in the opener, good for his 30th career double figure outing.
Ranked in the top three in points (11.6), rebounds (4.5) and assists (1.9) in 2013-14.
Team-leading 33 dunks in 2013-14 and 57 for his career.Landed on SportsCenter's Top 10 plays eight times in 2013-14.
#02 | Alandise HARRIS (F)
One of two players to score double figures in both games (11.5 ppg).
Scored double figures in the last four games – longest streak as a Razorback.
Reached double figures in seven of eight November games (14.8 ppg) as a Razorback.
Just 28 points shy of 1,000 for his collegiate career (Houston & Arkansas).
Averaged 12.5 points and 5.0 rebounds over two NIT games to close last season.
#10 | Bobby PORTIS (F)
Averaging team-highs of 17.0 points of 5.5 rebounds.Named to the Wooden Award Preseason Top 50.
Scored 24 points in the season opener, the most in an opener by a Razorback since 2009.
Preseason All-SEC first team choice by the league coaches and media.
Broke the Arkansas freshman single-season rebound record with 230 boards in 2013-14.
ALL-TIME SERIES
Friday will be the sixth meeting between the two programs and the fifth at Bud Walton Arena. Arkansas holds a 5-0 edge in the all-time series, out-scoring the Hornets by 34.8 points. Delaware State was one of the first teams to play at Bud Walton Arena in 1993-93, as the Razorbacks played their first home game as the No. 1-ranked team in the country. ALEX DILLARD scored 39 points in 25 minutes off the bench in that game, hitting 12 three-pointers.
Arkansas leads, 5-0
Home: 4-0
Neutral: 1-0
1989-90 W, 117-75 N (LR)
1993-94 W, 123-66 H
2007-08 W, 89-67 H
2009-10 W, 71-53 H
2012-13 W, 86-51 H
THIS DAY IN RAZORBACK HISTORY
Arkansas holds a 5-1 record on November 21, dating back to the start of the 1959-60 campaign. On this date in 1990, the No. 2-ranked Razorbacks took down No. 6 Duke, 98-88, in the Preseason NIT at Madison Square Garden. Six players, highlighted by 21 points from TODD DAY, finished in double figures to out-duel Duke's trio of Christian Laettner, Grant Hill and Bobby Hurley.