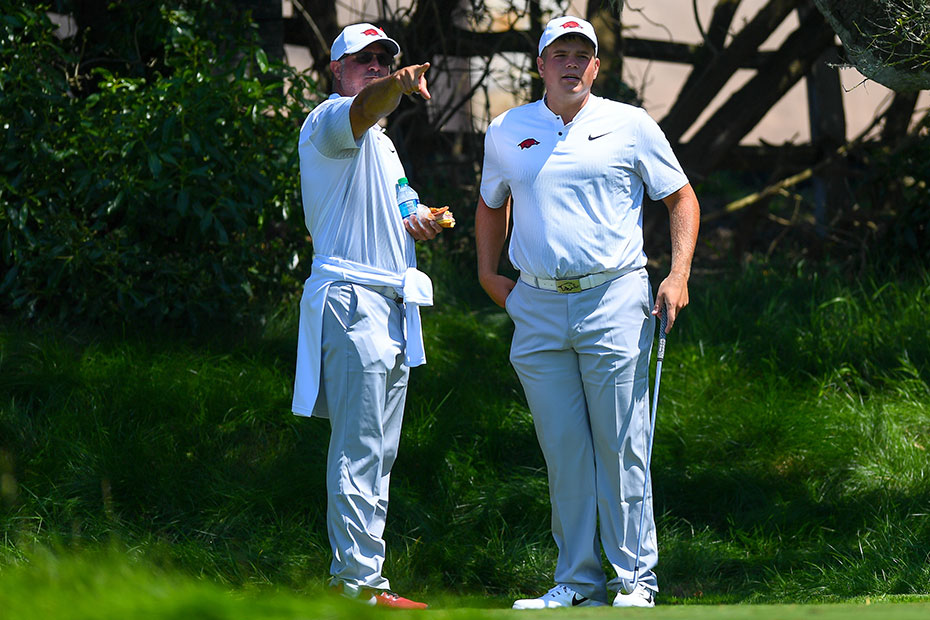 Arkansas Opens Spring Season At TPC Sawgrass
FAYETTEVILLE, Ark. – The Arkansas men's golf team will open its spring campaign on Monday morning, traveling to Ponte Vedra Beach, Florida, to compete in the Sea Best Invitational at Dye's Valley Course at TPC Sawgrass.
The 15-team field is the first of six regular season spring tournaments for the Razorbacks, who posted a victory, two runner-up finishes and three top-five performances during the fall season with a 45-11 head-to-head record. Arkansas enters its championship season ranked No. 20 in the country by Golfstat and No. 25 by Golfweek.
Arkansas returns to the Sea Best Invitation for the third straight year after finishing fourth in the event a year ago. Nearly half the field is ranked among the top 30 teams in the nation, with four of those programs coming from the Southeastern Conference.
The 6,873-yard par 70 Dye's Valley Course will feature 36 holes on Monday, Feb. 5, before closing out play with the final round on Tuesday, Feb. 6. Monday's shotgun start will begin at 7 a.m. Live scoring is available at Golfstat.com or via the Golfstat Live app.
The Razorbacks enter the spring with a perfect blend of veteran experience and young talent. Alvaro Ortiz is the lone senior of the team and is coming off his second straight runner-up finish at the Latin America Amateur Championship two weeks ago after posting a fall stroke average of 69.8, good for second on the team and the No. 2 position in the lineup.
Mason Overstreet enters his second collegiate championship season in the No. 1 position after recording his first victory in the fall at the Jerry Pate Intercollegiate. He posted a blistering 69.2 stroke average in five fall events with four top 20 finishes, including three top 10 performances. Overstreet made national headlines on the amateur tour in December as well, playing in the prestigious Patriot All-America Invitational and torching a loaded field by six shots.
Sophomores William Buhl (71.5) and Luis Garza (72.6) will occupy the third and fourth positions in the lineup, while mid-year transfer Tyson Reeder will make his Razorback debut in the No. 5 spot after spending his first two seasons at Oklahoma State. Freshman Landon Ernst will compete in the event as an individual after seeing action in two tournaments during the fall season.
The Razorbacks have been one of the most consistent teams in the country during the last decade, as head coach Brad McMakin has led Arkansas to 10 consecutive NCAA Regional bids and five NCAA National Championship appearances.
The Rundown
Schedule: Feb. 5-6 | 36 holes on Monday, 18 on Tuesday
Course: Dye's Valley Course | Ponte Vedra Beach, Fla.
Yardage: 6,873 – Par 71
Format: Play 5, count 4
Last Year's Champion: Florida (-4)
Razorback Lineup
1. Mason Overstreet, So. (69.2)
2. Alvaro Ortiz, Sr. (69.8)
3. William Buhl, So. (71.5)
4. Luis Garza, So. (72.6)
5. Tyson Reeder, R-So.
IND. Landon Ernst, Fr. (72.8)
The Field
No. 20 Arkansas
Campbell
No. 23 Duke
East Carolina
No. 7 Florida
Jacksonville
Liberty
Lipscomb
No. 11 LSU
No. 24 North Carolina
No. 27 North Florida
South Florida
No. 28 Tennessee
USC Upstate
Winthrop
For more information on Arkansas men's golf, follow @RazorbackMGolf on Twitter.