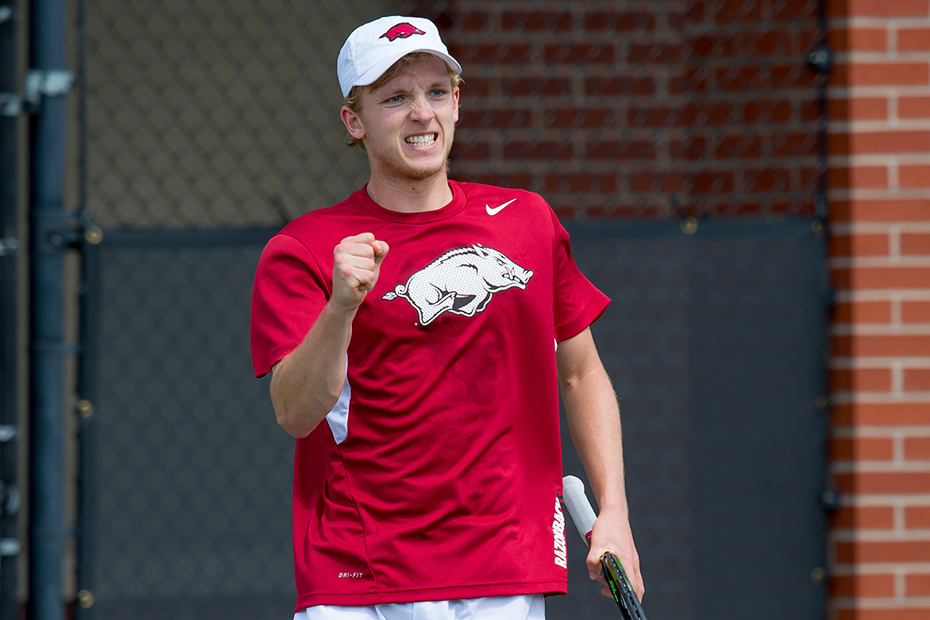 Arkansas Rises to No. 14 in Rankings
FAYETTEVILLE, Ark. — The Arkansas men's tennis team climbed seven positions in the Oracle/ITA Rankings on Tuesday, as the team earned a spot at No. 14 in the country. This season, head coach Andy Jackson and the Razorbacks have risen from a preseason ranking of No. 69 to inside the top 15 for the second time in three weeks.
Arkansas boasts a 16-4 overall record with a 5-2 mark in the SEC, including three consecutive wins. Over the past week, the Razorbacks notched wins at No. 19 Texas and home against SEC foe Ole Miss, both by scores of 4-3.
The victory over the Rebels was the program's first since 1988, and the win over the Longhorns was only the second since 1989.
Giammarco Micolani has been leading the way as of late, winning six consecutive matches at the No. 4 singles spot. The senior has clinched each of his last three in straight sets, dropping only 15 total games in the process.
Meanwhile, No. 2 singles player Jose Salazar is on a three-match win streak of his own and boasts six wins in his last seven appearances. Salazar, Micolani and Mike Redlicki each boast 5-2 records in SEC singles play to lead the team.
Arkansas is one of six SEC clubs to crack the top 25, ranking fourth behind No. 7 Georgia, No. 10 Texas A&M and No. 11 Florida. No. 19 Kentucky and one of the Razorbacks' upcoming opponents, No. 25 Mississippi State, round out the group.
Riding a three-match team winning streak, Arkansas will head to Tuscaloosa, Alabama, for a Friday, April 1 match against the Crimson Tide. The Razorbacks return home Sunday, April 3 to face the Bulldogs at 1 p.m. and Saint Louis at 6 p.m. in a day-night doubleheader.
For more information on Razorback men's tennis, please follow @RazorbackMTEN on Twitter.