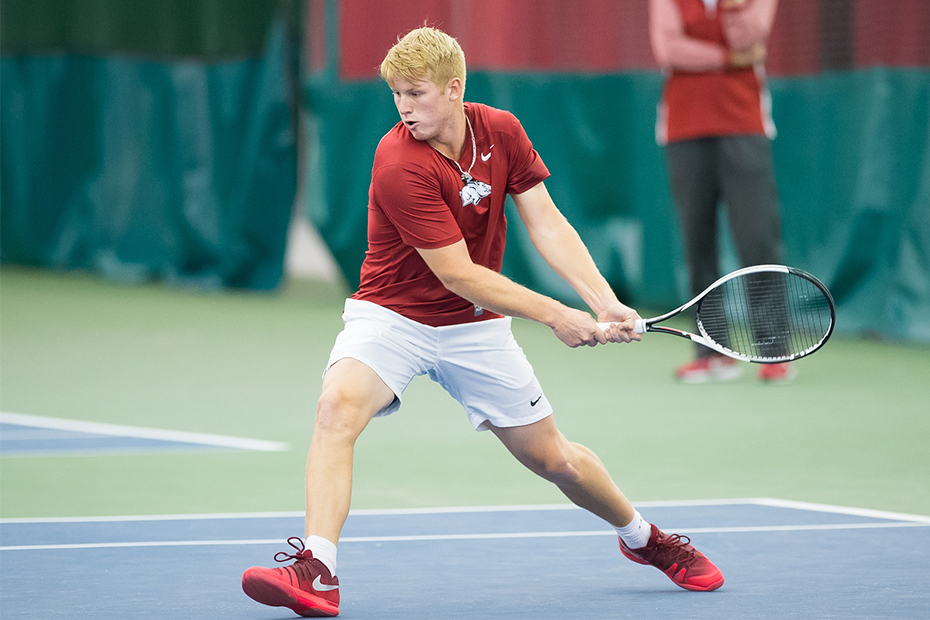 Arkansas Set To Host Tripleheader Saturday
FAYETTEVILLE, Ark. – Looking to get back in the win column, the Arkansas men's tennis team hosts a tripleheader on Saturday at the Billingsley Tennis Center, as the Razorbacks face Wichita State at 10 a.m., followed by a doubleheader with Saint Louis.
Less than a month into the 2018 season, the Razorbacks hold a 2-3 record, after splitting a pair of matches at the ITA Kickoff Weekend in Athens, Georgia, against the Memphis Tigers and Iowa Hawkeyes. After falling 4-3 to the Tigers, Arkansas bounced back in the consolation match against the Hawkeyes, coming from behind to win 4-3, after picking up victories on the final two courts to overtake Iowa.
Senior Jose Salazar leads Arkansas with a 4-1 mark at the top singles spot this spring, as freshman Josh Howard-Tripp follows with a 3-2 record at the No. 4 spot. The pair lead the Razorbacks with a 3-2 mark in doubles action at the No. 2 spot.
The Razorbacks hold the advantage over Wichita State with a 12-1 mark over the Shockers, last meeting in the first round of the 2016 NCAA Tournament, where the Razorbacks picked up their first win in the tournament in 10 years, defeating WSU 4-2 to advance to the round of 32.
Arkansas holds a 7-1 record against Saint Louis, including a 6-1 win last season at home.
For more information on Razorback men's tennis, please follow @RazorbackMTEN on Twitter.