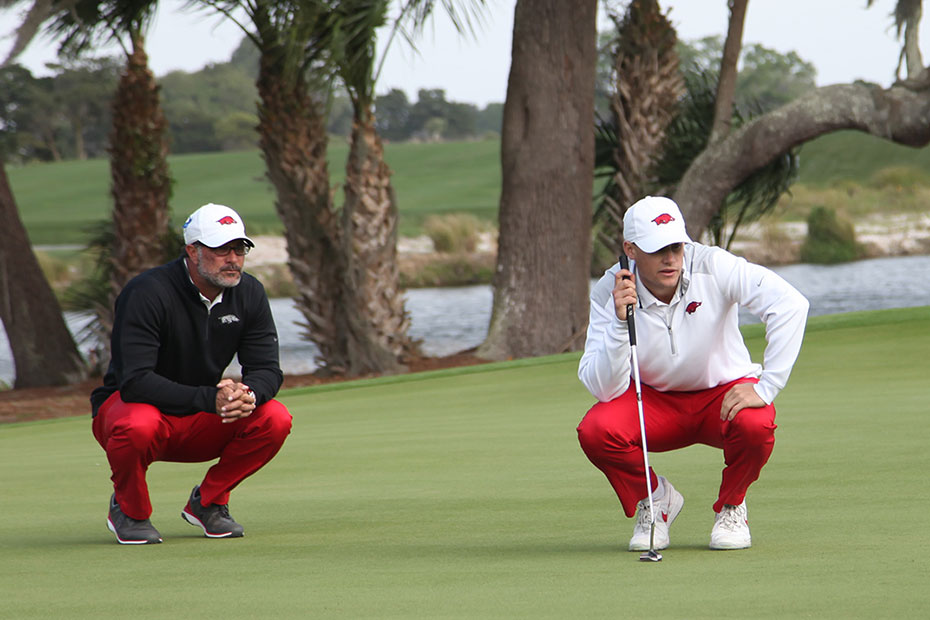 Arkansas Slides Up Leaderboard At SEC Championship
Results (PDF)  |  Sunday Tee Times  |  Photo Gallery
SIMONS ISLAND, Ga.– Windy conditions continued to challenge the field during the second round of the 2016 SEC Championship as No. 23 Arkansas emerged with the round of the day, posting a 3-over 283 to slide up the leaderboard into fourth place at Sea Island Golf Club.
After trailing the leaders by 11 shots after the opening round, Arkansas closed the gap during round two and enters Sunday just five shots off the pace. Kentucky continues to lead the field at 6-over for the championship, while No. 4 Georgia (+8) is second, No. 27 Texas A&M (+10) is third and the Razorbacks (+11) are fourth.
Arkansas will go for its second SEC Championship in program history when it tees off No. 1 tee Sunday morning at 8:20 a.m. EDT, playing with Auburn and Florida. While the Razorbacks go for the team title, Taylor Moore has his sights set on medalist honors as he sits tied for third overall and just two shots behind the leader.
Moore bogeyed the opening hole of the day, but quickly rebounded and holed out from off the green on No. 2 to save par. The Edmond, Oklahoma, native found his groove from there, carding three birdies and no bogeys for a 2-under 68. He tied for the second-lowest round of the day and moved up 19 spots to T-3rd at 72-68 – 140 (E).
Charles Kim continued his steady play with nine consecutive pars on the front nine, before shooting a 3-over 73 and moving into T-18th overall at 71-73 – 144 (+4) for the championship. Alvaro Ortiz matched Kim's 73 with a 3-over round of his own, making one bogey on the front and two more on the back to finish 73-73 – 146 (+6) heading into Sunday's final round.
Nicolas Echavarria followed up an opening round 72 with a 4-over 74, posting a birdie and five bogeys to finish moving day at 72-74 – 146 (+6), good for T-28th overall. Kolton Crawford recorded the biggest move up the leaderboard Saturday with a 1-under 69 that included a 2-under 33 on the front he side. He skyrocketed 28 spots up to T-33th at 78-69 – 147 (+7).
Live scoring of Sunday's final round will be available at Golfstat.com or via the Golfstat Live app.
@RazorbackMGolf Lineup

| Place | Player | Score |
| --- | --- | --- |
| T3. | Taylor Moore | 72-68 – 140 (E) |
| T18. | Charles Kim | 71-73 – 144 (+4) |
| T28. | Alvaro Ortiz | 73-73 – 146 (+6) |
| T28. | Nicolas Echavarria | 72-74 – 146 (+6) |
| T33. | Kolton Crawford | 78-69 – 147 (+7) |
SEC Championship Results (Day Two)

| Place | Team | Score |
| --- | --- | --- |
| 1. | Kentucky | 277-289 – 566 (+6) |
| 2. | No. 4 Georgia | 277-291 – 568 (+8) |
| 3. | No. 27 Texas A&M | 287-283 – 570 (+10) |
| 4. | No. 23 Arkansas | 288-283 – 571 (+11) |
| 5. | No. 6 Auburn | 291-283 – 574 (+14) |
| 6. | No. 18 Florida | 285-290 – 575 (+15) |
| 7. | Tennessee | 286-292 – 578 (+18) |
| T8. | No. 14 LSU | 294-286 – 580 (+20) |
| T8. | No. 7 Vanderbilt | 286-294 – 580 (+20) |
| 10. | Missouri | 289-292 – 581 (+21) |
| T11. | No. 13 South Carolina | 292-294 – 586 (+26) |
| T11. | No. 17 Alabama | 294-292 – 586 (+26) |
| 13. | Ole Miss | 301-298 – 599 (+39) |
| 14. | Mississippi State | 304-298 – 602 (+42) |