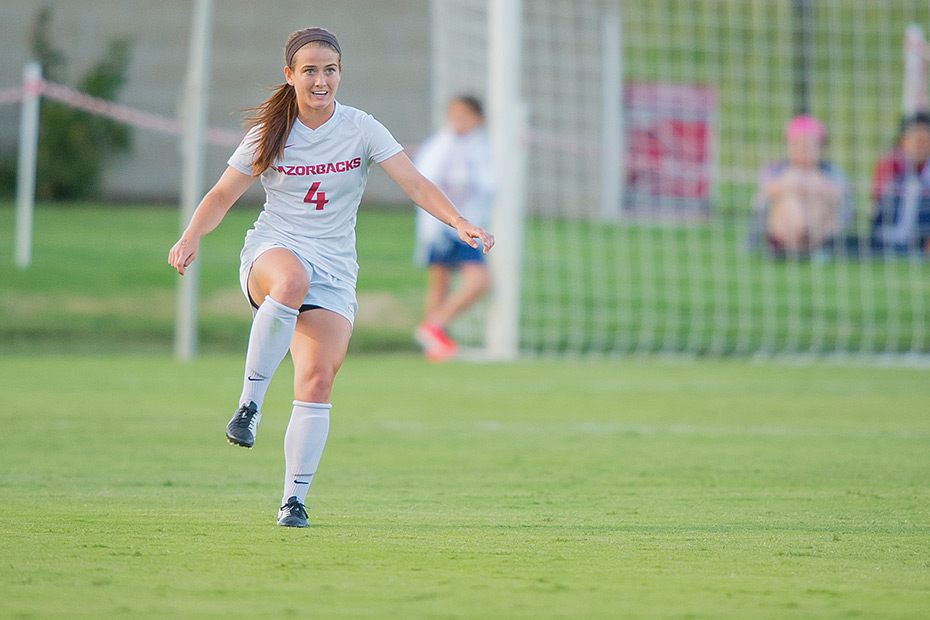 Arkansas Soccer Earns 2-1 Road Win Over UGA
ATHENS, Ga. — A strong team effort to capitalize on scoring opportunities, stingy defense around the box, and keeper Jordan Harris' play were more than enough for the Arkansas soccer team to overcome the Georgia Bulldogs 2-1 Friday night.
"Big win," said soccer head coach Colby Hale. "We knew it was coming. This team knows how to grind and work."
Hale has emphasized staying the course and following through on team core values after close losses to Kansas and Mississippi State last week. Those words paid off Friday night as the team played a complete game.
Katie Moore scored her second goal of the season 17 minutes into the match to give the Razorbacks the early lead by landing a goal that streaked past Georgia keeper Louise Hogrell.
The Hogs led at the half 1-0, a favorable situation for Arkansas as the team was 4-2-0 when scoring first, and 3-0 when leading at the half.
Georgia came out strong early in the second period with a quick score in the 46th minute from Marion Crowder to even up the game at 1-1. Arkansas' response was equally swift, with Claire Kelley tapping in a score in front of the goal nearly a minute later, with assists from Erika Miller and Alexandra "Sparky" Fischer.
Kelley's goal was her fifth of the year, placing her in a two-way tie for first place in that team category.
"Georgia is good and threw a lot at us, but this group is tough and resilient," said Hale. "We will celebrate tonight and then get ready for a very good Kentucky team."
Carly Hoke and Miller rounded up the team effort by playing solid defense throughout the match, often stymieing Bulldog scoring attempts.
With the win, Arkansas snapped a two-game losing streak and improved to 5-5-0 overall. More importantly, the win also was their first in SEC play for the season.
The Razorbacks look to carry this momentum forward as they head to Lexington, Ky. to face off against the No.22-ranked Wildcats at the Wendell & Vickie Bell Soccer Complex. The team returns home to Fayetteville next week when No.17 South Carolina and Ole Miss visit Razorback Field.
For more information on Razorback Soccer during the season, follow @RazorbackSoccer on Twitter.