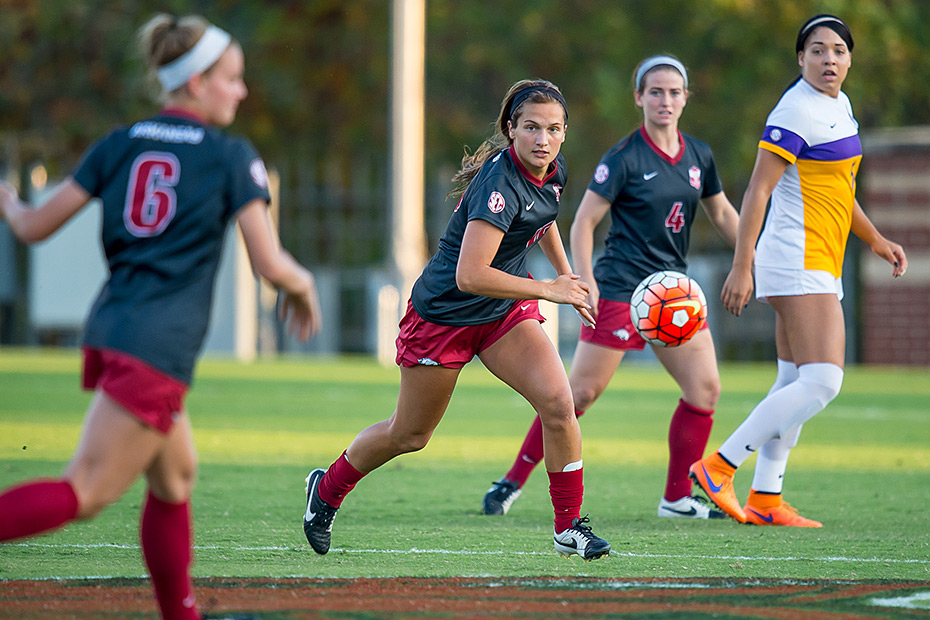 Arkansas Soccer Falls 1-0 To LSU
FAYETTEVILLE, Ark. — Arkansas soccer lost a close contest Thursday night, falling to the LSU Tigers 1-0 at Razorback Field.
Tigers sophomore forward Jorian Baucom scored the opening goal of the match late in the 16th minute, driving from the right side and through two Hog defenders to earn her 12th goal of the year.
The Razorbacks had equalizing opportunities in the second period, outshooting LSU 6-4, and tallying up six corner kicks to the Tigers' four. Team leader in goals and points Claire Kelley finished the night with five shots, two of which were on goal. She had two great looks to score during the 49th minute and 51st, but both set-piece strikes would sail high above the goal.
"I'm proud of the team," said Razorbacks soccer coach Colby Hale. "We are together and working. It's been a season where we have dealt with some stuff and that's preparing us for something special. I like our group. We'll take a couple days to recover and prepare for two good teams next weekend."
With the loss, Arkansas drops to 5-9-1 overall, and 1-6-1 in SEC play. LSU improved to 9-4-3 on the season, and 3-4-1 within the conference.
The team gets a week's rest before hitting the road next week on Oct. 23 and 25 to face off against No. 22 Texas A&M (11-4-0) and No. 13 Florida (10-3-1). The Razorbacks' final game of the regular season will be against Alabama at home on Razorback Field Oct. 29.
Arkansas' remaining schedule will be broadcasted live on SEC Network +.
For more information about Arkansas soccer during the season, follow Razorback Soccer on Twitter, Facebook, and Instagram.