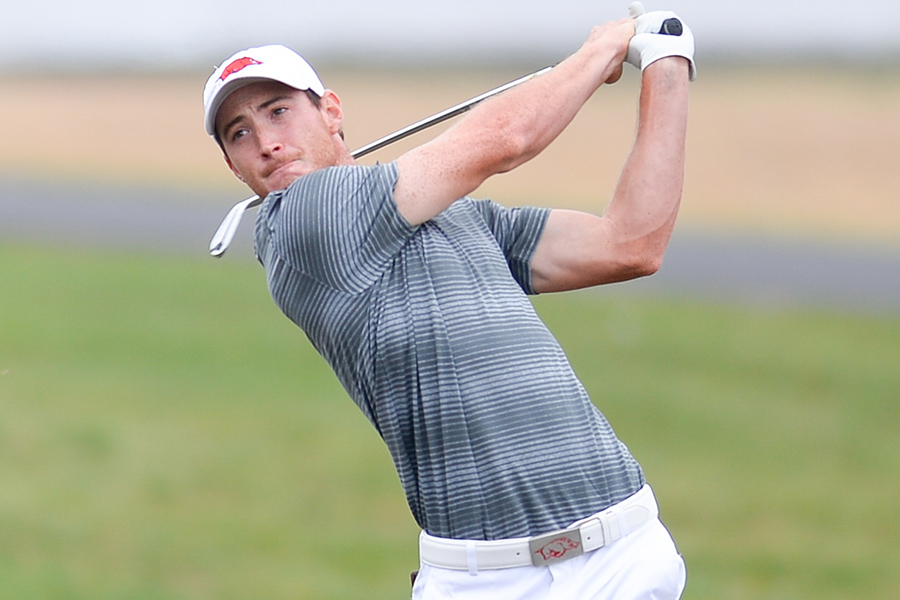 Arkansas Takes Third At Aggie Invite
BRYAN, Texas – The No. 32 Arkansas men's golf team will head into the start of postseason play in a few weeks with some good momentum, as it closed the regular season on Sunday with a third place finish at the 13-team Aggie Invitational held at Traditions Golf Course.
Led by Texas native Kolton Crawford, who produced his second runner-up of the spring, the Razorbacks finished just four strokes back of first place and one back of second en route to their four top 5 of the spring.
Arkansas' 298-293-297/888 scorecard helped it finish in front of four teams ranked in Golfweek's top 50, highlighted by its third win of the spring over a top 10 team. Entering the spring needing to get its head-to-head record to .500 in order to qualify for NCAA Regionals, the Razorbacks have gone 56-14-1 over five events since late February.
The only player in the field of 78 players to shoot even-par or lower all three rounds, Crawford put together three straight even-par 72s for his fourth top 5 of the spring. Crawford was Arkansas' low-man in two rounds while tying for the tournament lead with 40 pars to go along with eight birdies. On the year, Crawford has finished in the top 5 of five of nine tournaments.
Freshman Alvaro Ortiz capped a solid weekend with a two-over 74 to return to the top 20 for a third time this year in a tie for 13th place. Ortiz turned in three counting scores for the fourth time this year and first time this spring with a 76-73-74/223, equaling Crawford's tournament-best 40 pars. Junior Taylor Moore just missed his seventh straight top 20 finish by tying for 21st position. Moore was the only Razorback to finish in red figures over the weekend with a one-under 71 in the second round for his team-best 11th under-par round of the year while leading the field in par 3 scoring (-1) and third in birdies (13).
Junior Nicolas Echavarria turned in one of the four counting scores on Sunday, playing the front nine two-under before shooting a final round 73. Redshirt sophomore Zach Coats tied for 32nd overall (74-77-78) while freshman Emil Soegaard lowered his score each round, concluding with a 74 on Sunday. Soegaard was playing as an individual.
Arkansas will return to action on Friday, April 17, when it opens play at the SEC Championships held at St. Simons Island, Ga.
McMakin Post-Round Sound
"This was another solid tournament for our guys. We continue to gain momentum heading into the postseason and I think our best golf is still in front of us. Kolton has been terrific all spring and it's great to see him putting together a run of tournaments like this."
@RazorbackMGolf Lineup
2. Kolton Crawford – 72-72-72/216 (E)
T13. Alvaro Ortiz – 76-73-74/223
T21. Taylor Moore – 76-71-78/225
T32. Zach Coats – 74-77-78/229
63. Nicolas Echavarria – 83-83-73/239
T38. Emil Soegaard – 81-76-74/231 – INDIVIDUAL
@RazorbackMGolf Quick Hits
• Arkansas has finished in the top five of five of nine events on the year, including four in the spring.
• Led by a 56-14-1 spring record, Arkansas has a head-to-head mark of 68-48-1 for the year.
• Arkansas was one of two teams to break 300 all three rounds.
• Crawford has led Arkansas in three tournaments and 12 rounds on the year.
• Crawford has shot even-par or lower 14 of 26 rounds.
• Moore upped his team-leading birdie total to 80 with a season-best 13 at the Aggie Invite.
Aggie Invitational Final Standings (Golfweek Ranking)
1. Oklahoma (16) – 302-288-294/884
2. Texas Tech (10) – 308-291-288/887
3. Arkansas (32) – 298-293-297/888
4. LSU (6) – 297-298-296/891
5. Texas A&M (41) – 303-287-304/894
6. New Mexico State (67) – 301-289-311/901
7. California (21) – 307-297-302/906
8. North Texas (78) – 311-296-308/915
9. Michigan (47) – 318-302-299/919
10. UTSA (88) – 315-300-311/926
11. Kent State (87) – 314-297-317/928
12. Bowling Green (184) – 312-326-301/939
13. Princeton (190) – 336-321-319/976