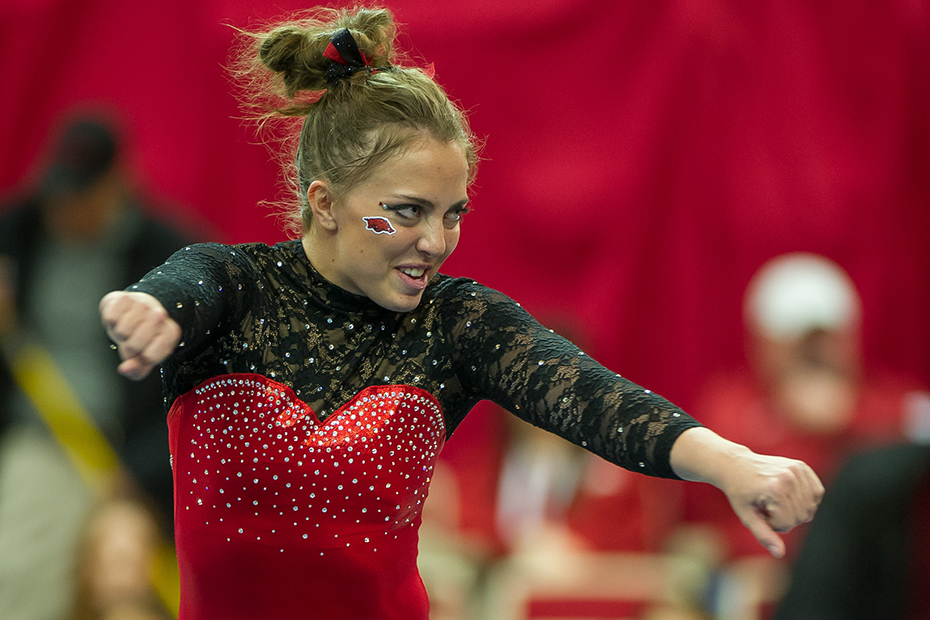 Auburn Preview: It'll Be A Battle
MEET INFO…
WHO: No. 8 Arkansas vs. No. 9 Auburn
WHEN: Friday, Jan. 29 at 7:30 p.m.
WHERE: Barnhill Arena
WHAT: Princess Date Night
HOW TO…
WATCH: SEC Network
STREAM: SEC Network +
LIVE RESULTS: Stats
FOLLOW: @RazorbackGym
PREPARE: Meet Notes (PDF)
FAYETTEVILLE, Ark. — Coming off one of the most notable wins in program history might be difficult to top, but the No. 8 Arkansas gymnastics team is going to try for an encore.
The Razorbacks host No. 9 Auburn at Barnhill Arena on Friday, Jan. 29 at 7:30 p.m. on SEC Network, in a top-10 meeting between conference foes. On paper, these two squads couldn't be much closer, and that has reflected upon the teams' performances so far this season.
"We've had a back-and-forth battle with them over the years since we started our program," head coach Mark Cook said. "They beat us here the last time in Barnhill, so it's important for us to regain the upper hand in this matchup. I respect their coaching staff and it's a good rivalry in the conference."
The two are separated by a .007 average in the national standings, and while Arkansas has reached 196.700 twice this season – with Auburn's team high being a 196.275 – the Tigers have been consistent, with a season low of 195.900. Historically, it's the same; Auburn has a slim 14-13 lead in the all-time series, but the Razorbacks are 5-1 in meets in Barnhill Arena.
After an early-season hiccup in Cancun, Arkansas has rebounded and settled into a relatively consistent lineup over the last three meets. Balance beam in particular has seen the biggest improvement. Following a 48.225 in their first meet, the Razorbacks have posted scores of 49.000 or higher in all three meets since then, led by Sydnie Dillard, who was changed to lead-off to provide consistency from that spot.
For more #Gymbacks content during the season, please follow @RazorbackGym on Instagram, Twitter and Snapchat.