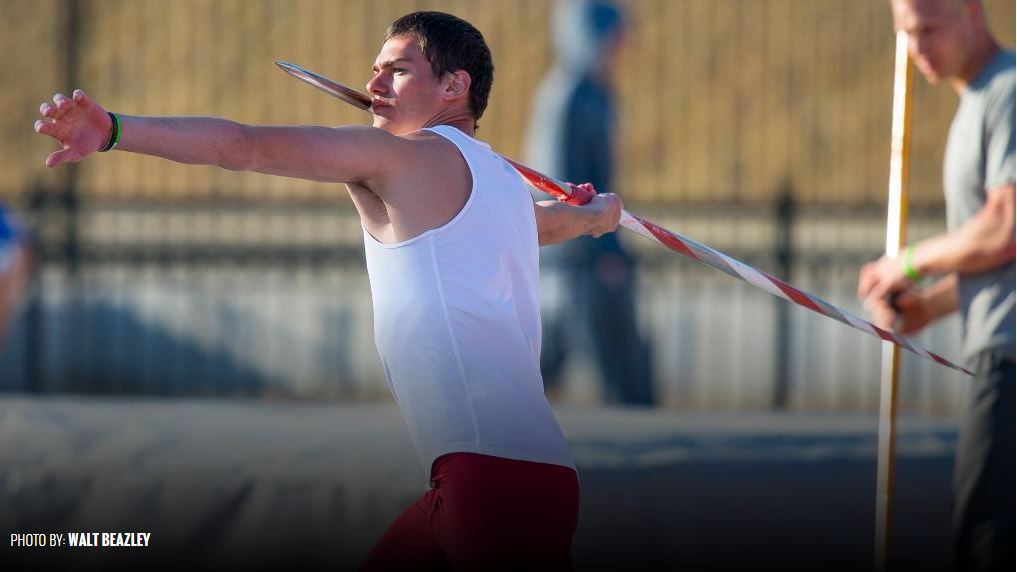 Austell, Culp Post PRs at Razorback Combined
FAYETTEVILLE, Ark. – Competing in their first decathlon of the year, Lane Austell and Brad Culp both tallied personal-best point totals and top-10 school marks to finish third and fourth, respectively, at the Razorback Combined. Austell finished the two-day, 10-event competition with 6,866 points while Culp scored 6,731 points. Both scores also represent top-25 totals in the NCAA this season.
With his showing, Austell improved his standing in school history to become the No. 9 performer on the decathlon list. He added nearly 200 points to his previous best of 6,681 which he scored at last year's Drake Relays. Austell bookended his day with a personal-best time of 15.43 in the 110-meter hurdles and a first-place run of 4:42.48 at 1,500 meters. Over the two-day event, he set or tied four personal bests.
Culp moved into Arkansas' top-10 performers list with his performance at the Razorback Combined. He had a previous high of 6,645 points from the 2014 SEC Championships. Culp had two career bests Thursday with marks of 37.97m/124-7 in the discus and 4:49.05 at 1,500 meters. Coupled with his results from day one, he had three personal bests overall.
Razorback Combined, Day 2
John McDonnell Field | Fayetteville, Ark.
3. Lane Austell – 6,866 points [PR – previous: 6,681]
3. 110m Hurdles – 15.43 (+0.6) [PR – previous: 15.49] / 798 points
6. Discus – 36.26m/118-11 / 589 points
5. Pole Vault – 4.50m/14-9 / 760 points
4. Javelin – 49.95m/163-10 / 588 points
1. 1,500 Meters – 4:42.48 / 665 points
4. Brad Culp – 6,731 points [PR – previous: 6,645]
4. 110m Hurdles – 15.58 (+0.6) / 781 points
5. Discus – 37.97m/124-7 [PR – previous: 121-2] / 623 points
4. Pole Vault – 4.60m/15-1 / 790 points
5. Javelin – 44.00m/144-4 / 500 points
3. 1,500 Meters – 4:49.05 [PR – previous: 5:03.32] / 624 points
In addition to the midweek multi-event competition in Fayetteville, the No. 8 Razorbacks' distance crew has traveled to Walnut, Calif., for this weekend's Mt. SAC Relays. Competition at the distance-heavy meet is set to begin Thursday night and continue through Saturday. Through the first three weeks of the outdoor season, Arkansas has four top-25 NCAA marks including a top-10 time at 10,000 meters by Kemoy Campbell.
The Razorbacks' next home meet is scheduled for May 1 with the Arkansas Twilight. For more info regarding purchasing tickets for home events, call 800-982-HOGS (4647), email raztk@uark.edu or visit the Razorback Ticket Center located just east of Baum Stadium.
For more information on Arkansas track and field including in-meet updates, follow @RazorbackTF on Twitter.