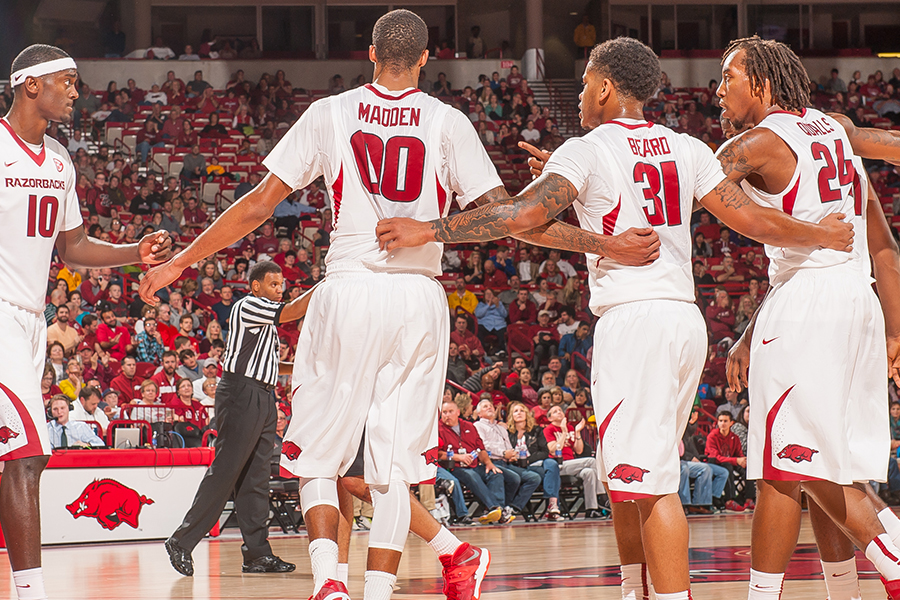 Balance Leads @RazorbackMBB Over Delaware St.
FAYETTEVILLE, Ark. – Junior Michael Qualls led four double figure scorers with 20 points and Arkansas forced visiting Delaware State into 24 turnovers, as the Razorbacks moved to 3-0 with a 99-71 win on Friday night at Bud Walton Arena.
Playing their third game in a six-day span, the Razorbacks depth continued to pay dividends as the Hornets' 24 turnovers led to 36 points.
Arkansas' deep rotation, which saw nine players earn double figure minutes, helped ignite a 19-4 run over the final 5:40 of the first half and a 15-2 spurt late in the second half to balloon the lead to over 30 points.
Qualls' fourth career 20-point night came on an efficient 7-of-11 from the field, highlighted by a pair of threes and a pair of dunks to give him a team-high five on the year. Junior Jacorey Williams reached double figures for the second consecutive game with a career-high 14 points off the bench, while sophomore Bobby Portis had 12 of his 14 points with over three minutes left in the first half.
Entering the game averaging an SEC-best 90 points after leading the league in scoring a year ago, the Razorbacks just missed shooting 50 percent from the floor for the third straight game. Arkansas knocked down 49 percent (35-72) from the field, including 10-of-19 from three, while it passed out an impressive 26 assists on its 35 made field goals. Led by junior Anthlon Bell, who was 4-of-6 from three tonight and is 22 of his last 31 from deep at Bud Walton Arena, the Razorbacks are shooting a torrid 52 percent (25-48) from long range through three games.
Senior Rashad Madden had a hand in the hot shooting night with a pair of threes, but made a bigger impact in spreading the wealth with a career-high eight assists. Madden's night included nine points, while is eight assists were backed up by freshman Nick Babb's five helpers in just eight minutes and four from freshman Anton Beard. Beard also hauled in a team-best seven rebounds as Arkansas won the battle on the glass by a 45-33 margin.
Struggling to find a rhythm on either end of the court in the first, the Razorbacks clicked into their #Fastest40 style trailing Delaware State 26-25 and closed the final 5:40 of the opening frame on a 19-4 run. Back-to-back dunks brought the crowed to their feet, but it was the Razorbacks relentlessness on defense that eventually turned the game over.
@RazorbackMBB Quick Hits 
• Arkansas is off to a 3-0 start for the third straight season.
• Arkansas is 6-0 all-time against Delaware State and 21-1 against MEAC opponents.
• The victory moves Arkansas' home non-conference win streak to 17 games.
• Arkansas has now beaten 45 straight unranked non-conference opponents at home.
• Qualls scored 12 of his game-high 20 points in the first half.
• Arkansas is 10-1 over the last two seasons when Qualls has two or more dunks in a game.
• Portis is the only Razorback to reach double figures every game this year and has done so in seven straight games dating back to last year.
• Madden's career-high eight assists marked the second time this season he's led the team in helpers.
• Williams has reached double figures in back-to-back for the first time in his career.
• Bell has scored 88 points in his last 97 minutes at Bud Walton Arena.
• Bell scored nine of his 15 points in 80 seconds in the second half.
Coach Anderson Postgame Sound
"I thought Delaware State had a good game plan coming in and was able to slow down the pace to start. We turned up the pressure on defense and like I always say our defense leads to offense. Our defense tonight got us into an offensive rhythm and that's ok because we want to have a defensive mentality every single game."
#Fastest40 Facts
• Arkansas' 26 are the fourth-most under coach Anderson.
• Forced 20+ turnovers in all three games and improved to 22-1 under coach Anderson when accomplishing the feat.
• Arkansas improved to 7-0 when passing out 20+ assists under coach Anderson
• Last two opponents have 44 turnovers and 44 made field goals.
• Going for second straight opponent with more turnovers than field goals.
• Sophomore Manuale Watkins had a team-high three steals and has nine on the year.
Up Next
Arkansas will now turn its attention to No. 22/23 SMU for a meeting in Dallas on Tuesday, Nov. 25. The Razorbacks defeated the Mustangs at Bud Walton Arena in 2013 while Wednesday's showdown will be the second part of a home-and-home series between the two former Southwest Conference foes. Tip is slated for 6:30 p.m. on ESPNEWS.