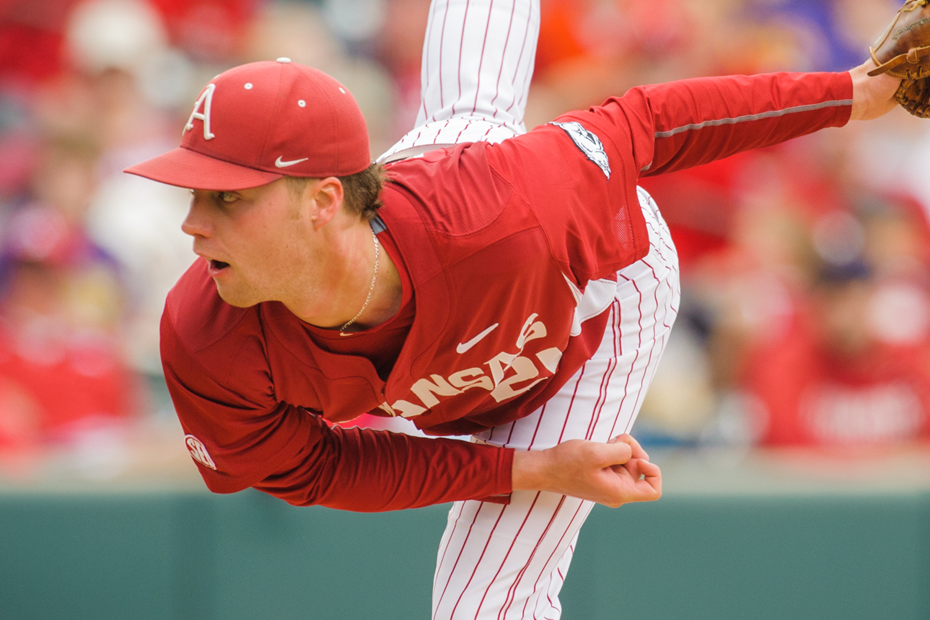 Baseball Drops Series Finale to LSU
FAYETTEVILLE, Ark. – The University of Arkansas baseball team (11-11, 1-5) had a late rally come up short Saturday afternoon as top-ranked LSU (21-3, 4-2) picked up a 7-4 victory at Baum Stadium in SEC action.
Down 5-1 in the seventh inning, Arkansas found its stride at the plate as Clark Eagan lined a double down the left line and Joe Serrano followed and drilled a two-run opposite field home run down the right field line to cut the LSU lead in half and make it 5-3.
The Razorbacks continued to put pressure on the Tigers in the seventh inning, eventually loading the bases with one out, but Carson Shaddy grounded into an inning-ending 5-2-3 double play to end the threat. Tyler Spoon nearly tied the game earlier in the inning, but his bid for a two-run homer sailed just left of the foul pole down the left field line.
Serrano was it again in the eighth inning, lining an RBI single through the left side to plate Max Hogan and make it 5-4, but the Tigers scored two runs of their own in the ninth to earn the 7-4 victory and capture the series.
Arkansas brought the tying run to the plate in the ninth inning, but pinch hitter Chad Spanberger grounded out to end the game. The Razorbacks left 14 runners on base in the game, while the Tigers stranded nine.
Trey Killian (0-1) suffered the loss, giving up nine hits and three runs in 6.0 innings of work, While Zach Jackson and Jacob Stone gave up two runs apiece in relief.
Serrano finished the game with two hits, a run scored and season-high three RBI, while three other hitters collected two hits.
The Razorbacks return to action next Tuesday, traveling to North Little Rock to take on Memphis at Dickey-Stephens Park, before turning around the next night for a rematch at FedEx Park in Memphis, Tenn.
Arkansas Head Coach Dave Van Horn on the Loss: "We left 14 on.  We got a couple big hits, but we didn't get the hit.  We had a couple of chances to get it.  Spoon almost tied it up but it was a few feet foul.  It seems like that's what's been going on – it's just one play or one pitch."
Van Horn on trying to come back late in the game: "Trying to score one off their closer is very doable, but three is pretty tough.  You have to have a little magic there.  We set it up.  We had two outs and two on.  Chad Spanberger came off the bench to pinch hit and he didn't get the barrel out."
Van Horn on Killian's performance: "He didn't have nearly as good of stuff as he did last weekend.  He didn't have the command of his fastball.  I think he'd tell you that.  I think he battled and he kept us in the ballgame.  When he went out it was 3-0.  He threw right at 81-82 pitches.  He was fighting to stay in and we wouldn't let him."