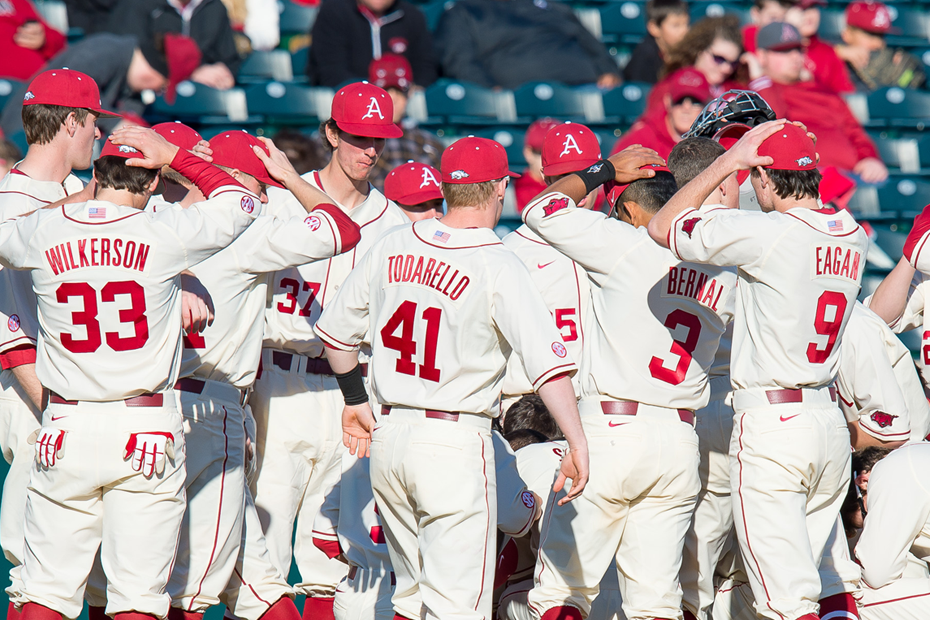 Baseball Media Day Recap
FAYETTEVILLE, Ark. – The Arkansas baseball team held its 2015 media day Wednesday afternoon, as head coach Dave Van Horn, assisted coaches and players met with the media to talk about the upcoming season.
Head Coach Dave Van Horn opening statement: "Spring practice has gone great so far.  Thank goodness we've had great weather.  I think that's been a major plus.  Last year was really rough.  We're trying to work out and get ready for the opening couple of weekends."
Van Horn on potential starting pitchers: "Right now Killian, Taccolini, Jackson, Teague and McKinney are the ones that jump right out at me.  They all throw strikes.  They've got good stuff.  Jackson and Taccolini came out of the bullpen for the most part last year and were very good as freshmen.  They're a lot better now, bigger, stronger and more mature.  McKinney is a straight up freshman who has good mound presence. He's a mature kid for his age with a good change up and can throw it with any count."
Van Horn on catching situation: "It's a pretty good battle.  Pennell is a pretty polished defensive catcher.  He will throw you out if you give him a chance. Alex Gosser is battling too.  Right now Pennell is a little bit ahead of him on the defensive side.  We've got it covered back there, but when you lose a guy like Jake Wise with all those games of experience it's always tough to replace just because of the knowledge."
Van Horn on who he expects in the infield: "The infield is interesting, especially the middle.  Clark Eagan is the most improved hitter that we've had and we've got him at first base.  At second base, there's three or four kids that could go there.  If Bernal isn't playing short, he can play second.  Defensively, he's our best second baseman.  Brett McAfee or Bernal will be at shortstop.  Another player that's improved and I think you'll see this right out of the gate is Bobby Wernes.  Athletically, he's probably one of the hardest working kids I've been around. He can play third, short or second.  He's our best fielder."
Van Horn on the SEC this year:  "I think the league is really experienced with position players.  You just look at all these kids and guys coming back for their junior year and a couple of seniors slipped through.  Obviously you see the preseason polls and there's eight teams in the top 25.  It just tells you how good our league is and I think there's a lot of coaches that feel really good about their teams."
Pitching Coach Dave Jorn on the new baseballs being used this season: "The pitchers seem to like the ball.  They don't like the extra distance that it carries but they like the feel of it and the ability to spin the ball."
Jorn on the pitching depth: "I'm a big bullpen guy.  We don't have quite the depth that we've had in the past so we're going to have to put some pieces together and see how it works out.  We've got some decent arms, but as far as pitch ability, that needs to improve."
Assistant Coach Tony Vitello on the effects of the new balls this season: "I think it's going to make a difference and make things more exciting. Offense or defense, it's going to be a team win or a team loss for every team across the country. But, I think everyone wants a little bit more drama, especially in Omaha, you saw when guys are hitting home runs in big time moments or extra base hits to score more runs."
Vitello on the improvement of junior OF Tyler Spoon: "I think his hitting is very similar to what he had last year when I first saw him, what's different is his presence. It's phenomenal. I complimented him on his leadership yesterday, but I just think he has a totally different mindset and has a bigger presence.
Sophomore Clark Eagan on SEC play: "It's definitely going to be a challenge.  All the arms in the SEC are some of the best in the nation, so each week we're going to have to battle and grind them down.  Hopefully we get in their bullpen as early as we can and have as many quality at bats as we can against those starters to get runs on the board."
Senior Tyler Spoon on this year's team: "We've got a lot of offensive weapons.  This year I can honestly say that if I don't get it done, the next guy will in the seven-hole, eight-hole, nine-hole.  We have so many weapons in the outfield, infield too.  If someone doesn't get it done one day, someone else will go in and it will be just fine."
Freshman Luke Bonfield on earning a spot in the lineup: "I just try to put in my work like everyone else and try and be the hardest worker on the team.  It's tough because if you don't do the job, someone is going to come in a replace you and get that job done."
Freshman Kyle Pate on season expectations: "I think we'll be able to put up a lot of runs on the board, we have a great hitting squad and the pitching staff is solid, just like always. I think we'll be good."
Jacob Stone on stepping up to the challenges: "We have a lot of holes to fill from last year, but we have a lot of new talent that came in as the No. 1 recruiting class. I think we're going to have a lot of people step up this year and it's going to be an exciting year for us."