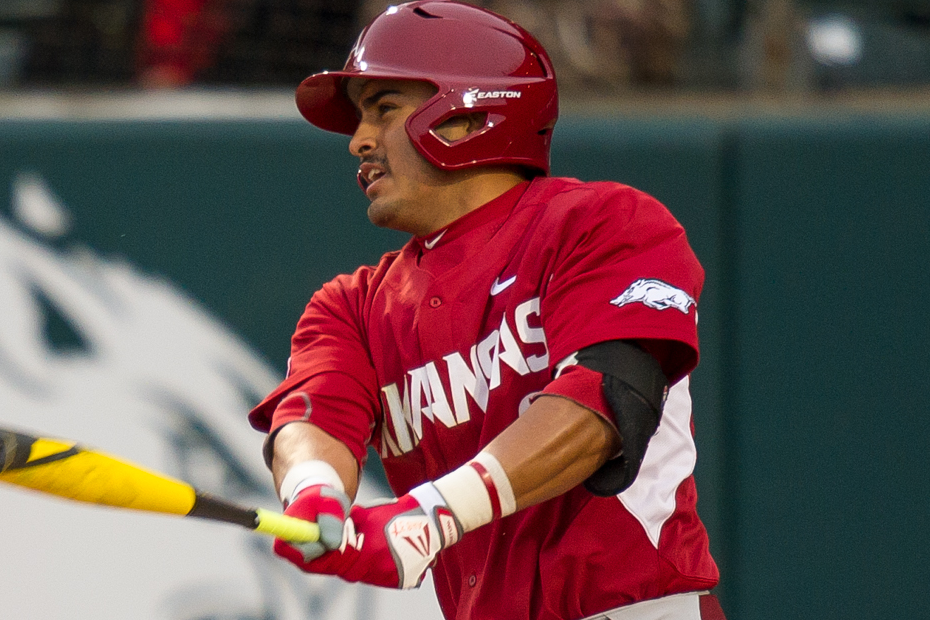 Baseball Sweeps Doubleheader Against Eastern Illinois
FAYETTEVILLE, Ark. – The No. 17 University of Arkansas baseball team used a four-run fifth inning to cruise to an 8-1 victory in game two Monday evening and complete a doubleheader seven-inning sweep over Eastern Illinois at Baum Stadium.
With Arkansas (6-2) down by a run heading the last of the fifth inning in a seven-inning game, Bobby Wernes led off and belted a solo blast to left field for his first long ball as a Razorback to tie the game 1-1. The Arkansas offense would go on to score three more runs in the inning, capped by a two-run double off the wall in left field from Tyler Spoon to make it 4-1.
Michael Bernal added plenty of insurance in the sixth inning, stepping to the plate with the bases jammed and belting a grand slam to left field for his first home run of the year to make it 8-1.
Josh Alberius (1-0) picked up the victory in relief, tossing 3.0 innings and not allowing a hit. He retired all nine batters he faced, recorded two strikeouts and threw just 25 pitches as he picked up his first collegiate victory.
Arkansas and Eastern Illinois are scheduled to play the third and final game of the series Tuesday, with first pitch slated for noon at Baum Stadium.
Arkansas Third Baseman Bobby Wernes on his home run: "It was a hanging slider. He had been carving us up the first time through the order. I was leading off the inning and just trying to get on base. He hung one up and I just hit it."
Arkansas Shortstop Michael Bernal on his grand slam: "It was another hanging, breaking ball. Another pitch up in the zone. It felt great. I'm just trying to get up there and get reps. It's been a while since I've been out on the field. I'm just trying to have fun out there, it's been a long time."