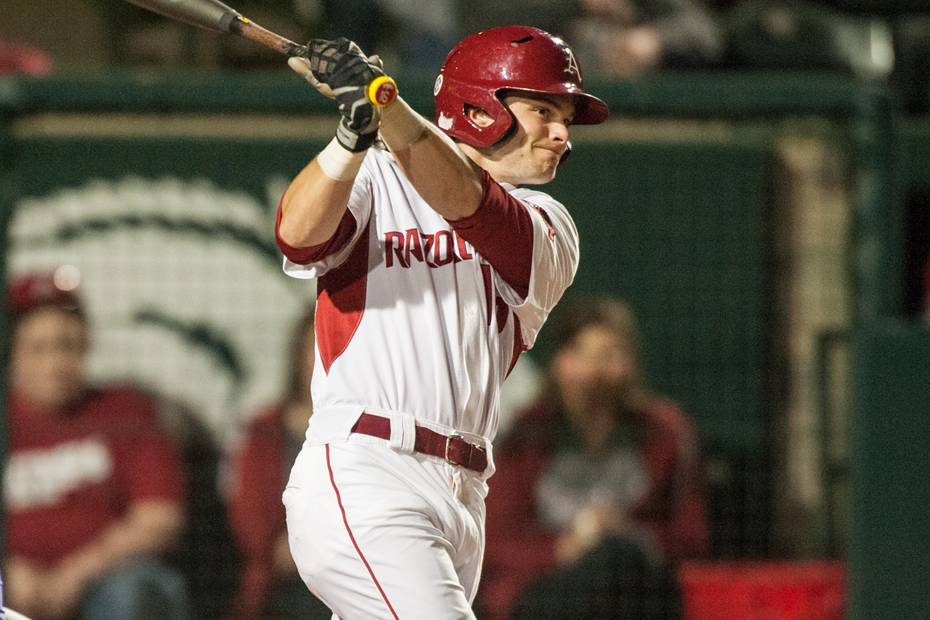 Baseball Tops Kentucky Behind Benintendi Blast
FAYETTEVILLE, Ark. – The University of Arkansas baseball team (19-15, 6-7) used another two-homer game from Andrew Benintendi as the sophomore paced the Razorbacks to a 5-3 victory over Kentucky (18-14, 4-8) Friday evening at Baum Stadium.
Benintendi continues his unconscious stretch, hitting two home runs in back-to-back games to give him a nation-leading 13 blasts on the year. The sophomore has six home runs in the last six games, including four bombs in his last six at bats.
His solo shot in the first inning gave Arkansas a lead they would never relinquish, while his blast in the seventh inning came after Kentucky scored two runs in the top half to cut the Razorback lead to just one run.
In his current seven-game hitting streak, the sophomore is hitting .565 with six home runs, 13 hits, 11 runs batted in and 12 runs scored, while drawing eight walks for an on base percentage of .656.
Clark Eagan had two hits of his own, including a two-out RBI single in the fourth inning to extend the Arkansas lead to 4-1 at the time. Tyler Spoon continued his hot hitting in the seventh inning, ripping a single to center field to extend his hitting streak to a season-high 11 games.
Trey Killian  (1-2) earned his first win of the year, tossing 6.0 innings and giving up just one run, while striking out four for his third quality start of the year. He gave way to Zach Jackson who got himself in a jam in the eighth inning and gave up a pair of runs, but got out of a bases loaded one out jam to preserve the lead and make way for another Benintendi homer in the bottom half of the inning.
Arkansas will go for the series win over Kentucky Saturday evening at Baum Stadium. First pitch is set for 6:05 p.m. with Dominic Taccolini slated to get the ball for the Razorbacks.
Arkansas Head Coach Dave Van Horn opening statement: "It was just a good ballgame, Friday night type game.  They were one big hit away from tying it up.  I just thought (Zach) Jackson came through with some big pitches there after he hit the batter.  Then we have bases loaded, one out and he ends up getting the next two hitters out and we still have the lead.  We played hard.  I'm glad Trey gave us six innings.  I think he probably didn't have his best stuff, but he battled and gave us six.  He came out with the lead and Jackson had one bad inning and two good, and it was enough."
Van Horn on Andrew Benintendi's offensive success: "He's swinging the bat good.  He's confident, obviously.  Whenever you're going good you stay in the zone, you don't swing at bad pitches and that's what he's done.  You take your walks.  I think part of his tear is that the hitters behind him are swinging the bat good too."
Van Horn on Trey Killian: "The team got a win and Trey got a win.  He deserves it; he works hard.  He gives us a chance to win almost every time out.  It seems like we haven't been able to preserve him.  We've won some games he's pitched, but he's let them slip to ties or lose leads and he doesn't get a decision.  It's good.  The team is excited about it."
Sophomore center fielder Andrew Benintendi on offensive success: "I don't think I'm carrying the offense.  There's a lot of guys contributing up and down the lineup.  Tyler Spoon has been hot lately and there's some other guys I'm sure I'm forgetting.  I think our confidence as a team right now is really high.  We're going to keep rolling."
Junior RHP Trey Killian on Andrew Benintendi leading the NCAA in home runs: "It's unreal.  In the dugout I feel like we think he's going to get a home run every time, or at least get a hit.  He's seeing the ball great right now and he's on an unreal tear.  We just can't believe it's happening.  It's awesome for us because I think his confidence and success is rubbing off on the rest of the lineup."
Killian on his pitching performance tonight: "Not my best stuff, not my sharpest off speed stuff.  I'd say my command was up to par for me.  I was able to make pitches down in the zone and get out of some tough situations late in the game and keep my team in the game."
Benintendi Bonanza
Currently leads the nation with 13 home runs on the year.
Has four home runs in his last six at-bats.
Has back-to-back multi-homer games and six home runs in the last six games.
Reached base in eight consecutive plate appearances spanning three games after a leadoff walk in the third inning.
Has recorded a hit, RBI and run scored in each of the last five games.
Extended his hitting streak to seven games, including 16 of the last 17.
Raised batting average 57 points during current seven-game hitting streak.
Leads the SEC with 93 total bases.
Has 11 RBI in the last six games.
Recorded home runs in consecutive plate appearances for the first time since Derrick Bleeker in 2012.
Game Notes
The Razorbacks have hit 34 home runs in 34 games this season, including six in three games this week.
Arkansas has double-digit hits in four straight games and in five of the last six contests.
The Razorbacks turned two more double plays Friday to bring the season total to 36, good for second in the SEC.
Tyler Spoon stretched his hitting streak to a season-high 11 games.
Trey Killian recorded his first victory of the season.
For more information on Arkansas baseball, follow @RazorbackBSB on Twitter.