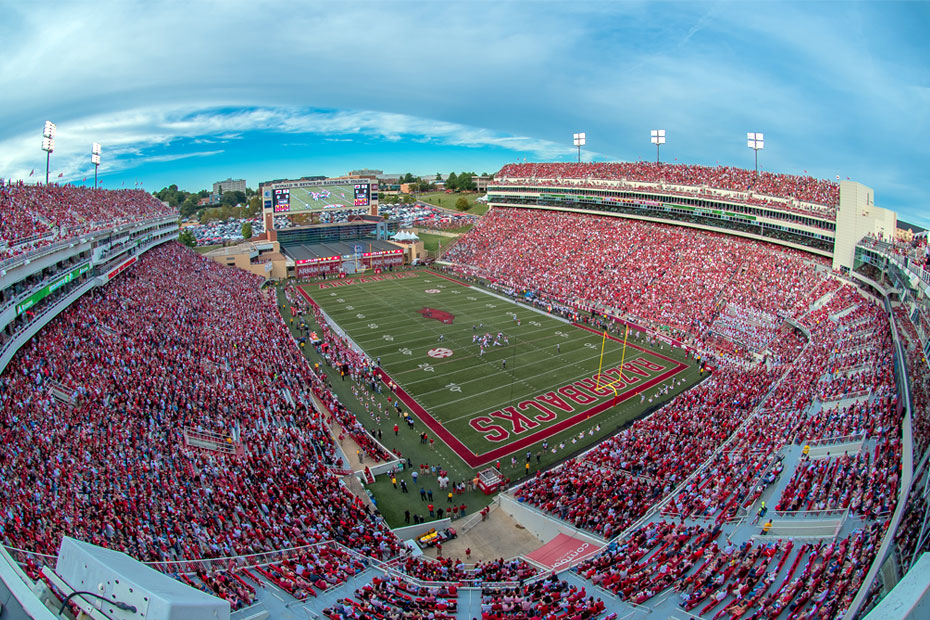 Battle Line Rivalry Officially Sold Out
FAYETTEVILLE, Ark. – The Battle Line Rivalry presented by Shelter Insurance is officially sold out, the University of Arkansas announced Wednesday. The game between the Arkansas Razorbacks and Missouri Tigers at Donald W. Reynolds Razorback Stadium on Friday marks the fourth home sellout of the 2015 Razorback football season. The Texas Tech (Sept. 19), Auburn (Oct. 24) and Mississippi State (Nov. 21) games were also sold out.
The Arkansas-Missouri game will kick off on Friday at 1:30 p.m. and will be nationally televised by CBS.
"Thank you to our loyal Razorback fans for helping sell out four home games this season," Vice Chancellor and Director of Athletics Jeff Long said. "Once again, Razorback fans have demonstrated they are the most passionate fans in the nation. They have responded time and time again to help support Coach Bielema and our football team, giving them a distinct home field advantage. I also want to thank a special supporter, who wishes to remain anonymous, for honoring our seniors by purchasing the remaining tickets in their honor. We look forward to having our outstanding fans at Donald W. Reynolds Razorback Stadium again on Friday to cheer on our team as we take the field for the Battle Line Rivalry."
The Razorbacks have already earned bowl eligibility. Arkansas enters the game with a 4-3 conference record and a win will give the Razorbacks their eighth winning SEC record since joining the league in 1992. A win on Friday will also be the 300th in program history in the city of Fayetteville.
Current season ticket holders and Razorback Foundation members can now request tickets to Arkansas' 2015 bowl game. Requests can be made online at ArkansasRazorbacks.com or by calling 1-800-982-HOGS.
For more information on Arkansas football, follow @RazorbackFB on Twitter.