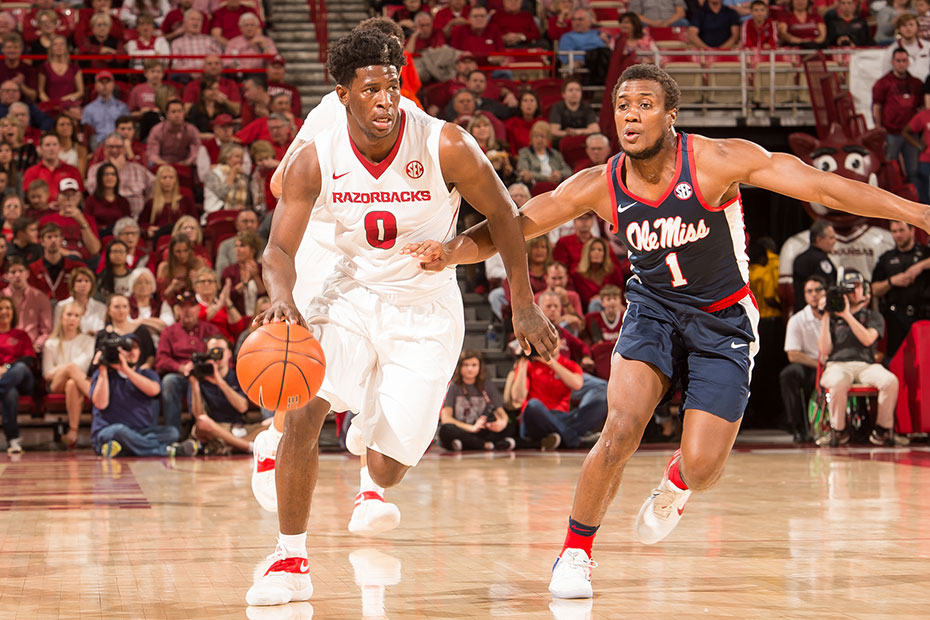 Capacity Crowd Expected As Hogs Host Ole Miss
FAYETTEVILLE, Ark. – The Arkansas men's basketball team will play in front of its fourth Saturday sell-out crowd this weekend, when the Razorbacks host the Ole Miss Rebels in Bud Walton Arena at 2:30 p.m.
The Rundown
Opponent: Ole Miss (10-8, 3-3 SEC)
Date: Saturday, Jan. 20
Site: Bud Walton Arena (Fayetteville, Ark.)
Tip-off: 2:30 p.m. CT
TV: SEC Network | WatchESPN
Live Stats: Click Here
SiriusXM Radio: 137/190
The #Fastest40 Facts
• Arkansas fans have sold out four consecutive Saturday home games, with Ole Miss serving as the third and next Saturday's Big 12/SEC Challenge against Oklahoma State being the fourth.
• Arkansas has won 31 consecutive games in which it has led at halftime. During Mike Anderson era, the Razorbacks are 116-7 when leading at the intermission.
• Daniel Gafford leads all SEC freshmen and ranks fifth in the nation among rookies in field goal percentage at 63 percent.
• During the last four seasons, Arkansas is tied for second in the SEC in league wins with 36, while Ole Miss is fourth with 34 victories.
• Daniel Gafford's 40 dunks are more than six SEC teams, including 10 more than Ole Miss has as a program this season.
• Daryl Macon is one of three players in the SEC with four games of 8+ assists this season. In those four contests, he has totaled 32 assists and just six turnovers.
• Following Wednesday's loss at Florida, Arkansas' RPI remained at No. 25 according to the NCAA, while its strength of schedule went from No. 7 to No. 6.
• Jaylen Barford is the only player in the SEC to rank in the top three in points per game (3rd), FG percentage (3rd) and 3-point FG percentage (2nd).
A Win Would…
• Give the Razorbacks double-digit wins at Bud Walton Arena for the 15th consecutive season.
• Make Arkansas 30-6 in its last 36 games in Bud Walton Arena.
• Tie Arkansas for the fourth-most home wins in the country during the Mike Anderson era at 105.
Ticket Packages
Single-game tickets for the 2017-18 season are available now at the Razorback Ticket Center by calling at 1-800-982-HOGS (4647) and online by clicking here.

For more information on Arkansas men's basketball, follow @RazorbackMBB on Twitter.