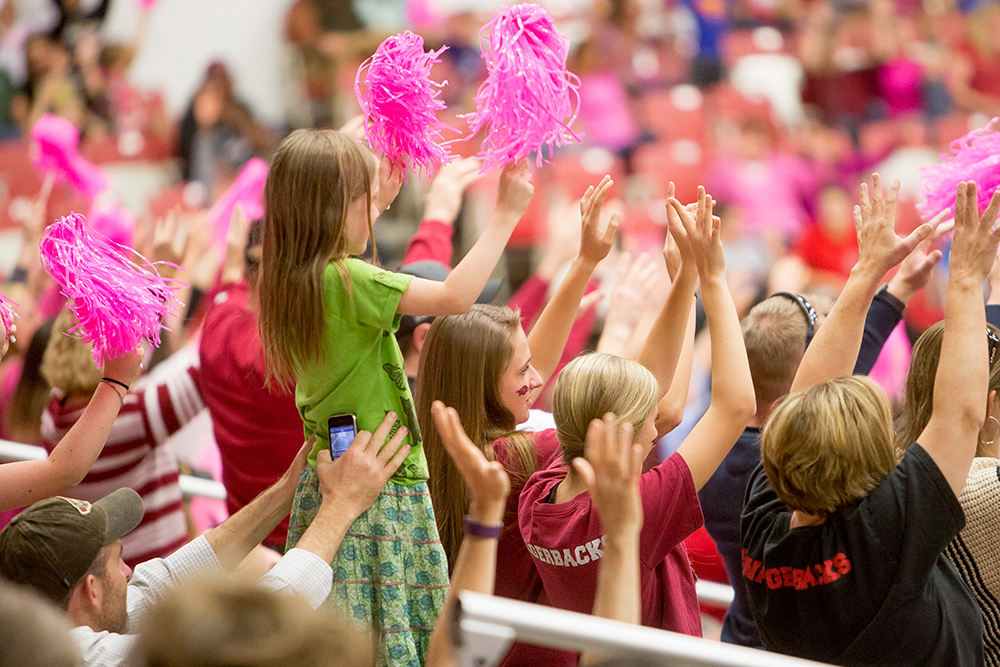 Daddy-Daughter Date Night Highlight Promotions vs. South Carolina
FAYETTEVILLE, Ark. – Highlighted by Daddy-Daughter Date Night, fan promotions have been set for Wednesday's home match against South Carolina. First serve of the midweek SEC contest is scheduled for 7 p.m. (CT) at Barnhill Arena. Along with the family friendly outing, prizes available to fans during the match include Arkansas-Missouri football tickets and a Nike prize pack.
Wednesday, November 25 vs. South Carolina – 7 p.m.
• Daddy-Daughter Date Night – The first 50 daddy-daughter pairings receive FREE volleyball themed t-shirts
• Football Ticket Giveaway – Enter for a chance to win tickets to Friday's Arkansas-Missouri football game
• Pie Eating Contest – One lucky fan will win a Nike prize pack for winning the pie eating contest at halftime
Individual match tickets are $5 while UA students and fans 17 years and younger receive free admission. The Razorbacks' Thanksgiving Eve date against South Carolina marks the first of two home matches this week. Arkansas is also scheduled to close out the 2015 regular season this Saturday, Nov. 28 against current SEC leader Texas A&M.
Featuring seven crowds of 1,000 or more fans, Arkansas has played in front of three top-10 home attendance figures so far this season. The Razorbacks have won nine matches at Barnhill Arena this season and are looking to reach 10 home wins for the first time since 2012. Arkansas enters Wednesday's match with a 23-11 advantage in the all-time series with South Carolina, including a 12-4 mark in Fayetteville.
For more information about Arkansas volleyball, follow @RazorbackVB on Facebook, Instagram, Snapchat and Twitter.