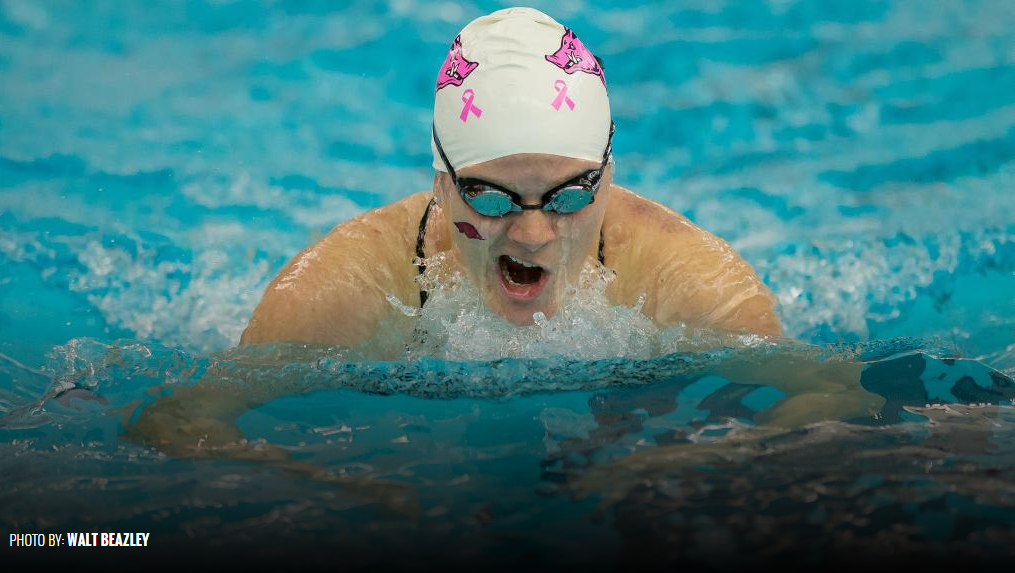 Daniels Earns All-American Honors on Day Two of NCAAs
GREENSBORO, N.C. – With a 15th-place finish in the 100 breast consolation finals, senior Nikki Daniels earned her second-career All-American accolade with an honorable mention title in the second day of the 2015 NCAA Swimming and Diving Championships.
Daniels' appearance in the 100 breast consolations marks her second-career berth into the NCAA finals. At the 2013 NCAA Championships, Daniels clinched a fourth-place finish in the 100 breaststroke championship finals to earn All-American honors.
To start day two of competition, freshman Chelsea Tatlow was up first for the Razorbacks, swimming to a 44th-place finish in the 400 IM prelims with a time of 4:19.14. Juniors Anna Mayfield and Maddie Monroe were next up for Arkansas in the 200 free. Mayfield clocked a time of 1:46.84 and Monroe registered a time of 1:48.29, good for 39th and 54th place, respectively.
Daniels then took to the pool for the 100 breaststroke prelims, where she clocked a time of 59.85 to earn a spot into the consolation finals.
To close the first session of the day, Arkansas' 800 free relay team of Mayfield, Tatlow, Monroe and junior Rachel Stoehr touched the wall 22nd with a time of 7:10.99.
The Razorbacks will return to action tomorrow on the third and final day where Mayfield and Tatlow will first take on the 200 backstroke prelims. Monroe will then dive in the 100 freestyle, while Daniels will gears up for the 200 breaststroke. The Razorbacks will then close the 2014-15 season with the 400 freestyle relay.
Day One Prelim Results:
400 IM (Prelims)
44th – Chelsea Tatlow (4:19.14)
200 Free (Prelims)
39th – Anna Mayfield (1:46.84#)
54th – Maddie Monroe (1:48.29)
100 Breast (Prelims)
15th – Nikki Daniels (59.85)
100 Breast (Finals)
15th – Nikki Daniels (1:00.45)
800 Free Relay
22nd – 7:10.99 (Mayfield, Monroe, Tatlow, Stoehr)
# – Arkansas Top-Five Time
Arkansas Schedule of Appearances:
Saturday, March 21 (Prelims/Finals)
200 Backstroke (Mayfield, Tatlow)
100 Free (Monroe)
200 Breast (Daniels)
400 Free Relay
For more information on Arkansas swimming and diving, follow @RazorbackSD.