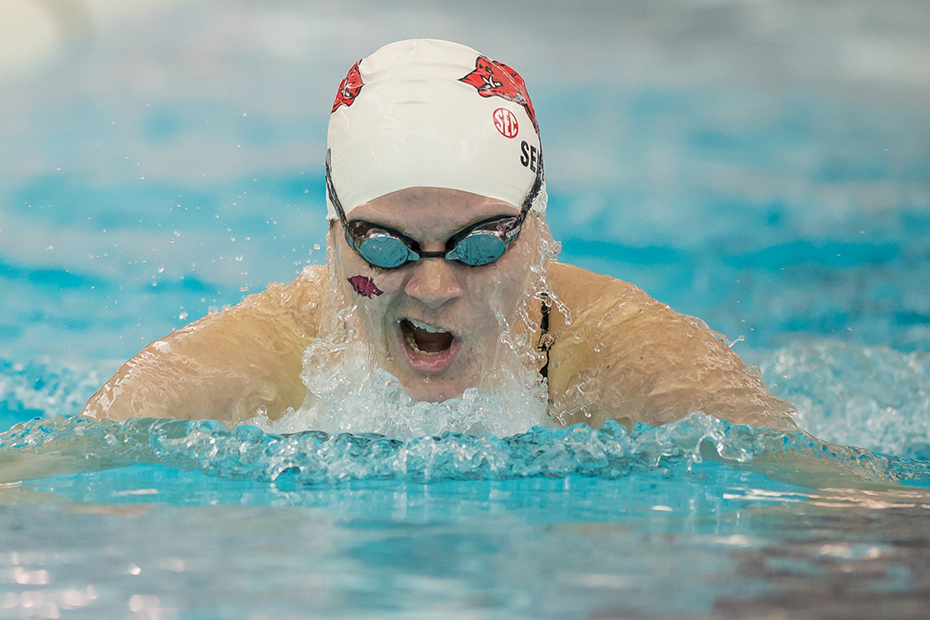 Daniels Earns All-SEC Honors
FAYETTEVILLE, Ark. – After posting the first top-three conference finish in five years, senior swimmer Nikki Daniels was named All-SEC second team, as announced by the Southeastern Conference Tuesday.
Daniels touched the wall third in the 100 breaststroke at the 2015 SEC Championships, the first podium-finish for a Razorback since Yi-Ting Siow when she was crowned the 2010 SEC Champion in the 200 breaststroke. Daniels is the first All-SEC team member since head coach Sean Schimmel took over the program in 2012.
"After four years of not making it on the podium, and having that final race and getting in there and touching the wall was really exciting," said Daniels. "Getting third instead of fourth makes all the difference in the world! We needed the points and it was my last chance to do it. So that was really neat and one of my favorite memories here."
In total, only five Arkansas swimmers and divers had been named to SEC teams before Daniels. The last Razorback to earn All-SEC team honors was Siow in 2010 after being named to the list in 2009. Siow was the first Razorback to be honored on the All-SEC team since Nicola Atkinson in 1992. Two Razorbacks have been named to the All-SEC freshmen team in diver Kesha Naylor (2011) and swimmer Katie Kastes (2008).
"You try all year to have good races and you just want to put together one good race," said Daniels. "You have that one chance, so to be able to be on the flip side of that and come out and get All-SEC is really cool."
At the 2015 NCAA Championships, Daniels earned her second All-American honor with a 15th-place finish in the 100 breast, good for honorable mention. At the 2013 NCAA Championships, Daniels clinched a fourth-place finish in the 100 breaststroke championship finals to earn All-American honors.
"The reason I get to do things like this is because of my team," said Daniels. "We work day in and day out and we're always there supporting everyone. I think it's important and goes to show what teamwork can do."
Daniels leaves her mark on the Arkansas program, capping an incredible career with the school record in the 100 breaststroke, 200 medley relay and 400 medley relay.
The Wichita, Kansas native is currently pursuing a master's in business from the Walton College of Business with an emphasis in entrepreneurship.
For more information on Arkansas swimming and diving, follow @RazorbackSD.