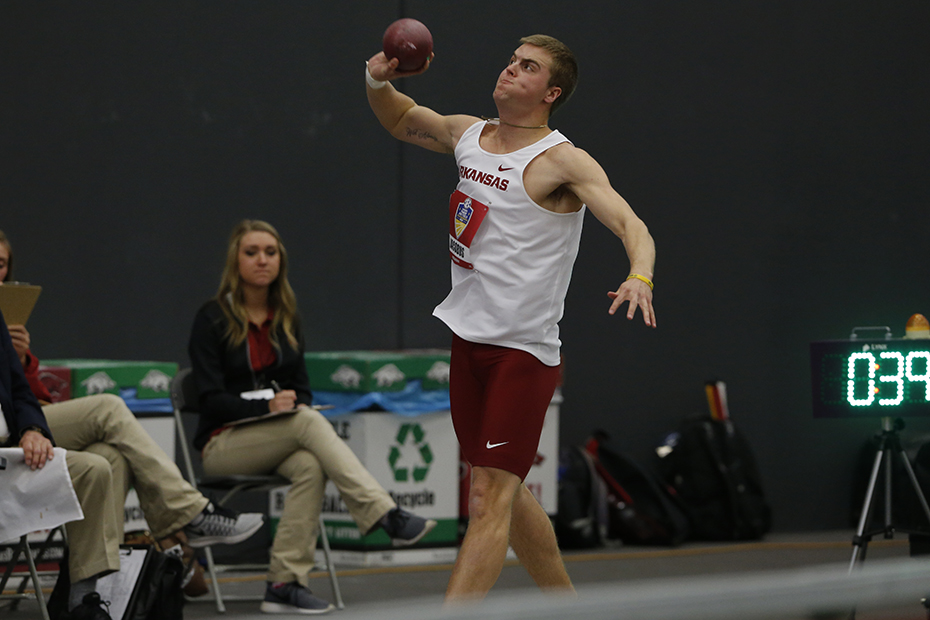 Decathlon Career Bests Highlight Day One
Friday Results
Saturday Start Lists
Meet Schedule
FAYETTEVILLE, Ark. — The No. 5 Arkansas men's track and field team officially opened the 2016 outdoor season with the decathlon on Friday afternoon at John McDonnell Field. Arkansas featured three Razorbacks in the event including Lane Austell, Brad Culp and Derek Jacobus.
The three decathletes were off to a fast start all collecting personal best times in the first event of the 10 event competition, the 100-meter dash. Northern Iowa transfer, Jacobus led the group as the only competitor in the field to clock a sub-11 time in the race with his 10.93. Jacobus continued to exert his dominance as the day progressed leaping to the best mark of the day in the long jump to add 823 points to his total.
Austell and Culp also continued to show their offseason growth following their strong sprint performance with greatly improved marks in the long jump of 6.63m/21-9 and 6.91m/22-8 respectively.
A native of Northwest Arkansas and veteran member of the Razorback squad Culp put his strength on full display in the third event of the day heaving the shot put a distance of 13.03m/42-9. The mark bested his previous personal record by 4.5 inches.
Continuing their day of career bests all Austell, Culp and Jacobus swept the top-three in the decathlon high jump with clearances of 1.85m/6-0.75, 1.91m/6-3.25 and 1.95m/6-4.25 respectively. The sweep carried over to the 400-meter dash as all three Razorbacks crossed the line ahead of their competition.
Arkansas heads into tomorrow's events with Austell, Culp and Jacobus at the top of the standings. Jacobus leads the decathlon with a score of 3,909 points. A 2015 addition to Arkansas men's track and field team Jacobus led the field in four of the five first day events. Culp sits in second with 3,774 points and Austell checks in at third with 3,619 points.
The Razorbacks completed the night with a top-eight finish in the hammer throw by redshirt freshman Erich Sullins. In his outdoor season debut Sullins threw to a new program record of 56.46m/185-3 in the second round securing a spot in the finals section of the competition. Sullins' new career best improved the previous Arkansas hammer throw record, formerly held by teammate Devin Randall, by over 20 feet.
The Arkansas Spring Invitational will resume tomorrow at 10:30 a.m. with the decathlon 110-meter hurdle competition. Running events begin at 3:00 p.m. with the 3,000-meter steeplechase. Tomorrow is Junior Razorbacks Appreciation Day at John McDonnell Field. All Junior Razorbacks ad their family member will receive complimentary admission into the event.
Tickets are just $5 for adults and youth 17 and under get in free. Visit arkansasrazorbacks.com or call 800-982-HOGS and get your tickets today.
Arkansas Spring Invitational
John McDonnell Field
Fayetteville, Ark.
Decathlon
Derek Jacobus (1) – 3,909 – 100m: 10.93, LJ: 7.04m/23-1.25, SP: 12.35m/40-6.25, HJ: 1.94m/6-4.25, 400m: 49.61
Brad Culp (2) – 3,774 – 100m: 11.03, LJ: 6.91m/22-8, SP: 13.03m/42-9, HJ: 1.91m/6-3.25, 400m: 51.75
Lane Austell (3) – 3,619 – 100m: 11.22, LJ: 6.63m/21-9, SP: 12.27m/40-3.25, HJ: 6-0.75, 400m: 50.61
Hammer Throw
Erich Sullins (7) – 56.46m/185-3
Devin Randall (18) – 48.17m/158-0
Sam Kempka (26) – 39.28m/128-10
For more information on Arkansas track and field including in-meet updates, follow @RazorbackTF on Twitter.