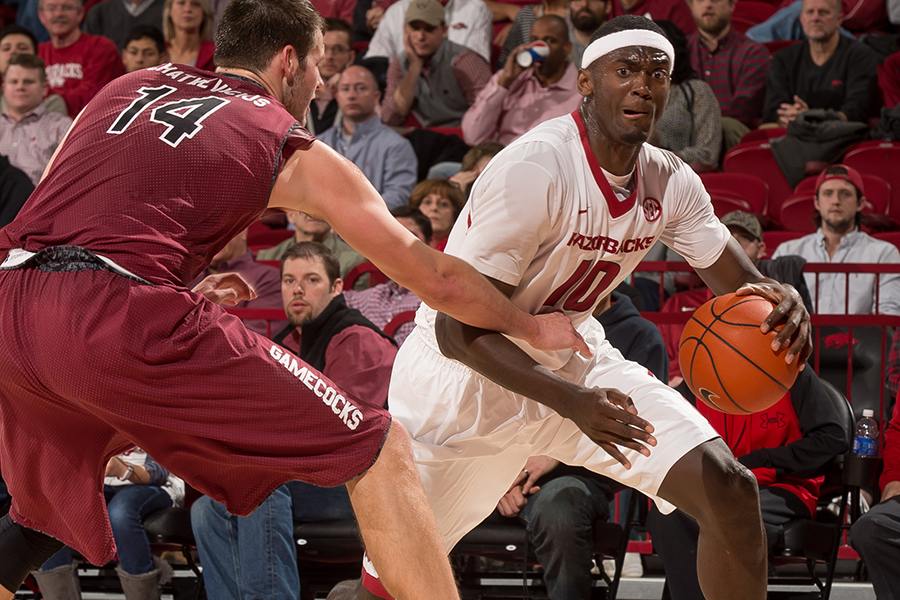 Defense Pushes Hogs Past South Carolina, 75-55
FAYETTEVILLE, Ark. – Fueled by an 18-3 run in the first half and a defensive effort that forced 20 South Carolina turnovers, Arkansas led for the final 27:11 during a comfortable 75-55 SEC win over South Carolina on Tuesday night at Bud Walton Arena.
Arkansas' #Fastest40 style of play was on full display, as the Razorbacks owned a 21-1 edge in points off turnovers and held the Gamecocks to just 28 percent (17-61) from the field. South Carolina managed single-digit field goals in each half while Arkansas ran its streak of consecutive halves holding its opponent under 30 points to five.
With the win, the Razorbacks are in sole possession of third place in the SEC standings at 6-3 and 17-5 overall. South Carolina, who was coming off an impressive 17-point win over Georgia, is now 11-10 overall and 2-7 in the SEC.
Beginning his fourth straight week as the league's leading scorer, sophomore Bobby Portis collected his seventh double-double in SEC play with game-highs of 18 points and 13 rebounds. Just missing his ninth 20-point game of the year, Portis was joined in double figures by the other half of the SEC's top scoring duo in junior Michael Qualls, who had 11 points and nine rebounds off the bench.
Trailing 16-10 midway through the first half, Arkansas took control of the game with an 18-3 run that took just 4:22 off the clock. Pushing the tempo, the Razorbacks wrapped a pair of 9-0 runs around a South Carolina three-pointer, coming away with points on 7-of-9 possessions to take a 28-19 lead with 5:29 left in the opening half.
Arkansas never trailed after a three-pointer by freshman Anton Beard that made it 17-16, which capped seven straight points by the North Little Rock native who made his second consecutive start. The lead quickly reached double figures before the Razorbacks took the lead at the half for the first time in three games at 35-27.
It took just two possessions for Arkansas' double figure lead to return, as senior Alandise Harris hit back-to-back jumpers to open the second half. Over the final 20 minutes, the Razorback lead was double-digits for all but 1:43 as Qualls and Portis combined for 19 of the team's 40 points and 13 of the 26 rebounds.
The 21-1 edge in points off turnovers was not only helped by 20 South Carolina miscues but also Arkansas committing just nine for the game. Thanks to a span of over 27 minutes in which it committed one turnover, Arkansas was able to keep its miscues to single-digits for the fifth time this year to overcome a 39 percent (28-71) night from the field.
Coach Anderson Postgame Sound
"I'm really pleased with tonight's effort. I thought we played hard for a full 40 minutes and we paid attention to detail on the defensive end. I like how this team is coming together. We've really focused on our defense the last few weeks and it's really starting to show."
Worthy Of A Hog Call (#WPS)
With his seventh double-double in SEC play tonight, Portis is now averaging a double-double in league games at 19.0 points and 10.1 rebounds. Last year as a freshman, Portis went the final 15 SEC games without a double-double and halfway through league play this season hasn't gone back-to-back games without one.
#RazorStat Of The Game
Arkansas is now 14-0 on the season when forcing its opponents into 15+ turnovers. South Carolina nearly accomplished the feat in the first half with 14 turnovers that led directly to 13 points. Over the last three halves played, Arkansas' opponents have 27 turnovers and 24 made field goals.
@RazorbackMBB Quick Hits
• Arkansas has limited its opponents to less than 30 points in six of the last eight halves and five straight.
• Arkansas' last four opponents are averaging 59.0 points per game on 36 percent (82-226) from the field.
• Arkansas is now 13-1 on the year at Bud Walton Arena.
• Arkansas has forced opponents into 20 turnovers 25 times (24-1) under coach Anderson.
• The 20-point final is the largest Arkansas lead in SEC play this season.
• 10th time this season Arkansas has scored 20+ points off turnovers.
• Portis has seven double-doubles in SEC play and nine on the year.
• Portis has reached double figures in 17 straight games.
• Portis has led Arkansas in scoring and rebounding on 11 occasions.
• Portis has reached double figures in a half 17 times, including 10 in the first half.
• Qualls equaled a season-high with nine rebounds.
• Madden has now led the team in assists in 18 of 22 games.
Up Next
With wins in four of its last five games, Arkansas will close out a two-game home week on Saturday afternoon against Mississippi State (11-11, 4-5). A limited number of tickets remain for the 3 p.m. tips so fans are encouraged to contact the Razorback Ticket Center at 1-800-982-4647.