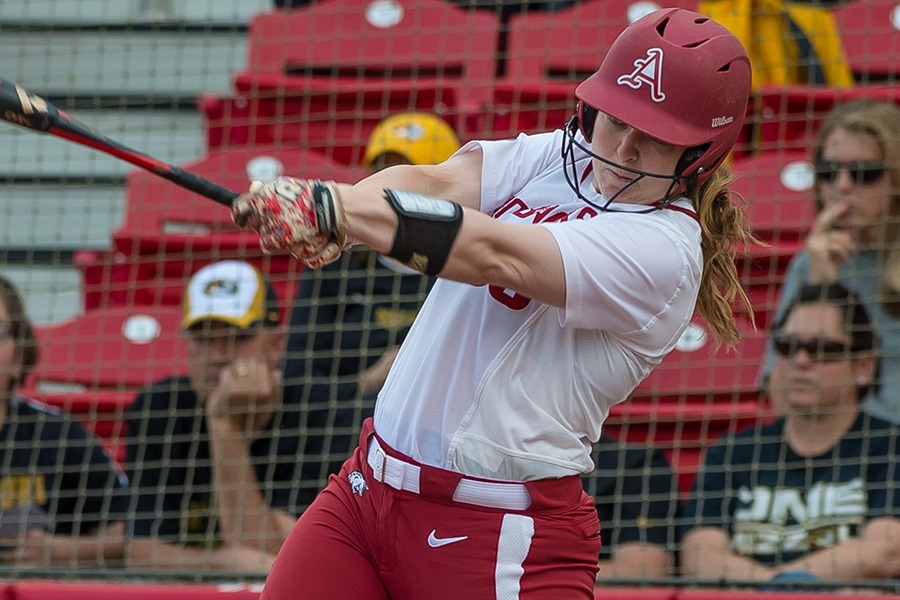 Wallace Earns SEC Co-Scholar Athlete of the Year
FAYETTEVILLE, Ark. – Arkansas softball senior Devon Wallace has been named the 2015 SEC Co-Scholar Athlete of the Year, the conference office announced Tuesday morning. Wallace shares the award with Alabama's Haylie McCleney.
Wallace, a native of Double Oak, Texas, and a four-year starter for the Razorbacks, graduated in December 2014 with a  cumulative grade-point average of 3.879 while earning her undergraduate degree in nursing. Following commencement, Wallace passed her board exam in early 2015 to become a registered nurse.
Since the award's inception in 2004, Wallace becomes the second Razorback to secure Scholar Athlete of the Year honors (Jessica Bachkora, 2010).
Individually for Wallace, she has claimed four postseason accolades from the SEC, as she was named First Team All-SEC and Freshman of the Year in 2012 and Second Team All-SEC in 2014. Wallace additionally earned SEC Player of the Week honors twice in 2013 and once in 2014.
In between the lines, Wallace capped off a historic career with the Razorbacks when she played in her final game May 3. Coming out of Marcus (Texas) High School, she made a splash right away as a freshman in 2012. During her initial campaign, Wallace displayed an impressive slash line of .367/.548/.733 en route to being named SEC Freshman of the Year and First Team All-SEC, becoming the first Razorback to receive either honor. Her 15 home runs that season remains tied for first in school history for single-season home runs.
Over the course of the 2013 season, Wallace set Arkansas single-season records for on-base (.627) and slugging (.768) percentage while also setting an SEC record with 79 walks. She concluded the season being named a Top 25 finalist for USA Softball Player of the Year.
As a junior in 2014, Wallace was named Second Team All-SEC and became the SEC's all-time leader in walks. Her on-base (.534) and slugging (.653) percentages both paced the team.
Rounding out her senior season in 2015, Wallace solidified her place among the top in Arkansas' record book. On March 16 against Texas in front of a nationally televised audience on SEC Network, Wallace connected for her 44th career home run, setting a new school record. She is one of only two players in Arkansas history to hit 40 or more home runs. Wallace is the holder of eight career school records including batting average (.357), slugging (.671), on-base (.557), home runs (47), runs scored (184), total bases (378), walks (235), and intentional walks (12). Adding to her record-breaking career, she also became the first Razorback ever to be drafted into the National Pro Fastpitch league when she was selected No. 20 overall by the Pennsylvania Rebellion in the 2015 NPF Draft on April 1.
2015 Softball Postseason Awards:
First Team All-SEC:
P – Lauren Haeger, Florida
P – Alexis Osorio, Alabama
P – Carley Hoover, LSU
IF – Kelsey Stewart, Florida
IF – Emily Carosone, Auburn
IF – Bianka Bell, LSU
IF – Alex Hugo, Georgia
IF – Kasey Cooper, Auburn
OF – Haylie McCleney, Alabama
OF – Alaynie Page, South Carolina
OF – Emily Crane, Missouri
OF – Kirsti Merritt, Florida
C – Kellsi Kloss, LSU
DP/U – Sahvanna Jaquish, LSU
Second Team All-SEC:
P – Chelsea Wilkinson, Georgia
P – Tori Finucane, Missouri
IF – Marisa Runyon, Alabama
IF – Sami Fagan, Missouri
IF – Demi Turner, Alabama
IF – Tori Vidales, Texas A&M
IF – Jade Rhodes, Auburn
OF – Tiffany Howard, Auburn
OF – A.J. Andrews, LSU
OF – Sydni Emanuel, Georgia
C- Annie Aldrete, Tennessee
DP/U – Tina Iosefa, Georgia
Freshman All-SEC:
P – Alexis Osorio, Alabama
P – Carley Hoover, LSU
P – Aleshia Ocasio, Florida
P – Paige Lowary, Missouri
IF – Tori Vidales, Texas A&M
IF – Demi Turner, Alabama
IF – Amanda Sanchez, Missouri
IF – Meghan Gregg, Tennessee
IF – Scarlet McSwain, Tennessee
OF – Nicole DeWitt, Florida
OF – Cortni Emanuel, Georgia
OF – Emily Griggs, LSU
OF – Elantra Cox, Ole Miss
C – Ashley Walters, Texas A&M
DP/U – Tiara Duffy, South Carolina
SEC All-Defensive:
P – Rainey Gaffin, Tennessee
C – Griffin Joiner, Kentucky
1B – Sandra Simmons, LSU
2B – Emily Carosone, Auburn
2B – Kelsey Stewart, Florida
SS – Kathlyn Medina, Florida
3B – Kasey Cooper, Auburn
LF – Tiffany Howard, Auburn
CF – Haylie McCleney, Alabama
RF – Emily Crane, Missouri
Player of the Year: Kelsey Stewart, Florida
Pitcher of the Year: Lauren Haeger, Florida
Freshman of the Year: Alexis Osorio, Alabama
Co-Scholar Athletes of the Year: Devon Wallace, Arkansas and Haylie McCleney, Alabama
Coach of the Year: Clint Myers, Auburn