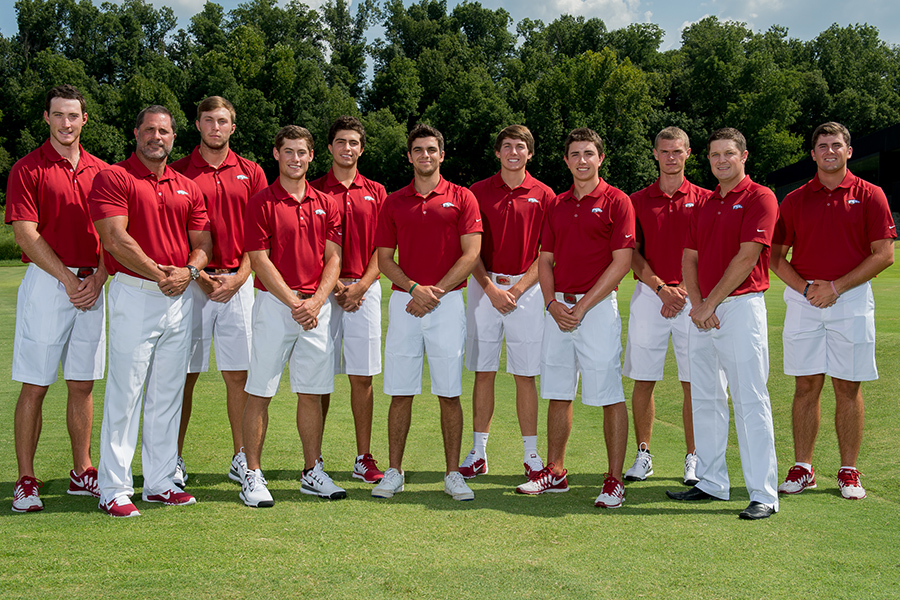 Eight In A Row
FAYETTEVILLE, Ark. – The Arkansas men's golf team earned its eighth straight NCAA Regional berth under head coach Brad McMakin on Monday, as all six regions were unveiled during the Golf Channel's "Morning Drive." The Razorbacks will head to the Yale Regional at The Course At Yale as the No. 5 seed with play running from May 14-16.
The top five teams from each region after three rounds of stroke play will advance to the NCAA Championships held at Concession Golf Club in Bradenton, Fla. from May 29 – June 3. The low individual from each region that is not on one of the five advancing teams will also earn a berth in the NCAA Championships.
"I'm really excited about our site," said McMakin. "We've had a great semester and I'm looking forward to the guys carrying that momentum into the postseason!"
Over the program's nine years under coach McMakin, the Razorbacks have earned an NCAA Regional berth eight times and advanced to the NCAA Championship in four of the last six years, highlighted by a runner-up finish in 2009.
Arkansas enters the NCAA Yale Regional playing some of its best golf, as it put together a 64-19-1 head-to-head record in the spring, highlighted by the program's 21st tournament win under McMakin at the Towson Invite. The Razorbacks finished in the top 5 in four of five spring regular season events before a sixth place showing at the SEC Championships which featured 13 teams in the top 100. Arkansas has finished in the top 6 at the SEC Championships seven straight years – the only program to accomplish that feat.
A total of nine SEC teams earned an NCAA Regional bid, including at least one in each of the six regions.
NCAA New Haven Regional (seeded in the following order)
1. Vanderbilt
2. LSU
3. South Florida
4. Oklahoma State
5. Arkansas
6. San Diego State
7. Iowa
8. NC State
9. Ohio State
10. Troy
11. North Texas
12. College Of Charleston
13. Robert Morris
14. Saint Peter's
2015 NCAA Regional Sites
Gold Mountain Golf Club – Bremerton, Wash. (University of Washington)
The Course at Yale – New Haven, Conn. (Yale University)
The Farms Golf Club – San Diego, Calif. (University of San Diego)
The Rawls Course – Lubbock, Texas (Texas Tech University)
The Sagamore Club – Noblesville, Ind. (Ball State University)
UNC Finley Golf Course – Chapel, Hill, N.C. (University of North Carolina)