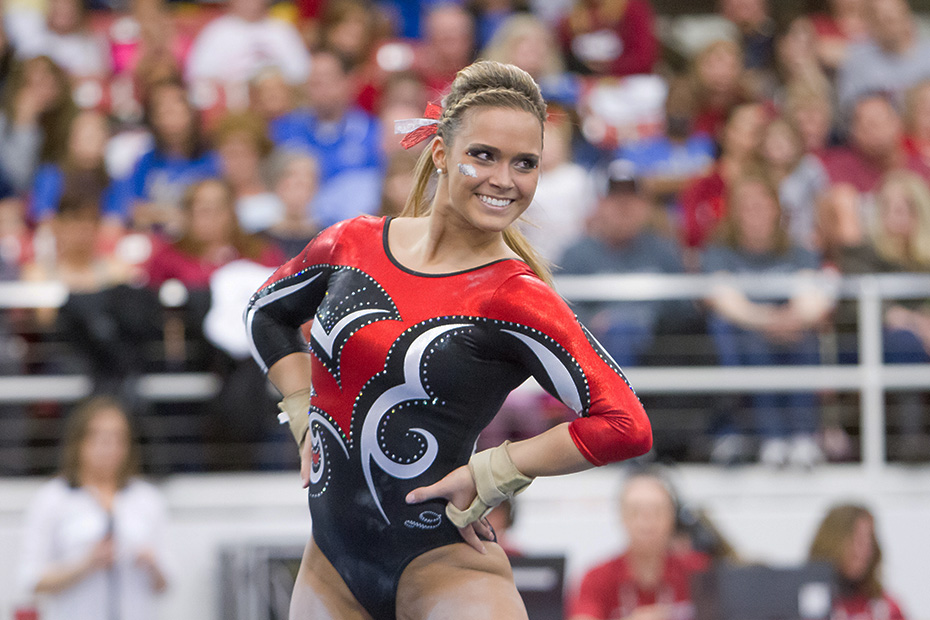 Elswick Named To Her Second All-SEC Community Service Team
SEC Release | SEC Championship Tickets
DULUTH, Ga. – On Thursday, the Southeastern Conference announced its 2015 All-SEC Gymnastics Community Service team and junior Heather Elswick was once again selected to represent the University of Arkansas women's gymnastics team for her volunteer efforts during the 2014-15 school year.
It is the second-straight season that Elswick has been selected to the All-SEC Community Service team, making her just the third Razorback gymnast to be selected to the team twice. She joins former gymnasts Emily Peacock – who was selected in 2007 and 2008 – and Kelci Lewis, who was honored in 2012 and 2013.
This year, the Austin, Texas native has put in nearly over 15 hours of volunteer service in the Fayetteville community, helping with such events like the SAAC's Shop with the Razorbacks, where she helped local underprivileged children shop for toys during the holiday season with a gift card to Toys-R-Us provided by Arkansas Athletics. She also helped local area children develop their gymnastics skills by being a volunteer instructor at the 2015 Gymback Clinic in December. Elswick also volunteered her time at the 2015 Santa Meet, which is a youth oriented gymnastics meet held in Barnhill Arena each winter, as she handed out awards to the winners.
The junior has not only excelled in the community but also in the classroom, as she is a two-time All-SEC academic team honoree, and was included on the Arkansas Athletic Director's Honor Roll list for both the 2014 Spring and Fall semesters.
Elswick has been equally impressive this season in competitions, as she has helped Arkansas to a No. 18 ranking nationally. The Texan has been featured in the vault and floor exercise rotations in every meet this season, and has competed in seven uneven bar rotations. She has captured two event titles this year – winning the vault against No. 6 Alabama with a career-best 9.950 and the floor exercise against No. 24 Kentucky with a 9.850 – and has set a career-best in all three events that she competes in.
The No. 18-ranked Razorbacks will open postseason competition tomorrow, March 21, as they will compete in the afternoon session of the 2015 SEC Gymnastics Championship in Duluth, Georgia. Arkansas, who is the six seed in the eight-team field, will compete against No. 9 Georgia, No. 25 Kentucky and Missouri, starting at 1 p.m. CT from the Gwinnett Center Arena.
Both sessions of the SEC Gymnastics Championship will be webcast live on the SEC Network+ via the WatchESPN App and ESPN3.com.
For more information on the Arkansas women's gymnastics team, follow @RazorbackGym on Twitter.