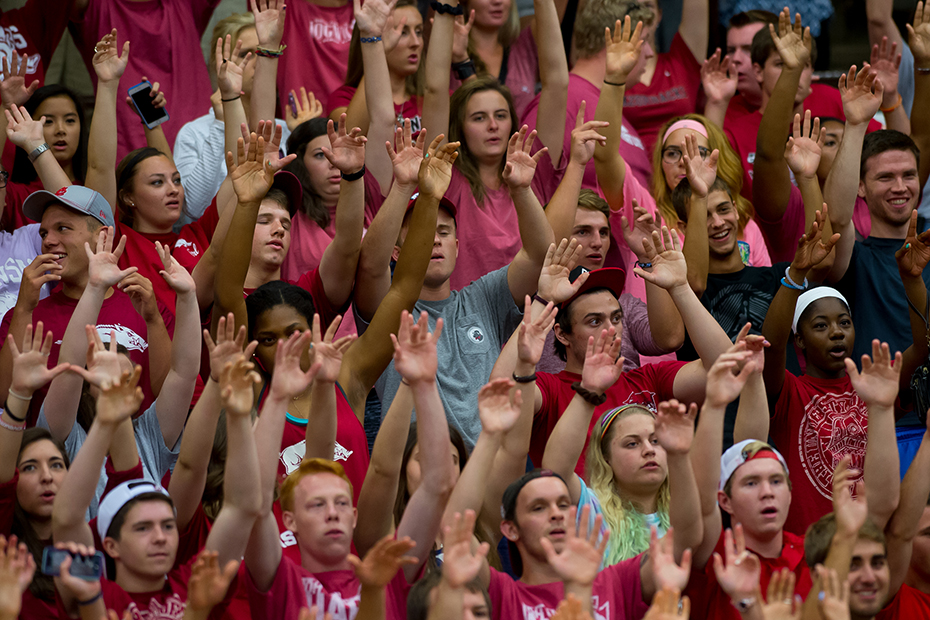 ESPNU, SEC Network Coming to Barnhill Arena
FAYETTEVILLE, Ark. – As part of the extended coverage for the sport, the University of Arkansas volleyball team will make seven national television appearances this year as part of Tuesday's release of the 2016 SEC Volleyball television schedule. Five of the Razorbacks' television appearances will be played on their home court at Barnhill Arena.
| 2016 TV Schedule | | | |
| --- | --- | --- | --- |
| Fri., Sept. 30 | Missouri at Arkansas | 6 p.m. CT | SEC Network |
| Sun., Oct. 2 | Arkansas at Ole Miss | 5 p.m. CT | SEC Network |
| Wed., Oct. 5 | Texas A&M at Arkansas | 8 p.m. CT | ESPNU |
| Wed., Oct. 26 | Mississippi State at Arkansas | 7 p.m. CT | SEC Network |
| Sun., Oct. 30 | Georgia at Arkansas | 1 p.m. CT | SEC Network |
| Sun., Nov. 6 | Arkansas at Alabama | 1 p.m. CT | SEC Network |
| Wed., Nov. 9 | Kentucky at Arkansas | 7 p.m. CT | SEC Network |
Two additional television appearances could be added with wildcard selections to be decided at the discretion of the SEC Network. The two late-season dates—Nov. 13 and 20—allow for the SEC to select the most compelling matchups for that critical point of the season. On those dates, the Razorbacks host Tennessee and are on the road against Mississippi State, respectively.
Arkansas opens its season Aug. 26-27 at the Illini Classic in Champaign, Illinois. The Razorbacks' home opener is set for Sept. 16-17 with the Arkansas Invitational. The team's schedule features seven top-25 RPI opponents and 11 matches against nine teams that advanced to last year's NCAA Tournament including defending national champion Nebraska.
Full 2016 Arkansas Volleyball Schedule
Season tickets are available for purchase through the Razorback Ticket Center with pricing options beginning at $40. Each ticket package includes a free team knit hat. Arkansas' 12-match home slate features one non-conference tournament and nine Southeastern Conference matches. Call the Razorback Ticket Center at 800-982-HOGS (4647) or click HERE to buy tickets online.
All home conference matches not televised will be streamed online through school-produced broadcasts available on SEC Network PLUS through WatchESPN. Additional road stream broadcasts will be announced at a later date. All SEC Network and ESPNU matches will also be available online with WatchESPN through your cable provider.
For more information about Arkansas Volleyball, follow @RazorbackVB on Facebook, Instagram, Snapchat and Twitter.