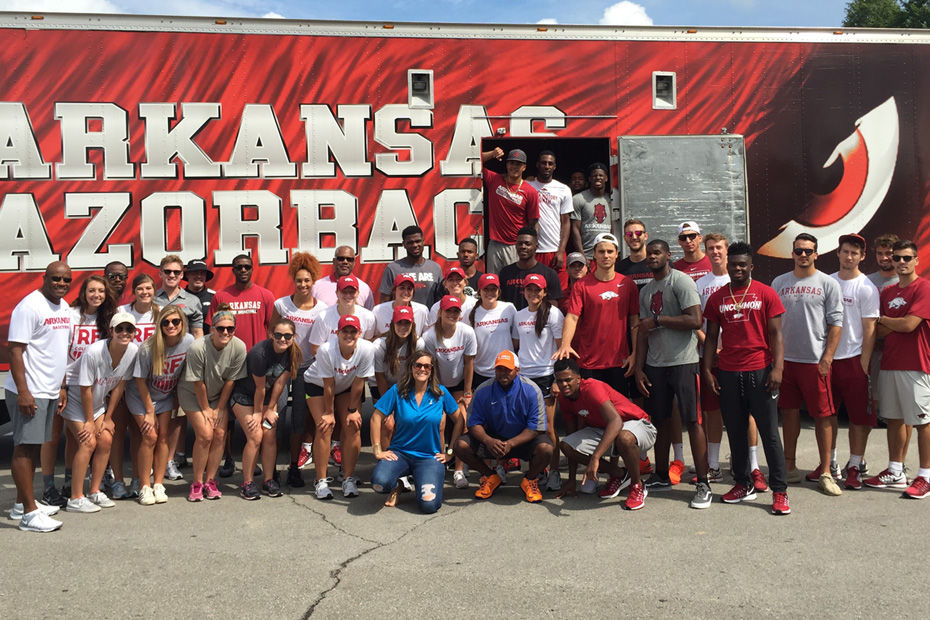 Extending A Helping Hand
FAYETTEVILLE – For the Saturday before the first Arkansas home football game of the season, the parking lot at Donald W. Reynolds Razorback Stadium was unusually full of activity. More than 120 University of Arkansas student-athletes, joined members of the Razorback Foundation Collegiate Membership, the University of Arkansas Student Alumni Association and the Associated Student Government for Razorback Relief: Operation Baton Rouge.
The event coordinated by the he University of Arkansas Student-Athlete Advisory Committee (SAAC) was organized to benefit those impacted by the recent floods in Louisiana. Razorback student-athletes as well as volunteers from all participating organizations collected items for victims of the flooding from 10 a.m. – 4 p.m. at the Northeast corner of Donald W. Reynolds Razorback Stadium.
"We wanted to put this event together to help those in Baton Rouge," SAAC President Taliyah Brooks said. "We all know that they are in a time of rebuilding. If we were in that situation, we would want them to help us. We have students, student-athletes and faculty members who are from Louisiana and from Baton Rouge. We just want to show them that we care about them and care about their families. We care about what is happening in their state. It isn't just about Arkansas and what goes on here."
Truck Centers of Arkansas donated a truck and J.B. Hunt Transport provided drivers to deliver all the items collected on Saturday to Baton Rouge.
"We are opponents on the athletics field and go head to head, but at the same time we are all people and we need someone to lift us up when we are down," Brooks said. "We have representatives from a lot of sports and from those around campus including ASG, the Alumni Association and the Razorback Foundation. We want them to know we care. That is what we are here for."