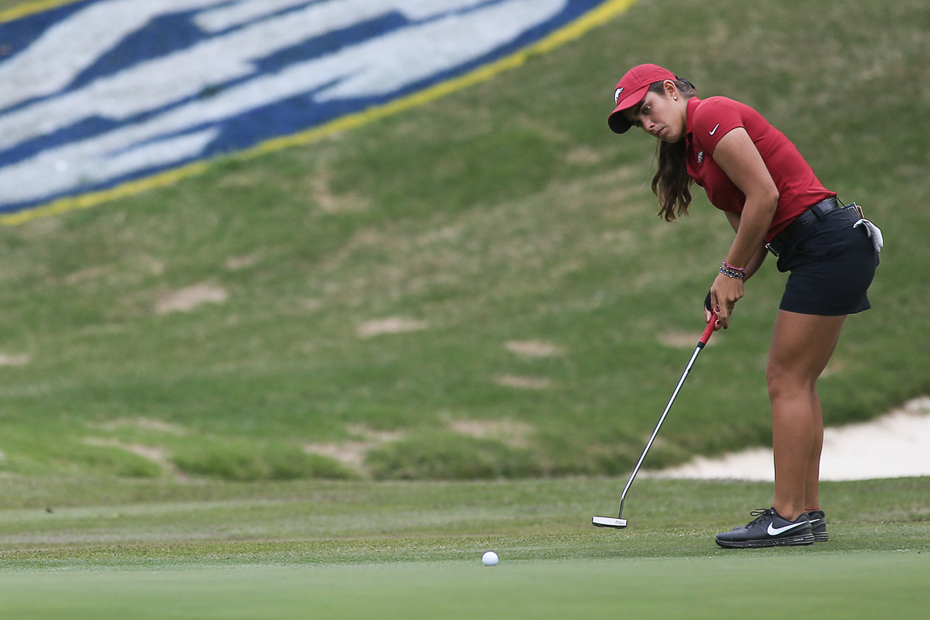 Fassi, Uriell Under Par; Arkansas Moves Up
Results | Photo Gallery | Sunday Pairings
BIRMINGHAM, Ala. – The eighth-ranked University of Arkansas women's golf team moved up the leaderboard behind a pair of 71s from Maria Fassi and Alana Uriell in round two action of the 2016 Southeastern Conference Championship at the Legacy Course in Birmingham, Ala., Saturday.
The duo paced the Razorbacks to a second-round 294, six shots better than Friday, as Arkansas climbed up three spots to fifth place with one round remaining on the par 72, 6,195 yard course at Greystone Golf and Country Club. Arkansas was one of just five teams shooting less that 10-over-par Saturday and are in the clubhouse with rounds of 300-294 —594.
The Razorbacks, whose best finish as the SEC Championship has been second place, are just four strokes out of third place for the event. Top-ranked Alabama held on to a share of the lead but No. 7 Florida moved up with the day's only sub-par round to tie the Crimson Tide at 578 heading into the final round. Twenty-fifth-ranked Texas A&M is third with 590 followed by No. 5 Georgia with 592 and No. 8 Arkansas with 594 rounding out the top five teams.
Fassi, a freshman who joined the team in January after graduating high school early, is tied for 11th place overall shooting 75-71 — 146. Fassi opened her round with a birdie on the first hole and added a second on the fourth hole. She turned two-under.
The second nine saw the conditions on the course change as the wind died down, the sun came out and temperatures shot up almost 20 degrees from the morning's tee times. Fassi hit a rough patch on 12, 13 and 14 but finished strong, birding three of her final four holes Saturday.
Uriell also birdied her final hole as did senior Regina Plasencia to finish on high notes. Uriell is tied for 24th overall shooting 71-79 —150 and is part of a three-way tie in that positon along with teammates Plasencia and freshman Cara Gorlei.
The Carlsbad, Calif., native was solid turning in a round with a double, a bogey and four birdies. Uriell made the turn at one-under and would finish that way moving up the leaderboard for the Razorbacks.
Gorlei also moved up several spots shooting 76-74 —150, while Plasencia counted 72-78 — 150. Senior Summar Roachell rounded out the Razorback scores shooting 77-82 — 159. Roachell is tied for 58th overall.
From Shauna Estes-Taylor
On Saturday's round
We made some more birdies today. We still made some silly mistakes today that would take away momentum. We would take some steps forward and then some steps backwards. Its' all in front of us and we have to dig deep and if we do that our best is good enough.
On player's performances
Alana got out of the gates well for us to shoot one-under. She is a tremendous ball striker and she gets a lot of confidence from that and she saw a lot of good things out of her irons today. Maria finished strong and birdied three of her last four. She had it really going, then took a little step back and then got it back and that really says a lot about her and her game. For Regina to birdie the last hole gives her something nice to build on heading into tomorrow. Cara had a lot of nice opportunities and again if she can keep stepping forward she can post a good number. And Summar, she didn't have her best stuff today but I know she'll go out and play hard and give us her best effort in the last round.
On course conditions
I expect the course to continue to dry out and I think it will play a little different tomorrow. We need a little wind and some help – I would be glad to see a little wind and for us to get out to a hot start and let these guys just run with in.
@RazorbackWGolf Lineup
| | | | |
| --- | --- | --- | --- |
| 5 | Arkansas | 300-294 —594 | +18 |
| T11 | Maria Fassi (1) | 75-71 — 146 | +2 |
| T24 | Regina Plasencia (2) | 72-78 —150 | +6 |
| T24 | Alana Uriell (3) | 79-71 —150 | +6 |
| T24 | Cara Gorlei (5) | 76-74 —150 | +6 |
| T58 | Summar Roachell (4) | 77-82 — 159 | +15 |
Team Results
| | | | |
| --- | --- | --- | --- |
| T1 | No. 1 Alabama | 286-292 — 578 | +2 |
| T1 | No. 7 Florida | 292-286 — 578 | +2 |
| 3 | No. 25 Texas A&M | 299-291 — 590 | +14 |
| 4 | No. 5 Georgia | 296-296 — 592 | +16 |
| 5 | No. 8 ARKANSAS | 300-294 — 594 | +18 |
| 6 | No. 31 Missouri | 295-303 — 598 | +22 |
| 7 | No. 23 South Carolina | 298-301 — 599 | +23 |
| 8 | Ole Miss | 301-300 — 601 | +25 |
| 9 | No. 26 Tennessee | 297-305 — 602 | +26 |
| T10 | Mississippi State | 305-303 — 608 | +32 |
| T10 | No. 48 LSU | 305-303 — 608 | +32 |
| 12 | No. 35 Vanderbilt | 309-304 — 613 | +37 |
| 13 | Auburn | 304-311 — 615 | +39 |
| 14 | Kentucky | 312-312 — 624 | +48 |