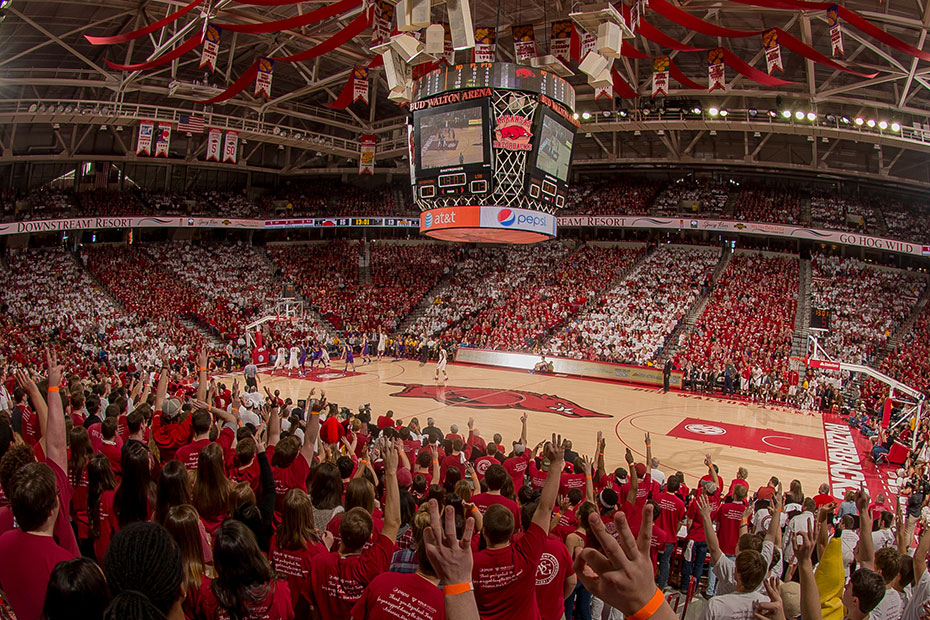 #Fastest40 Set to Play in 2015 NIT Tip-Off
2015-16 Season Ticket Information
FAYETTEVILLE, Ark. – The Arkansas men's basketball team is set to compete in the 2015 NIT Season Tip-Off, playing a pair of games in Bud Walton Arena, before traveling to Brooklyn, New York to open semifinal play on Thanksgiving Day.
Arkansas will serve as one of four host sites for the NIT Season Tip-Off, welcoming Akron to Bud Walton Arena on Wednesday, Nov. 18, before Charleston Southern comes to Fayetteville on Friday, Nov. 20.
The Razorbacks will then travel to Brooklyn to take on Georgia Tech at the Barclays Center on Thanksgiving Day, tipping off with the Yellow Jackets on Thursday, Nov. 26 at 1 p.m. CT in the semifinal round on ESPNU.
Arkansas will turn around the next day and play Stanford or Villanova. The championship game will take place on Nov. 27 at 2 p.m. CT on ESPN2, with the third place game at 11:30 a.m. on ESPNU.
Arkansas has faced Georgia Tech four times, Villanova three times and Stanford once, while the matchups with Akron and Charleston Southern will be the first in program history.
Entering his fifth season at the helm of the Razorbacks in 2015-16, head coach Mike Anderson has posted a 66-9 (.880) record in Bud Walton Arena, including a 39-1 (.975) mark against non-conference teams inside The Palace.
The Razorback Ticket Center is currently accepting requests for 2015-16 Men's Basketball Season Tickets. Seats will be assigned by Razorbacks Foundation guidelines with season ticket prices ranging from $360 to $450. To purchase tickets call 1-800-982-4647 or click here.
Tickets for the NIT Season Tip-Off at Barclays Center will go on sale Friday, Aug. 21 at 10 a.m. and can be purchased via Ticketmaster by visiting www.barclayscenter.com, or www.ticketmaster.com, or by calling 800-745-3000. Tickets are also available at the American Express Box Office at Barclays Center beginning Saturday, Aug. 22 at noon. Tickets are available for groups by calling 855-GROUP-BK.
The Razorbacks' 27-9 record last season marked the sixth-most wins in program history as Arkansas made its 30th NCAA Tournament appearance. The Razorbacks posted a 13-5 record in SEC play to capture the No. 2 seed in the SEC Tournament and advance to the championship game for the first time since 2008 and the sixth time in program history.