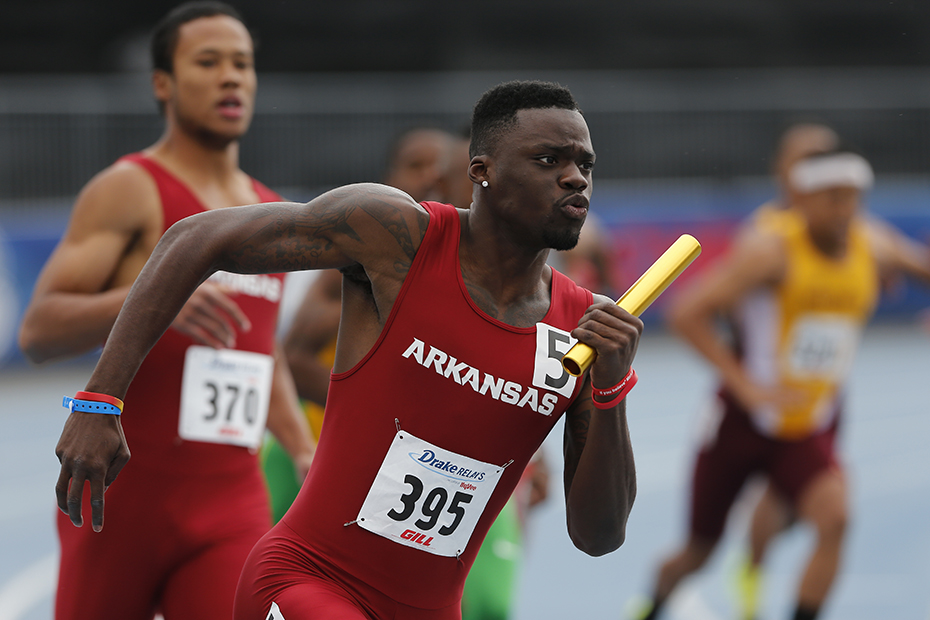 Fifth-Ranked Razorbacks Take on Two Road Tests
Meet Notes
2016 Texas Relays Competitors
INVITE: Men | Women
COLLEGE: Men | Women
2016 Stanford Invitational Competitors
Accepted Entries/Live Results
FAYETTEVILLE, Ark. – The fifth-ranked Arkansas men's track and field team journeys to Austin, Texas and Palo Alto, California for the Clyde Littlefield Texas Relays (March 30 – April 2) and Stanford Invitational (April 1-2), respectively, this upcoming weekend. The Razorbacks will send hurdlers, sprinters/mid-distance, and throwers to Texas while their distance crew will make the trip to California.
In its 89th year of existence, the 2016 Texas Relays will see over 7,500 student-athletes compete at Mike A. Myers Stadium during the four-day event. Of the 7,500 students, more than 2,100 are collegians representing 186 universities and colleges across the country.
Razorback running entries at Texas include: 100-meter dash, 100 and 400-meter hurdles as well as five relays – 4x100m, 4x200m, 4x400m, 4x800m, distance medley relay (DMR) and sprint medley relay (SMR). Arkansas will also compete in several field events with entries in the high jump, long jump, triple jump, shot put, discus throw and javelin.
Athletes to watch at Texas Relays:
Ken LeGassey (high jump): 2016 SEC indoor champion and NCAA indoor All-American.
Clive Pullen (triple jump): 2016 SEC and NCAA indoor champion.
Andreas Trajkovski (long jump): 2015 SEC indoor runner-up and NCAA indoor All-American.
Relays: Will feature 2015 NCAA 4x100m champions Kenzo Cotton, Jarrion Lawson and Marqueze Washington.
On the pacific coast Arkansas will look to collect solid performances in the mid-distance/distance events entered in the 1,500-meter run, 5K and 10K. A few throwers will also make the trip out West representing Arkansas in the discus throw and shot put.
Athletes to watch at Stanford:
Jack Bruce (5K): 2015 Cross country All-American.
Alex George (5K): 2015 European Junior 5K Champion.
Gabe Gonzalez (10K): 2016 5K NCAA indoor All-America and 2014 10K All-SEC.
Frankline Tonui (10K): 2015 10K All-SEC and 2015 NCAA 3KSC qualifier.
Razorback fans will be able to watch the Texas Relays on the Longhorn Network which will feature 14 hours of coverage including the multi competition set to begin Wednesday, March 30. Live results of the competition will be available via BranchSportsTech.com or TexasSports.com.
The Stanford Invitational will be showcased on the Flotrack premium webcast beginning at 12:30 p.m. CDT on April 1. Live results can be found by visiting the Invitational home page.
LHN Texas Relays TV Schedule (all times Central):
| | | |
| --- | --- | --- |
| Date | Time (CT) | Events |
| Wed, March 30 | 8:30 p.m.* | Day 1 of Heptathlon, Decathlon |
| Thu, March 31 | 4:30 p.m.* | Conclusion of Heptathlon, Decathlon |
| | 6 p.m. | 400M Hurdles prelims, Long Distance running |
| Fri, April 1 | 9:30 a.m. | Prelims, 4 x100M, 110/100M Hurdles, 100M, 4x400M |
| | 7 p.m. | Finals 400M hurdles, Distance Medley, Field events |
| Sat, April 2 | 1:30 p.m. | Finals, 4x100M, 110/100M Hurdles, 100M, 4x400M, 200M, Field events |
* same day tape-delayed
For more information on Arkansas track and field including in-meet updates, follow @RazorbackTF on Twitter.