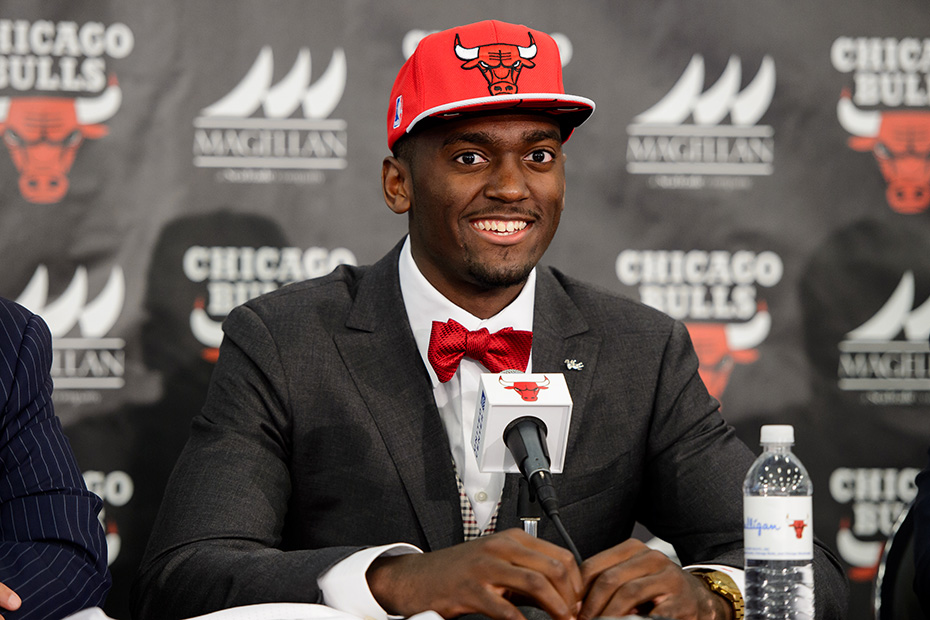 Four #ProHogs Embark on NBA Season
FAYETTEVILLE, Ark. – With the 2015-16 NBA regular season officially starting tonight, four former Razorbacks are on official rosters across the league, including Bobby Portis who will make his professional debut at 7 p.m. in Chicago.
Bobby Portis – Chicago Bulls (@BPortistime)
In a stacked Chicago Bulls frontcourt, Portis averaged 11.1 points and 9.1 rebounds during the preseason, further solidifying himself as a force underneath, following averages of 14.5 points and 8.7 rebounds per game in Summer League action. Portis is expected to make an immediate impact for new Bulls head coach Fred Holberg, beginning tonight in Chicago against the defending Eastern Conference champion Cleveland Cavaliers.
Joe Johnson – Brooklyn Nets (@TheJoeJohnson7)
Going into his fourth season as a Brooklyn Net, Joe Johnson has been one of the most consistent players in the NBA since coming out of Arkansas in 2001. Johnson is only one of two players to score 1,000+ points (LeBron James) and hit 80+ threes (Paul Pierce) in each of the last 12 seasons. His 18,326 career points rank 63rd in NBA history and he will look to climb even further up the charts beginning on Oct. 28, when the Nets host the Chicago Bulls in Brooklyn.
Patrick Beverley – Houston Rockets (@patbev21)
As a do-it-all guard for the Rockets, Patrick Beverley returns to Houston for his fourth season with the Rockets. Over the past two seasons, Beverley has started 55 games in each year and averaged over 10 points per game. During the preseason, he averaged 7.7 points, 3.4 rebounds, 3.7 assists and 1.9 treys. The Houston Rockets play their first game of the season at home against the Denver Nuggets on Oct. 28.
Sonny Weems – Phoenix Suns (@SonnyWeems13)
Now a member of the Phoenix Suns, Sonny Weems has had a long road back to the NBA court. After his 2010-11 season in the league, Weems spent four seasons overseas. He averaged 13.4 points, 3.7 rebounds and 2.8 assists in four years playing in Europe. In preseason action, Weems averaged six points, 2.3 rebounds and 3.8 assists per game, playing among a strong Suns backcourt. Phoenix starts its season at home against the Dallas Mavericks on Oct. 28.
For more information on Arkansas men's basketball #ProHogs, follow @RazorbackMBB on Twitter.