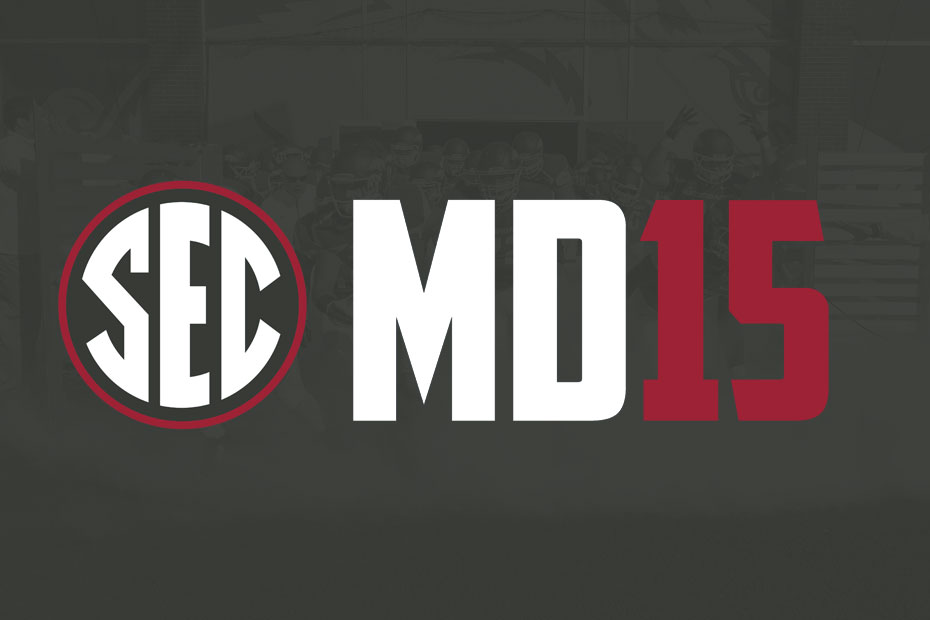 From the Podium: 2015 SEC Football Media Days
At some point after his Hall of Fame career South Carolina head coach Steve Spurrier will decide to call it quits and work on his golf game full time. When he does, the Southeastern Conference may invite him back to be a guest speaker at SEC Football Media Days. It is hard to imagine the event without its consistent top quote draw.
On Tuesday, Spurrier waltzed back in to the main media room for the 23rd time, marking eight more appearances than his nearest competition former Tennessee head coach and frequent Spurrier verbal target Phillip Fulmer. But in a format that some coaches start to sound the same, even after only a couple of appearances, Spurrier manages to keep the media waiting the next golden nugget to be uttered from the podium after more than two decades.
When I first was invited to be the press conference moderator, I was warned to be ready at the helm or Coach Spurrier might take over and serve simultaneously as both moderator and featured speaker. Tuesday was one of those days where the Head Ball Coach was ready to not only call out questions, but point to reporters as if he were calling an audible at the line of scrimmage. You see, the former Heisman Trophy winning quarterback is at heart a competitor and even a 30-minute session with the media is a challenge to be met and an opportunity to win the podium.
The man famous for his Tennessee barbs and consistent good-natured jabs at Alabama's Nick Saban, started early on Tuesday. In fact even when greeting the media, he noted there "were a lot of familiar faces out there after a lot of years coming to this event. I figured a bunch of you guys would have retired by now."
Coming off a 7-6 campaign in which much more was predicted for his squad, Spurrier cleverly spun the Gamecocks' 2014 season in comparison to the same records posted by Arkansas and Tennessee. What he failed to include is that both the Hogs and the Vols were in the second year of building their programs under a new head coach. Nonetheless, Spurrier has a way of making even a disappointing season sound like something of tremendous merit and that is a skill that comes in handy in this league.
"We were 7-6, same as Tennessee and the same as Arkansas, and I think they're sort of celebrating big seasons last year. So we are celebrating also. We were doing some cartwheels and high fiving after that Independence Bowl game because it was a year that could have gone real south, and guys hung in there and somehow or another found a way to win the game."
Here are some of his other quote keepers from 2015:
On his longevity in coaching
"Somebody said, why are you still coaching? I said, well, I forgot to get fired and I'm not going to cheat. That's about the way you lose your job. You get fired for losing or you cheat and then they get somebody else."
On how long he will be at South Carolina
"None of us know exactly how long we will be coaching at places. In fact, (noted odds maker) Danny Sheridan. Danny's not here is he? I wish he did the odds on every coach being there four years from now, set the odds on it. I don't know if you'd bet on that, but it would be something fun to bet on, wouldn't it?"
SEC Football Media Days Longevity
As long as we are on the subject, it is interesting to look at the list of coaches who have appeared at SEC Football Media Days the most times in its history. A total of 67 coaches have represented their schools at the annual event since 1985, including six coaches who have appeared as the head coach of two schools in the league.
As previously mentioned Spurrier leads the way with 23 appearances with Fulmer in second place with 15 appearances, although that comes with an asterisk. It should be 16 appearances, but in 2004 Fulmer literally phoned it in. Facing a likely subpoena in a lawsuit involving the NCAA and two University of Alabama assistant coaches, Fulmer spoke to media via a conference call. Tennessee was fined $10,000 and Fulmer missed his first and only SEC Media Days in his 16-year career in the league.
Top 10 Appearances at SEC Football Media Days
1. 23 – Steve Spurrier, UF, USC
2. 15 – Phillip Fulmer, UT
3. 15 – Mark Richt, UG
T4. 14 – Houston Nutt – ARK, UM
T4. 14 – Tommy Tuberville, UM, AU
T4. 14 – Nick Saban, ALA, LSU
7. 13 – Jackie Sherrill, MS
8. 11 – Les Miles, LSU
9. 10 – Bill Curry, ALA/UK
T10. 9 – Billy Brewer, UM
T10. 9 – Gerry DiNardo, VU, LSU
A Wife's Influence
Texas A&M head coach Kevin Sumlin admitted that his approach to SEC Football Media Days was different this year than in the past. The coach who last year famously responded to a question about his former quarterback Johnny Manziel by telling the reporter that was a great question for the Cleveland Browns, appeared more relaxed this time around. The secret?
"I made a promise to my wife that I will not be combative today," Sumlin said. "I'm going to smile and have a good time."
Beyond The Field: Stories of the SEC
New to the proceedings this year is a program where each institution brings a student-athlete with a compelling off the field story. In some cases, the stories align with a star on the field as well. That will be the case for Arkansas when Jonathan Williams attends on Wednesday. But for other schools, it is an opportunity to tell a compelling story that may not previously been featured.
Prior to each student-athlete session in the main media room, a 30-second feature is played outlining the story of the designated player. The features have also been highlighted on the SEC Network and will be shown throughout the year.
Below are the student-athletes and stories chosen for 2015:
Alabama – Reggie Ragland (Senior, Linebacker) participated in community service work at the local Veterans Administration hospital and also returned to Alabama for his senior season despite grading out high as an NFL prospect last year.  He cited his unfinished work both on the field and in the classroom as reasons for his return to Alabama.
Arkansas – Jonathan Williams (Senior, Running Back) has excelled at Arkansas for despite family financial setbacks and hardships.  He bypassed the opportunity to enter the NFL after last season, citing a desire to earn his college degree. "My faith, family and education are very important to me and all three played a major role in my decision."
Auburn – From the age of three when his step-mother came into his life, Jeremy Johnson (Junior, Quarterback) has used her as motivation to do the right thing.  That includes giving back to his community in the way of speaking to students in elementary, junior high and high school, and collecting clothes for Goodwill and the Salvation Army.
Florida – Jonathan Bullard (Senior, Defensive Line) was raised in part by a grandmother who battled cancer during his high school career.  Despite his intention to play at a school near her home, she encouraged him to follow his dream and play at Florida.  She saw him play his freshman year but soon became ill and passed away the week after he played the best game of his young career vs. Missouri.  She remains an inspiration to him.
Georgia – Malcolm Mitchell (Senior, Wide Receiver) is an avid reader who, through a chance encounter with another reading enthusiast, became a member of a local book club of women mostly between the ages of 40 to 60 years old.  He struggled to read even as late as his high school years, but devoted enough time in it to become a prolific reader and now reads regularly to children, stressing to them the importance of reading
Kentucky – Melvin Lewis (Senior, Defensive Tackle) grew up in Compton, California, and earning a college degree would have been a challenging goal without the opportunity presented by an athletics scholarship. After two years at Fullerton College, he signed with Kentucky and has completed his bachelor's degree in community and leadership development. His dream job, other than the NFL, is "doing anything to help my community."
LSU – Attending college and playing football were not on the mind of Leonard Fournette (Sophomore, Running Back) ten years ago when he and his family lived on a bridge for five days and four nights in the aftermath of Hurricane Katrina.  His family moved to Baton Rouge, Corpus Christi and Portland (Texas) before settling back in New Orleans, though his old neighborhood was destroyed.
Ole Miss – Evan Engram (Junior, Tight End) was mostly ignored by major college programs but has emerged as an All-America candidate.  Involved immensely in FCA, he devotes time to the mentally and physically challenged through Special Olympics and the local developmental school.  His father, Derrick, played college football, and his sister, Mackenzie, plays for the Georgia women's basketball team.
Mississippi State – Dak Prescott (Senior, Quarterback) lost his mother to cancer after she had raised Dak and his two brothers in a tiny trailer as a single parent running a truck stop in Louisiana.  She taught Dak about hard work, the meaning of family and serving others.  Dak regularly speaks to area schools about working hard, being dedicated and having passion for what you do.
Missouri – Kenya Davis (Senior, Cornerback) was a full academic qualifier out of high school but began his career in junior college because he was an unnoticed player from a very small hometown and high school in Mississippi.  He draws inspiration from another defensive back that went to Hinds Junior College, Malcolm Butler, who was the hero of Super Bowl XLIX for his game-saving interception.
South Carolina – Elliott Fry (Junior, Placekicker) reached his dream of playing college football at the highest level despite suffering from Type I Diabetes.   In fact, he is one of the best in the conference at his position, earning second team All-SEC honors in 2014 and he will be a Lou Groza Award candidate in 2015.  He works regularly with the Junior Diabetes Research Foundation in South Carolina.
Tennessee – Joshua Dobbs (Junior, Quarterback) is an Aerospace Engineering Major and is planning on building airplanes and flying them after his football career. He has done various internships with space and airplane companies, including one this summer. He became fascinated in airplanes at a young age with a trip to the Delta plant in Atlanta and even more with a visit to the Tuskegee Airmen in 7th grade.
Texas A&M – Mike Matthews (Senior, Center) is part of a family lineage that pervades both college and professional football.  Father Bruce was an NFL Hall of Famer.  Brothers Kevin and Jake played for A&M – Kevin, a walk-on who became a starter and plays in the NFL; Jake, a four-year starter and first round NFL draft choice in 2014.  Mike, the shortest of the brothers, is a two-year starter and team captain.
Vanderbilt – Ralph Webb (Sophomore, Running Back) and a small group of Vanderbilt students journeyed to Australia to study biodiversity in the Great Barrier Reef and tropical rain forests this summer. They hiked lush forests, boated in mangrove swamps, and snorkeled and kayaked off Fraser Islands. Research included reforestation, crocodiles and cassowaries, and corals conservation.
On Tap for Wednesday (All Times Central)
9 a.m. – Noon – Alabama (Head Coach Nick Saban, LB Reggie Ragland, RB Kenyan Drake, OL Ryan Kelly)
9 a.m. – Noon – Kentucky (Head Coach Mark Stoops, DT Melvin Lewis, OT Jordan Swindle, S A.J. Stamps)
1 – 4 p.m. – Missouri (Head Coach Gary Pinkel, DB Kenya Dennis, QB Maty Mauk, C Evan Boehm)
1 – 4 p.m. – Arkansas (Head Coach Bret Bielema, RB Jonathan Williams, QB Brandon Allen, WR Keon Hatcher)
TV Coverage:
SEC Network – SEC Now: 2015 SEC Football Media Days Special (9 a.m. – 3 p.m.)
SEC Network – Paul Finebaum Show (3 – 6 p.m.)
ESPN – College Football Live (1-1:30 p.m.)
ESPNU – Studio Coverage of SEC Football Media Days (Noon-3 p.m.)
For the fifth consecutive year, University of Arkansas Associate Athletic Director for Public Relations Kevin Trainor is serving as the press conference moderator in the main print media room at SEC Football Media Days in Hoover, Ala. Throughout the week, Trainor will share some highlights and observations from this year's event.