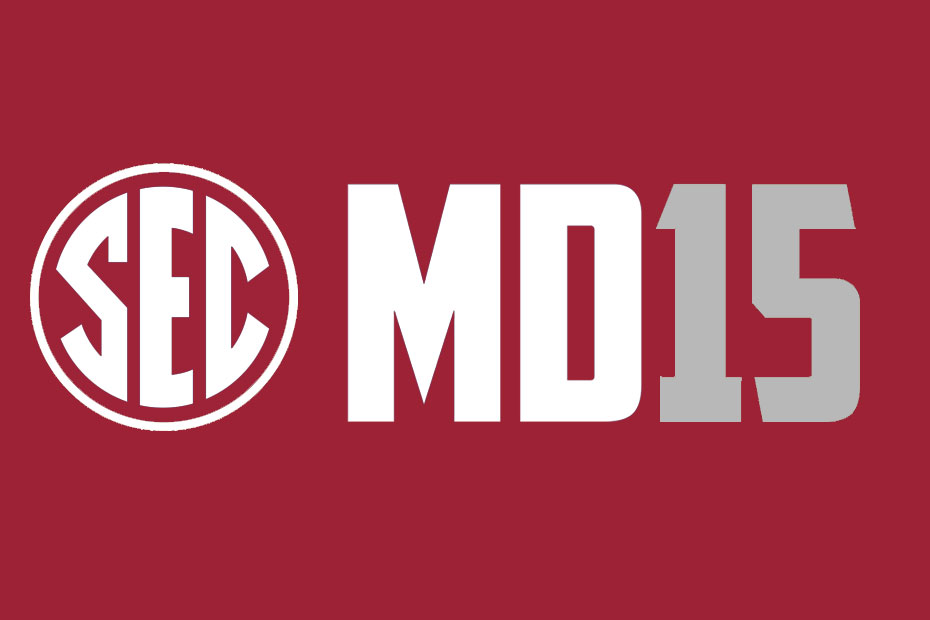 From the Podium: 2015 SEC Football Media Days
Ah, day four of SEC Football Media Days or as I like to call it the lightning round. After 11 coaches, 33 student-athletes, SEC Commissioner Greg Sankey, SEC Officials Coordinator Steve Shaw as well as presentations from the SEC Network, the National Football Foundation and the Football Writers Association of America (FWAA), the main media room is noticeably thinned out and those still in attendance have that hotel haze associated with lack of sunlight.
Nonetheless, the show must go on and on Thursday, Georgia's Mark Richt, LSU's Les Miles and Ole Miss' Hugh Freeze took their turn at the nationally televised stump speech. Richt was making his 15th appearance at SEC Football Media Days, a mark that bypassed former Arkansas and Ole Miss head coach Houston Nutt and tied former Tennessee head coach Phillip Fulmer for second all-time behind Steve Spurrier.
Contrary to one of Forrest Gump's famous quips about a box of chocolates, with Mark Richt you generally know what you are going to get. He isn't going to wow anyone with his delivery, but he will speak openly and honestly about his program and his role as a head coach. If you were sending someone to negotiate a peace treaty, he would be the guy.
But on Thursday, Richt showed a little bit more spunk and even got a laugh or two. When asked if he personified how tough the league was because he has had so much success and still gets criticism, Richt retorted with 'I didn't know I got criticism," waking the crowd from its fourth-day slumber. Later in the session, Richt was asked about the recent dominance of team from the SEC's western division in recent years. He offered a candid explanation.
"When you get to the SEC Championship Game, the East hasn't got it done, and we've been part of that" Richt said. "The bottom line is the best team from each side is going to be there. There's going to be one game and the winner is it. They're the SEC champion, obviously. So the bottom line is, like for Georgia, hey let's find a way to get to Atlanta. Let's get the job done when we get there and move on to the playoff. That's what everybody's trying to do."
Shoe Wars and Filibuster
Mississippi State's Dan Mullen started it. Arkansas' Bret Bielema elevated it. And LSU's Les Miles put in all on the table – literally. Shoe Wars 2015 started on Tuesday when Mullen sported some fancied up Adidas branded tennis shoes with his suit. Then on Wednesday, Bielema kicked off the Nike campaign with some real bling on his shoes announcing the next salvo in the shoe wars. The Arkansas head coach even added that he had met Nike founder Phil Knight in the out of season, as he called it.
So as I prepared to escort Miles from the press conference staging area, known the other 358 days a year as the hotel kitchen hallway, I was handed a pair of purple and gold laced up Chuck Taylors to take up to the stage to sit next to the LSU helmet. It was the first prop that I can recall in my five years of emceeing the event. But just as I was ready to literally walk in a Miles shoes, LSU sports information director Michael Bonnette agreed to place the sneakers up front. When he got to the podium, Miles referred to them briefly, but the gag didn't have much of a comedic impact. So the LSU head coach continued with his opening statement, and what an opening statement it was.
In years past, at least a handful of coaches have tried to use the opening statement as not only an opportunity to outline the virtues of their program, but also to drain some time out of the impending question and answer session that follows. Miles' filibuster on Thursday morning would have made Jimmy Stewart's character proud in the classic movie Mr. Smith Goes to Washington.
Miles covered personnel from both sides of the ball, special teams and even detailed the summer activities of his children, including a family wedding. But as always with the LSU head coach, when he is at the podium it is always entertaining.
Political Football
There are some questions you know are coming at SEC Football Media Days. For Ole Miss Head coach Hugh Freeze, he knew that the confederate affiliations with the state flag of Mississippi would be on the docket.
"In the early — in the late '90s, our school made a move in a direction away from the flag," Freeze said. "So our school has kind of made up its mind of where it's at. I'm a Mississippian. No one understands the pride of the people of that state and the heritage of that state any better than I do. While I'm not a political figure, that symbol has been hijacked somewhat by groups that have meant ill will toward other people. I think it's time that we move in a different direction with the state flag."
Lack of CFP Talk
Unlike a year ago, there was very little talk about the College Football Playoff (CFP) among the 14 head coaches' media sessions. On occasion, a coach would sprinkle in the words College Football Playoffs when talking about the goals for the season, but there certainly wasn't a polling of coaches on the issue.
Understandably, after a year of the CFP, there are fewer questions about how the teams will be chosen and assigned to games, at least for now. In the main media room there was no debate of expanding the playoff to eight teams or beyond, a regular question during the Bowl Championship Series (BCS) era.
In fact, the only real direct question about the playoff went to Alabama's Nick Saban. Despite the Crimson Tide's semifinal exit, Saban sounded favorable on the new approach to the college football postseason.
"I think its better. I think it's better for college football, and I think it's better for fans. The only thing that I've ever been an advocate for is to maintain the quality of Bowl games because Bowl games provide a positive self-gratification for a lot of college football players. So hopefully, we can get this playoff and the college system to work together so that Bowl games are still a very positive experience for a lot of young college players."
Media Predictions
Give this year's SEC media voting panel credit. Usually, it takes a few months for the pre-season predictions of conference finish to be proven wrong on the field. But even as they were released on Thursday morning, the voting process had guaranteed that this year's predictions have no chance of transpiring as forecasted.
Alabama was chosen as the favorite in the SEC's Western Division with 1405 points. In-state rival Auburn was close behind with 1,362 points. LSU, Arkansas, Ole Miss, Texas A&M and Mississippi State rounded out the western division rankings.
On the eastern division side, Georgia was given the nod, with upstart Tennessee second, followed by Missouri, South Carolina, Florida, Kentucky and Vanderbilt.
What made this year's predictions doomed from the get go was the pick for overall champion. Auburn is the favorite according to the media poll, followed by Alabama and then in a distant third place ranking Georgia. So what is wrong with that?
Not that Auburn is very capable of winning it all, but the Tigers would have to win the SEC Western Division, or at least tie for it, to have that opportunity. So to fans of the SEC and in particular those in the state of Alabama – you are welcome. The SEC media just gave you plenty to passionately discuss until the ball is kicked off for real in September!
For the fifth consecutive year, University of Arkansas Associate Athletic Director for Public Relations Kevin Trainor is serving as the press conference moderator in the main print media room at SEC Football Media Days in Hoover, Ala. Throughout the week, Trainor shared some highlights and observations from this year's event.