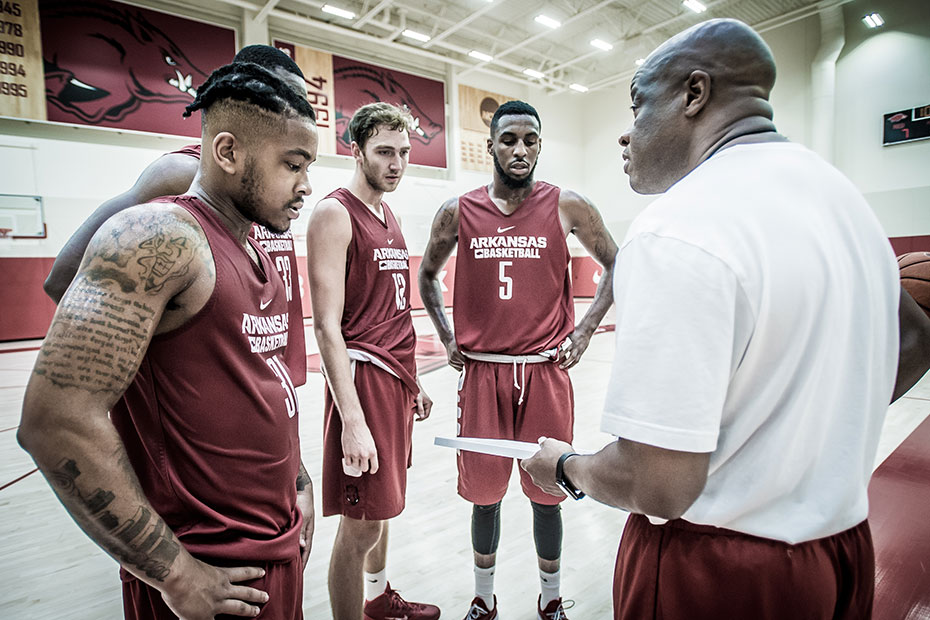 Game Schedule Finalized For Spain Tour
FAYETTEVILLE, Ark. – The Arkansas men's basketball program is set to embark on a 10-day international trip starting Saturday, traveling to Spain to play four games from Aug. 6-16.
The Razorbacks will make stops in Madrid, Valencia and Barcelona during their second foreign trip in the last five years. The program toured Italy prior to the 2012-13 season before improving its SEC win total by four games during the league slate.
"I think this trip is really going to help a lot," redshirt senior Dusty Hannahs said. "Having the chance to spend 10 straight days on the road with your teammates will be very beneficial for us moving forward. This is a special group we have this year."
After arriving in Spain the morning of Sunday, Aug. 7, the Razorbacks will have two days to acclimate before opening play against Euro Colegio Casvi on Tuesday, Aug. 9 at 1 p.m. CT. Arkansas will then turn around on Wednesday, Aug. 10 and tip off with Albacete Basket at 10:30 a.m. CT.
"This team is really coming together," transfer junior Daryl Macon said. "We do everything together, even off the court. This trip is a great chance to keep getting closer and bonding together as a team."
The Razorbacks will resume play on Saturday, Aug. 13 against the Barcelona Region All Stars with a 2 p.m. CT start time, before capping the trip on Sunday, Aug. 14 against the European Basketball Academy at 1 p.m. CT.
"I have never been outside of the country but I think it is going to be a great experience for me and the team," junior Jaylen Barford said. "Our goal is to go win some games."
For more information on Arkansas men's basketball, follow @RazorbackMBB on Twitter.
2016 Spain Tour Game Schedule
| Date | Opponent | Location | Time |
| --- | --- | --- | --- |
| Tues., Aug. 9 | Euro Colegio Casvi | Madrid, Spain | 1 p.m. CT |
| Wed., Aug. 10 | Albacete Basket | Albacete, Spain | 10:30 a.m. CT |
| Sat., Aug. 13 | Barcelona Region All Stars | Barcelona, Spain | 2 p.m. CT |
| Sun., Aug. 14 | European Academy | Barcelona, Spain | 1 p.m. CT |